Table of Contents
How Much Does an Auto Dealer Bond Cost?
To get or renew and auto dealer bond you need to pay a bond premium. This premium is a percentage of the total amount of your bond, and is determined by the surety based on a number of factors.
The total bonding amount for auto dealers varies greatly from state to state. In Texas and Florida the bond amount is $25,000, in Georgia it is $35,000, whereas in California and Illinois it is $50,000, and in New York - up to $100,000. The cost of your bond will be a fraction of the amount required in your state.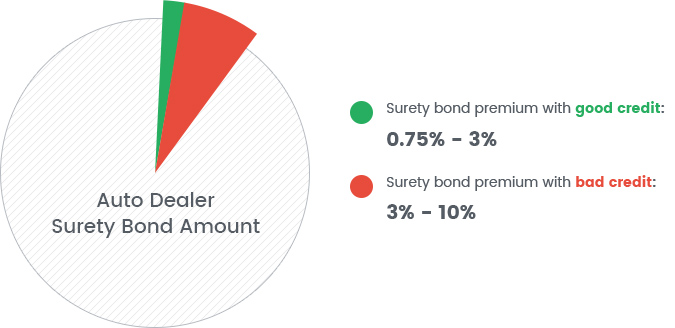 Your personal credit score has the greatest influence on the cost of your bond. The higher your credit score - the cheaper it will be for you to get this type of bond. Sureties also review other types of information. See the next section for more information regarding the factors that influence the cost of your dealer bond.
Try our bond calculator to get a quick estimate of the cost range within which you bond premium will be. You can also review the table below for an overview of bond rates depending on bond amount and personal credit score. For an exact quote on your bond, see the section about getting bonded!
Expected auto dealer bond cost based on credit score
Credit Score
Bond Amount
700
650 - 699
600 - 649
Below 599
$10,000
$100-$150
$100-$300
$250-$500
$500-$1,000
$20,000
$150-$300
$200-$600
$500-$1,000
$1,000-$2,000
$25,000
$188-$375
$250-$750
$625-$1,250
$1,250-$2,500
$30,000
$250-$500
$300-$900
$750-$1,500
$1,500-$3,000
$35,000
$262.5-$525
$350-$1,050
$875-$1,750
$1,750-$3,500
$50,000
$375-$750
$500-$1,500
$1,250-$2,500
$2,500-$5,000
$75,000
$560-$1,125
$750-$2,250
$1,875-$3,750
$3,750-$7,500
$100,000
$750-$1,500
$1,000-$3,000
$2,500-$5,000
$5,000-$10,000
* The table provides a bond cost ballpark estimate based on the applicant's credit score. Actual bond prices can differ due to a number of factors. For an exact quote,
please complete our online application
. It's fast and 100% free!.
Factors That Influence the Cost of Auto Dealer Bonds
Surety bond cost is influenced by a number of factors on the side of bond applicants. These include:
Personal credit score
Financial statements
Liquidity and assets
Professional experience
Citizenship status
Bonding agency
The most important factor by far is an applicant's personal credit score. Sureties perceive high credit score as an indicator of a smaller likelihood of a bond claim occurring and, reversely, lower credit score as a greater likelihood of bond claims. So, the higher an applicant's score, the lower their bond rate.
Sureties will also frequently request to review applicants' financial statements to better determine the rate they can offer. Applicants' liquidity or assets may at times also play a part in influencing their bond rate.
Certain non-financial factors can also influence bond rates. By showcasing their industry experience and work record, dealers can also positively influence their bond rate, particularly if they can demonstrate to the surety that they have been reliable and consistent in their job(s) so far.
A U.S. citizenship can also positively influence bond rates, though on the scale of factors it is by far not as important as credit score or financial statements.
Finally, your choice of surety agency can significantly determine your dealer bond rate because different agencies have access to different rates. Opting for agencies that work with A-rated and T-listed partner surety bond companies can significantly influence the rate you are offered on your bond.
Apply for Your Bond Here!
To apply for your bond or simply to request a free and exact quote, complete our bond application form! We will shortly provide you with your quote and additional information.
Want to know more about car dealer surety bond cost? Call us at (866)-450-3412 anytime!
---
---
Frequently Asked Questions
Still Have Questions?
Still haven't found the answer you are looking for?
Give us a call at (866) 450-3412 or leave your question below.