D.C. Requires Real Estate Appraisal Management Companies To Post a Bond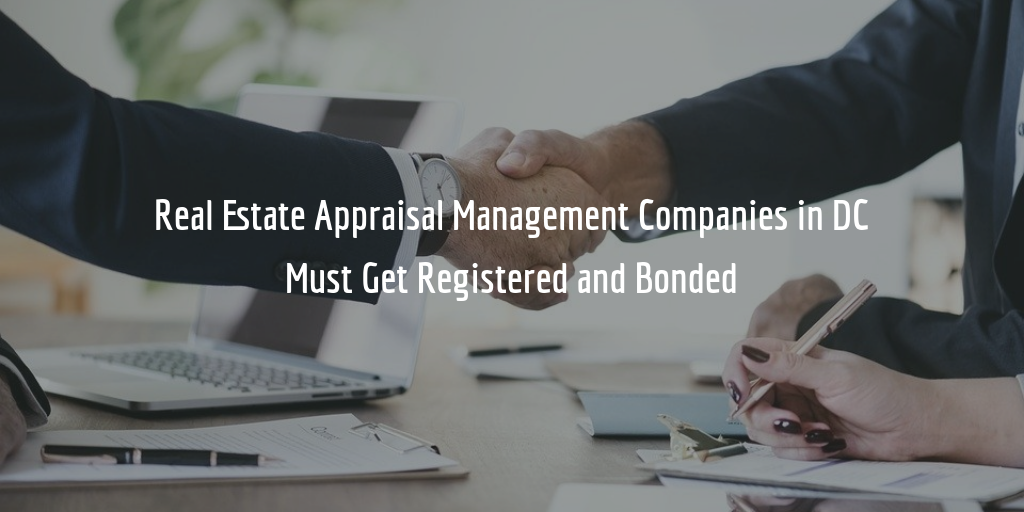 At the end of October 2019, the Government of the District of Columbia approved emergency regulations that require real estate appraisal management companies (AMCs) to register.
These regulations have been in place since July 2019 and have now been renewed, while a bill is being reviewed by Council to institute the licensing requirement as law. The bill is expected to be passed sometime in the coming months under Chapter 31, Title 26, Subtitle C of the District of Columbia Municipal Regulations (DCMR).
Its conditions and requirements for appraisal management companies are expected to be the same as the current emergency regulations. These include the designation of a "controlling person", the submission of a DC appraisal management company bond, and several others.
For a detailed overview of the DC appraisal management company registration, see below!
How to Register Your Appraisal Management Company in DC
Under the temporary rules and the upcoming permanent rules, to register an AMC in DC you need to apply at the state Department of Insurance, Securities and Banking.
The application must be completed and submitted by a controlling person, as defined in the Appraisal Management Company Regulation Emergency Act of 2019.
As part of your registration application, you will also need to submit the following a:
Resolution allowing the controlling person to complete the application on behalf of the entity (if applicable)

Copy of the controlling person's driver's license, state ID or another type of ID

Copy of the applicant's most recent audited financial statement

$25,000 DC appraisal management company bond

Completed Attachment A by anyone in the AMC who has a 10% or greater ownership interest (attachment can be found in the application form)
Along with your application form, you also need to submit a non-refundable registration fee of $1,300 in the form of a check or money order, made payable to the DC Treasurer.
Your application, along with all additional attachments and the fee must be mailed to:
Department of Insurance, Securities and Banking,
Banking Bureau
P.O. Box 96378,
Washington, DC 20090-6378
When your application is received by the Department, it will be reviewed to determine if you have fulfilled all the necessary requirements. If you have, you will be issued an AMC registration.
Registration renewal
Registrations expire yearly on December 31 and can be renewed beginning November 1, but no later than December 31.
If you do not renew your registration on time, you will have another 60 days after December 31 to do so under the condition that you also pay a reinstatement fee. If you fail to renew within these 60 days, you will need to apply for a new registration at the Department and pay the initial registration fee.
DC Appraisal Management Company Bond
The purpose of the surety bond required of AMCs in DC is to guarantee their compliance with the Appraisal Management Company Regulation Emergency Act of 2019 and the upcoming permanent law. The Act clearly specifies all obligations of AMCs in the state, and the requirements they must comply with to remain registered.
The amount of the bond is $25,000. Yet, to get bonded, you don't need to pay this much. The cost of your bond, rather, is equal to a percentage of its total amount. That percentage is determined by your surety on the basis of your credit score, primarily, as well as various other indicators of your financial condition.
Typically, applicants who have a very high credit score, one of 700 FICO or more, can expect to get some of the lowest possible rates. An applicant like this may be offered a rate of .75% up to 1.5% of the total bond amount. Applicants with scores that are lower but still considered good can expect a rate upward of 1.5% and up to 5%.
You can get a free quote on your bond by submitting a bond form. Simply click on the banner below, complete the form, and we will get in touch with you shortly!
---