How to Easily License Your Auto Dealership in the State of Maryland [Updated]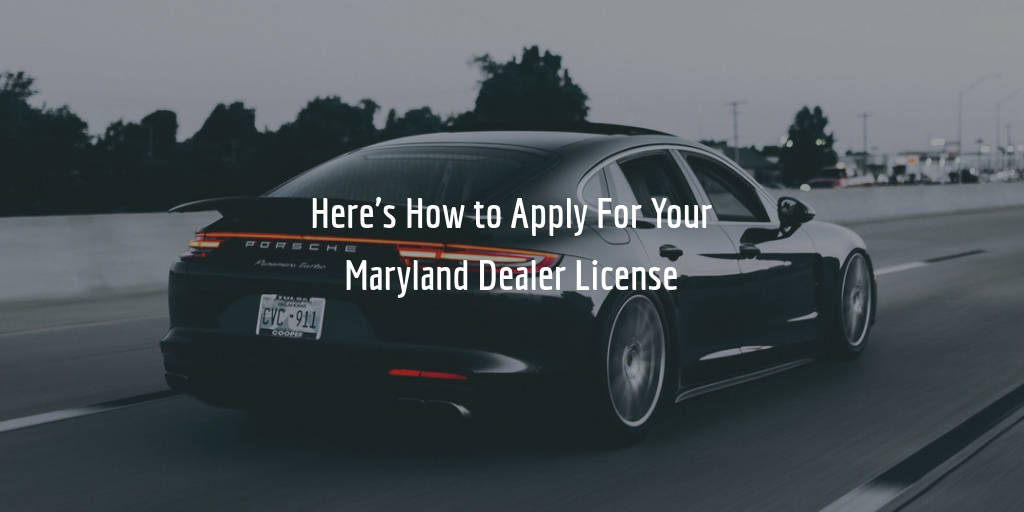 Maryland has one of the most straightforward dealer licensing procedures in the country. Getting a license includes submitting several different forms, along with an auto dealer bond. Follow our summary of the process below, and you will be well on your way to obtaining a license hassle-free.
Maryland Dealer License Types
Your first step towards getting licensed should be choosing the license that's right for your business. The Maryland Motor Vehicle Administration (MVA) offers three different license types for vehicle dealers. It also offers licenses for motorcycle and trailers dealers, among others, but these are not included in this post. The dealer license offered by the MVA are:
New vehicle dealer license
Used vehicle dealer license
Wholesale dealer license
If you are interested in a wholesale dealership, it's important to note that such dealers are only permitted to purchase vehicles from the public, but selling them to the public is illegal. All of their sales and exchanges may only come from other dealers.
The state of Maryland requires new and used vehicle dealers to have locations suitable for retail activities. Wholesale Dealers, on the other hand, can operate just from offices.
You can learn about the specific requirements that your location and office need to comply with by reviewing Chapter 11.12.01, Sections 03-05 of the Code of Maryland (COMAR).
Maryland Dealer License Requirements
To apply for your Maryland dealer license, you will need to comply with several licensing requirements. All of them are clearly listed in the application packet for your particular application type, along with directions. These include:
Complying with location and zoning requirements
Completing your license application form
Having your dealership location inspected
Attending a dealer orientation class
Signing up for the ERT program
Obtaining a trader's license
Registering with the State Department of Assessments and Taxation (SDAT) and providing proof
Franchise agreement (only for new dealers)
Posting an auto dealer bond in a certain amount
These are the most important requirements you will need to comply with and complete in order to get licensed.
Once you have completed them, you will need to pay a licensing fee of $450 and submit your application to be processed. Licenses are issued for two years after which you must renew your license before it expires.
The MVA typically sends out a renewal packet about 60 days prior to expiration which includes all the necessary forms and details about renewing.
Learn everything about getting licensed as an auto dealer in Maryland by downloading our FREE ebook guide!

Your Maryland Auto Dealer Bond
All motor vehicle dealers are required to be properly bonded. Dealer bonds are a type of surety bond that is not to be confused with insurance policies. Unlike insurance, which protects your property, the auto dealer bond serves as a guarantee that your business employs ethical operational practices and complies with state laws and regulations, such as the Code of Maryland. In case of a breach of terms, a legal process is triggered resulting in an obligation for you and the surety with which you have underwritten the bond.
The amount of your bond will depend on the type and number of vehicles you plan to sell in the coming year.
New vehicle dealers must submit a bond between $50,000 and $300,000
Wholesale and used vehicle dealers must submit a bond between $15,000 and $150,000
The exact amounts of the bonds depending on the number of vehicles projected to be sold can also be found in your dealer application packet.
Cost of Your Bond
To get your bond, you will need to pay a certain cost, also known as a premium. The cost of your bond is determined primarily by your personal credit score as well as certain other financial factors. The higher your credit score is, the lower your bond premium will be. The annual premium for applicants with a high credit score (700 FICO or above) typically ranges between 1% and 3% of the total bond amount.
You can get an estimate of the cost of your bond by using the surety bond cost calculator below!
Surety Bond Cost Calculator

Tell us where to send you your
FREE

estimate

SEND ME MY ESTIMATE!

We'll never share your information with third parties

Thank you

for your request!
The ballpark estimate on your premium is: $100 - $167
We've sent a copy of your estimate on your email as well.
Want an exact quote? Simply fill out our online application It's fast and 100% free!
Get a free exact quote
Get another estimate
It's as Easy as 1.. 2.. 3.. 4…
In total, all you need to apply for an auto dealer license in Maryland are the following 4 things:
State (SDAT) business registration
Completed dealer license forms and licensing requirements (as listed in the dealer application packet)
Auto dealer bond in the right amount
Franchise letter (for new vehicle dealers)
---