Franchised Dealers in Florida: 2023 Bond Renewal Approaching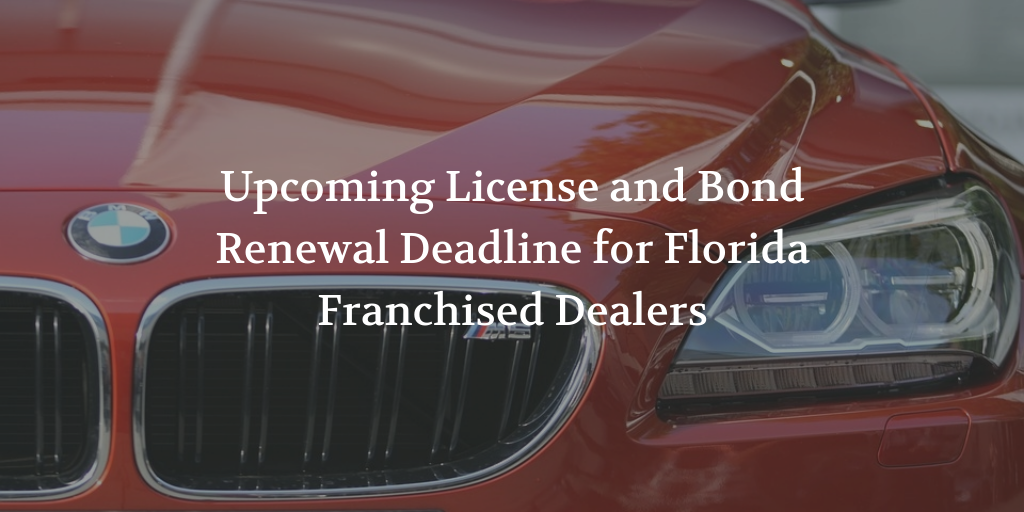 Franchised dealers in Florida must pay attention to their upcoming license and bond renewal deadline – December 31. All such dealers must renew their Florida auto dealer bond and license with the Florida Department of Highway Safety and Motor Vehicles before that date.
Read our license and bond renewal guide below for straightforward instructions about the process.
Florida Franchised Dealer License Renewal 2023

Florida franchised dealers have until December 31 to renew their license. While not renewing until December 31 does not automatically lead to your license being revoked, it does raise the renewal fee. If you are late with your renewal, you have 45 additional days (until February 14) to renew your license within the so-called delinquent period.
Renewing before December 31 costs $75 (or $150 if you decide to renew for two years), while the renewal fee after that and until February 14 is $175. Failing to renew until February 14 does lead to revocation and will require you to apply anew if you wish to remain licensed.
To renew your license you will need to submit:
A completed

renewal application

A copy of your garage liability insurance with a combined single limited liability coverage including bodily injury and property damage protection coverage of a minimum of $25,000 and coverage of $10,000 for personal injury protection

A copy of your

Division of Corporations

business registration certificate that clearly displays any fictitious name(s) of the business

Your renewed $25,000 Florida auto dealer bond
Per request of the Department, to improve the quality and shorten the duration of its service, applicants should reapply for their licenses at least 30 days before December 31 or earlier.
Florida Franchised Auto Dealer Bond Renewal 2023

The bond renewal requirement is an essential part of the license renewal process. Without it, you will not be able to renew your license and continue doing business as a franchised dealer in Florida.
Obtaining or renewing your bond is an easy and quick process. The exact cost of your bond depends on your individual case and the status of your credit score, financial statements, and else. If you want to renew your bond or are curious to find out how much it will cost, simply fill in our online surety bond application form. We will then contact you with your free quote and further details concerning your bond renewal.
Bryant Surety Bonds can underwrite bonds are highly exclusive rates because of our partnerships with over 20 T-listed and A-rated surety bond companies. We can also underwrite bonds for applicants with less-than-perfect credit scores effortlessly under our Bad Credit Program.
To contact one of our surety bond experts and discuss details or get help with your renewal, call us at (866) 450-3412 any time!
---