How to Open a Used Car Dealership in Georgia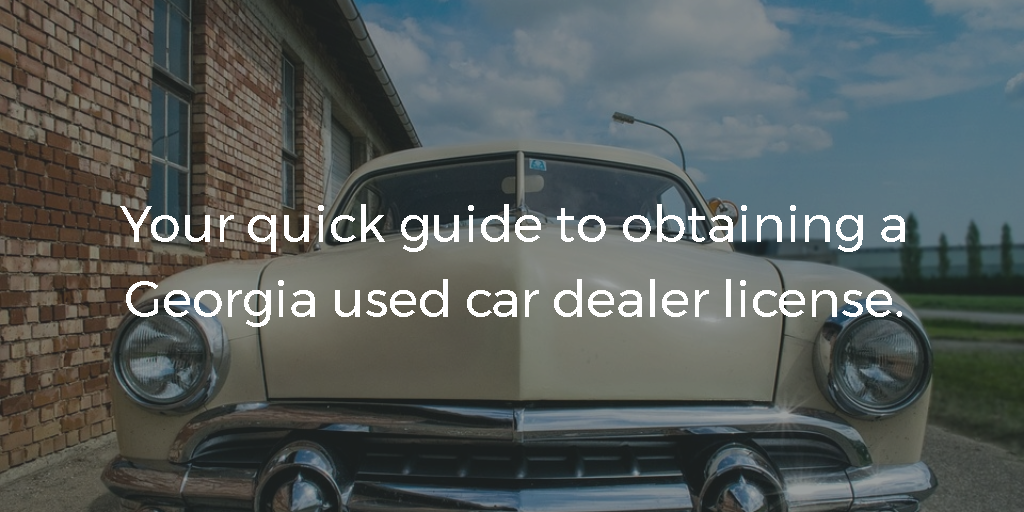 Looking forward to starting a used car business in the state of Georgia? Everyone planning on selling 3 or more used vehicles per year in the Peach State will be required to get a used car dealer license.
Note that in Georgia the new and used car dealer application processes differ. The used car dealers, also known as independent dealers, have to apply for a license at the Georgia Secretary of State (SOS) Board of Used Motor Vehicle Dealers. Used car dealership owners will also have to post an auto dealer bond as part of the application process.
Let's take a look at a more detailed breakdown of what you need, in order to open a used car dealership in Georgia.
Georgia Used Car Dealer License Application Process
Before downloading and filling your used car dealer application, you need to ensure you cover the all requirements. These include: taking a training course, establishing a place of business with a permanent sign, and setting up a landline phone.
Once you make sure you're eligible, based on the preliminary requirements listed above, you can go on and apply for the license. Here's a step by step guide to what you need to do:
       Complete the application form and pay the application fees

       Provide a sales tax number

       Get a copy of an appropriate document to prove your age and citizenship

       Provide photos of the interior, exterior and signs of the place of business

       Obtain a zoning compliance certificate

       Get a criminal background check

       Provide a certificate of liability insurance

       Obtain a Georgia auto dealer bond
Once you're ready with the application form and the supporting documents, you can mail the package to the following address:
Georgia Secretary of State
Professional Licensing Boards Division
237 Coliseum Dr.
Macon, GA 31217
Georgia Used Car Dealer License Renewal
Used car dealers in the state of Georgia are required to renew their licenses every other year. It's important to remember that licenses expire on March 31 of even-numbered years. That means the license is valid for 2 or years less, depending on the date of issue.
To renew their licenses used car dealers will have to pay a fee of $150 for a standard and $250 for a late renewal. In addition, they are required to complete a total of 6 hours of continued education for used car dealers.
According to the Georgia Board of Used Motor Vehicles, there are currently two approved providers that offer both continuing education and pre-licensing courses. These are: E-learning Concepts, LLC and Georgia Independent Automobile Dealers Assoc.
Once you dealer license expires, you must also renew your auto dealer bond. Let's take a look at what is a Georgia used car dealer bond.
Your Georgia Auto Dealer Bond
According to the state law in Georgia, used car dealers are required to post a dealer bond to the amount of $35,000. The Georgia auto dealer bond is a type of surety bond that essentially protects your customers and makes sure you will run your business in compliance to the law. It's a contractual agreement signed between you as the principal, the state as the obligee, and a surety.
Keep in mind that the amount of the bond is not the actual cost you pay as a dealer. The final bond cost you will be paying is a fraction or a small percentage of the bond's amount, usually between 1% and 4%.
So, this means the bond premium for the $35,000 will be anywhere between $350 and $1,400 per year. The bond's overall cost depends on your general financial situation and mostly on your personal credit score.
You can get your own free bond quote by filling out our online form below.
Get a FREE Auto Dealer Bond Quote Today!
No Obligation - Fast and Secure - All Credit Types
Tell us about your business

powered by

Get your FREE quote today!
If you have any questions regarding the bonding process, feel free to contact our experts at 866-450-3412!
---