Your Guide to Getting a NJ Used Car Dealer License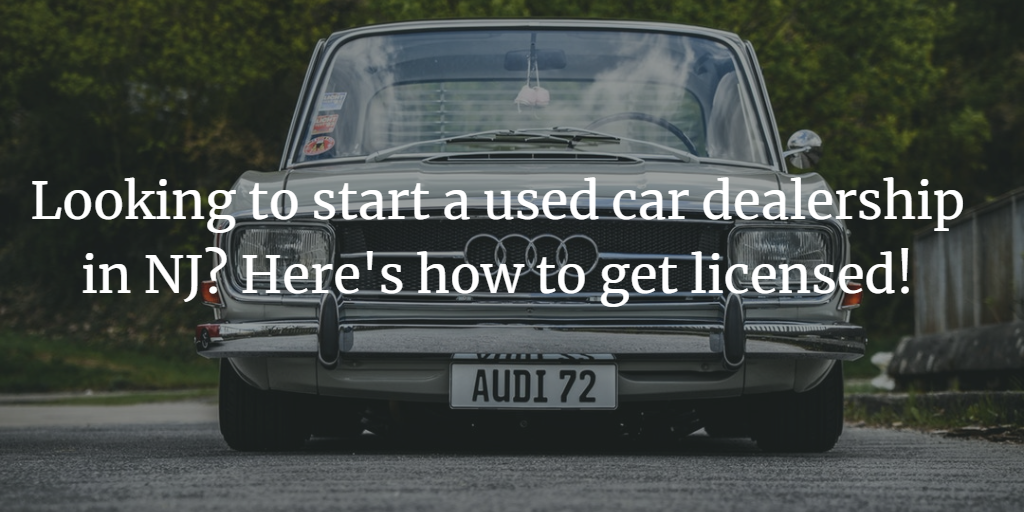 Everyone looking to start a used car dealer business in the state of New Jersey is obliged to get licensed first. The requirements for obtaining a NJ used car dealer license are similar to those for new car dealers.
The licensing process includes two stages. First, you must submit your application form and supporting documents and pay the respective fees. Secondly, upon receiving a preliminary approval, applicants need to provide a liability insurance and a surety bond to finish their application.
Let's delve deeper into the NJ used car dealer licensing process.
NJ Used Car Dealer Requirements
To apply for a license, first you will need to download the used car only dealers application. The list of required documents for used car dealers is similar to the one for new dealers. However, it's always good to double check the requirements on the website of the State of New Jersey Motor Vehicle Commission.
To begin with, you need an established place of business, with an established landline phone and an exterior sign permanently fixed to the premises. You're also required to provide a display space capable of showcasing a minimum of two vehicles. Plans and photographs of the premises and the signage must be provided, along with a copy of a telephone bill for the landline and your property's deed, purchase agreement, or lease.
Applicants also need to provide:
Copy of driver's license for each owner, officer, member and/or partner

Passport-size color photographs of each owner, officer, member and/or partner

Copy of alternate or fictitious name filing certificate

Copy of NJ Sales Tax Certificate of Authority

Copy of certificate of authority from the Department of Treasury for out-of-state corporations and LLCs

Federal taxpayer identification number from the IRS
After you receive preliminary approval of your application, you need to provide a Certificate of Insurance in the amount of $100,000 to $250,000 for bodily injury and $25,000 for property damage. You must also post a surety bond in the amount of $10,000 to finalize your application.
Once you get your NJ dealer license, keep in mind it is valid for one year and expires on March 31, each year. This means you also have to renew your dealer bond annually. The Motor Vehicle Commission will send renewal documents to all dealers around 60 days prior to the expiration date.
Obtaining an NJ Used Car Dealer Bond
The New Jersey used car dealer bond is the same as the one for new dealers. It's in the amount of $10,000 and is designed to protect the state and its citizens from any possible fraudulent activities that dealers might engage in.
Just like any other type of surety bond, breaking the surety agreement can lead to a claim filed against the dealer. The valid claims will eventually be reimbursed by the dealer with a sum not exceeding the total value of the bond.
The bond's premium, however, is not its total amount. The cost of the bond that dealers will be paying regularly is a percentage of the sum. For a standard applicant the percentage usually goes between 1% and 3%. The main factor affecting that bonding rate is the financial situation of the applicant and most importantly their personal credit score.
A bad credit score of 650 or less increases the bonding rate, to compensate for the higher financial risk the surety will be taking. The percentage for those applicants is typically in the range of 5%-10%. Thanks to Bryant Surety Bonds' Bad Credit Program, however, even applicants with bad or no credit can be sure they will get the best bonding rate for their situation.
Get a Free Dealer Bond Quote
Low Rates - Fast Approvals - All Credit Types
Get a FREE Bond Quote

Instant ballpark estimate

Tell us about your business

powered by

Get your FREE quote today!
Are you ready to apply for your New Jersey used car dealer surety bond? Start now by accessing our online application. We will get back to you with a free quote within minutes.
---