How To Get Your Car Dealer License In Alabama
Have you decided to start an auto dealership in Alabama? If so, you'll need to cover a list of requirements before you can legally sell cars. These requirements range from registering your business in the state, to applying for a license at the Department of Revenue, getting an auto dealer bond, and several others.
Keep reading below for a full explanation of how to get your Alabama dealer license!
1. Register Your Business in the State
Apart from a license, every car dealer in the state must also have valid business and tax registrations with state and federal authorities.
To register, you need to pick a business structure that you prefer and file with the state Business Services Division. You will also require a tax registration from the state Department of Revenue. You will be issued a state tax number which you will need for sales tax purposes.
Moreover, you are also likely to require an Employer Identification Number (EIN) from the Internal Revenue Services, which you will need if you plan on hiring employees, as well as Workers Compensation Insurance, to satisfy state labor law requirements.
When you are completed with this step, you can continue to the next.
2. How to Get Your Alabama Dealer Licence
Alabama Code Section 40-12-51 states that a motor vehicle dealer is anyone who possesses and displays for sale at least five vehicles in a period of one year. If you fall within that category, you need to obtain one of the following licenses:
Used car dealer
New car dealers
Wholesaler
Rebuilders
The application process for these licenses differs slightly because wholesalers and rebuilders do not need to comply with some of the location requirements and designated agent requirements. All other conditions are the same.
The license application process
To get licensed, you need to:
Meet location requirements – all dealers must have a permanent location and have it meet local zoning requirements

New and used dealers must have a business sign that states the business's name and identifies whether the dealer is a new or used dealer in letters not less than six inches high; its letters must be readable from at least fifty yards away

Complete the online application form
Provide business registration documents
Provide proof of blanket liability insurance coverage in the following minimum insurance limits:

$25,000 per injury or accident
$25,000 property damage or a combined single limit of $75,000 per accident
$50,000 combined per bodily injury or accident

Submit proof of workers' compensation insurance (if needed)
Post an auto dealer surety bond
While the license application form is online, you will need to submit the remaining items by mail to the Department of Revenue and pay a $25 application fee. When you complete the online part, you will be provided with the necessary details regarding how and where to send your paperwork.
Once the Department reviews your application, typically within 7-14 business days, you will be notified of the result.
After you receive your dealer license, another step is due. You must also obtain a Business Privilege License to be granted allowance to operate in your county.
Learn more about how to get licensed and start your auto dealership in Alabama by downloading our FREE ebook guide!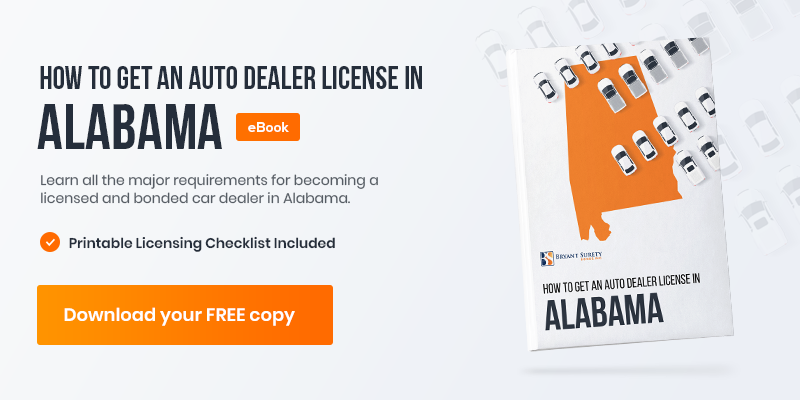 Designated agent registration (only for new and used dealers)
For new and used dealers the application process does not stop here. In addition to the above, these dealers must also become so-called designated agents in the state. This step can only be completed once you have gotten your license from the Department of Revenue.
To become a designated agent, you need to follow the instructions on the Alabama Titling System (ALTS) website. The registration requirements include completing an application package and passing a training course. Note that you do not need to submit an additional surety bond for this registration!
Congratulations, after you have completed this step, you are officially a licensed dealer in the state of Alabama! You can now also obtain your dealer plates from the Department.
Alabama Auto Dealer Bond Requirement
As of October 1, 2020, all dealers in Alabama must post a $50,000 surety bond when applying for a license.
To get bonded you need to pay a so-called bond premium which is equal to a part of the whole bond amount. This premium is determined by the surety when it reviews items such as your personal credit score (most importantly!), your personal and business financial statements, and more!
You can apply to get a free quote on your bond by completing the form below!
Get a FREE Auto Dealer Bond Quote Today!
No Obligation - Fast and Secure - All Credit Types
Tell us about your business

powered by

Get your FREE quote today!
If you have any questions about getting an auto dealer bond in Alabama, don't hesitate to call us at 866.450.3412!
---