Maryland and Rhode Island Surety Bonds Added to the NMLS' ESB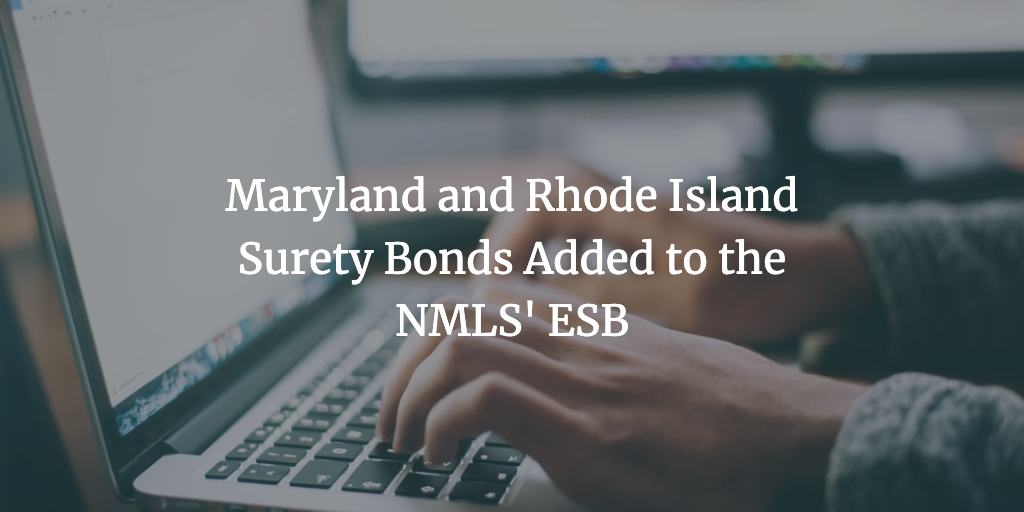 The Nationwide Multistate Licensing System & Registry (NMLS) handles the licensing procedure for different types of financial services professionals. State bodies set the requirements that applicants have to fulfill in order to obtain the relevant license. Then the documents are submitted via the NMLS, which processes them.
In 2016, the NMLS launched a new process for filing one of the typical criteria that professionals often have to satisfy for their license – the surety bond requirement. The new system is called the electronic surety bond (ESB), which entails that applicants don't need to provide the bonding on paper, but only digitally. The NMLS is moving towards digitalization of application documents in order to simplify the procedure. It also aims to enforce a higher level of control and monitoring of compliance for the license types that it handles. 
Gradually, more and more state licensing authorities are transferring their bond requirements to the ESB system. As of September 2019, 30 states have partially or fully adopted the digital submission of surety bonds via the NMLS, with two recent additions being Maryland and Rhode Island. The State Adoption of NMLS ESB map illustrates the current states that participate in the ESB.  
Maryland has just recently changed the rule for bond filing that debt settlement service licensees have to comply with. Since August 1, 2019, applicants have to provide the necessary state surety bond digitally via the NMLS. 
The other state adopting ESB now is Rhode Island. Student loan servicer licensees have to use the digital submission of bonds as of September 1, 2019.
---