Minnesota Revises Requirements for School Bonds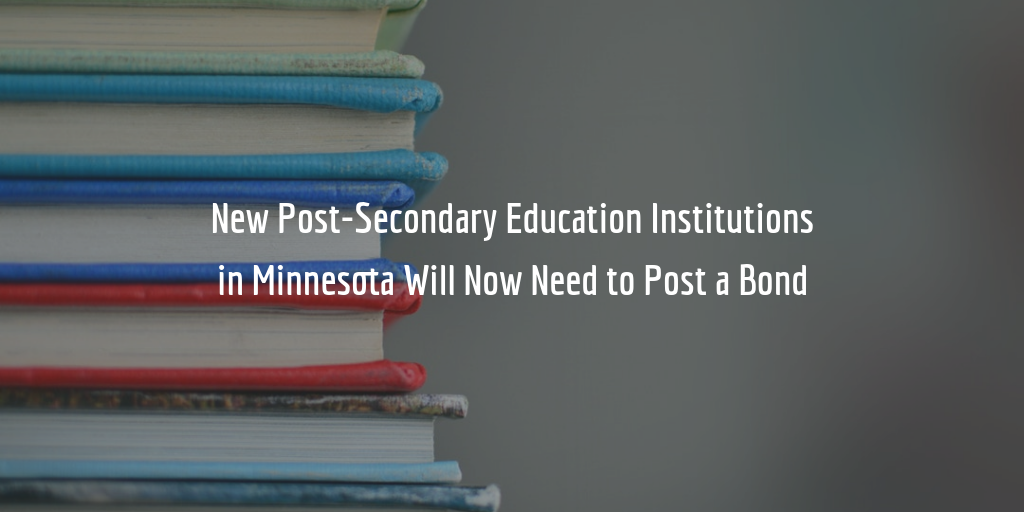 Minnesota has passed a bill that introduces various higher education appropriations and policy provisions. Among the amendments to the current law is the new bond requirement for new post-secondary schools with conditional approval to grant degrees.
Under the amended law, such institutions will need to post a Minnesota school bond in order to operate in the state.
Read more about the requirement below!
Bond Requirement for Minnesota Post-secondary Schools
Current law states that a surety bond is only required of post-secondary schools and registered institutions that have fallen below the U.S. Department of Education financial standards. These need to post a bond in an amount between $10,000 and $250,000, as required by the Department in the Letter of Credit Alternative.
Under bill SF 2415 a new bond requirement is added to the existing law. Now, institutions that have received conditional approval for degrees or names allowing them the opportunity to apply for and receive accreditation, will also need to post a surety bond.
The bond required of these schools must be equal to 10% of the net revenue derived from tuition and fees in the institution's prior fiscal year but not less than $10,000.
Minnesota School Bond Cost
The cost of your surety bond is equal to a percentage of the full bond amount. It is determined by the surety on the basis of your personal credit score, as well as other financials. If you have a high credit score, the surety company that issues the bond will offer you a low bonding rate, and vice versa.
You can request a free quote by completing our simple bond form below. One of our bond professionals will soon get in touch with you to provide you with a quote, and any additional information about getting bonded!
---