Nebraska Introduces Licensing and Bonding Requirements for Public Adjusters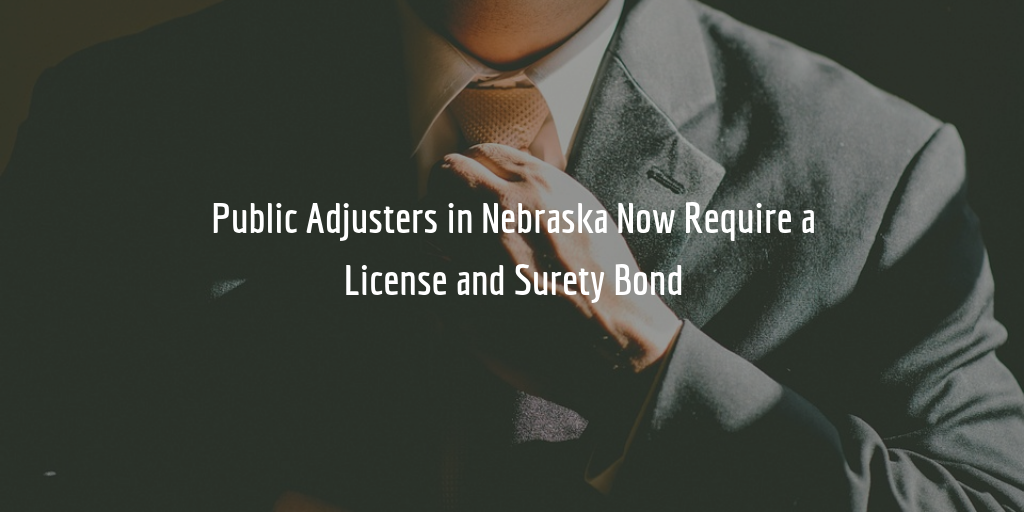 The state of Nebraska recently adopted the Public Adjusters Licensing Act. This Act introduces requirements for public adjusters in the state to get licensed, bonded, as well as to pass an examination when applying. Find out more about the Act and the public adjuster bond requirement.
The Nebraska Public Adjusters Licensing Act
Nebraska Legislative Bill 743 (LB 743) which was passed at the end of March introduced a number of changes for public adjusters, insurance consultants, producers, and others. For adjusters, in particular, the bill's passing has resulted in the adoption of the Nebraska Public Adjusters Licensing Act.
The Act introduces the requirement for public adjusters in Nebraska to obtain a license in order to operate legally. Now, anyone who wants to obtain such a license in the state will need to apply at the Nebraska Department of Insurance.
Before they can get licensed, applicants will need to pass an examination which will test their knowledge and understanding of their duties and responsibilities as public adjusters. The exam will also include questions regarding state insurance laws and provisions. Once licensed, public adjusters will need to obtain 24 credits of continuing education, including 3 ethics credits, on a biennial basis.
According to the Act, public adjuster licenses need to be renewed by the last day of the month of the adjuster's birthday in the first year after licensing in which the adjuster's age can be divided in two. In other words, in any year in which an adjuster's age is even-numbered.

Surety Bond Requirement
Finally, adjusters will also need to submit financial responsibility in the form of a surety bond to the Department before they are issued their license. The bond needs to be in the amount of $20,000.
Its purpose is to provide protection to clients of public adjusters. Such protection may be required in cases in which adjusters do not comply with the terms of the contracts they have with their clients or act dishonestly, causing losses and damages to their clients.
In the case of such a violation on the part of a public adjuster, clients can file a claim against their bond and request compensation by the surety backing the bond. The surety must then investigate the issue and extend compensation to claimants. Such compensation can be as high as the full amount of the bond.
Once the surety extends compensation to a claimant, the bonded public adjuster will need to repay its surety in full for such compensation. In this way, surety bonds offer protection to adjusters' clients and guarantee that adjusters will comply with the provisions of the Public Adjusters Licensing Act.
Cost of Your Bond
To get bonded, you need to pay a bond rate. This rate is determined by the surety when you apply for a bond. In determining your bond rate, the surety will take into account your personal credit score. In certain cases, the surety may also want to review your business and personal financial statements.
The higher an applicant's credit score is, the lower their bond rate will be. Applicants who have a credit score of 700 FICO or more can expect to get a rate between .75% and 1.5% of the full amount of this bond. For example, if you are offered a rate of 1% on your bond, you will need to pay $200 to get bonded.
If you want to know how much exactly you will need to pay for your bond, complete our bond form and we will shortly provide you with a free and precise quote on your bond.
If you have any further questions about this bond or the bonding requirements for Nebraska public adjusters, call us at 866.450.3412!
---