New Licensing and Bond Rules For NY Mortgage Servicers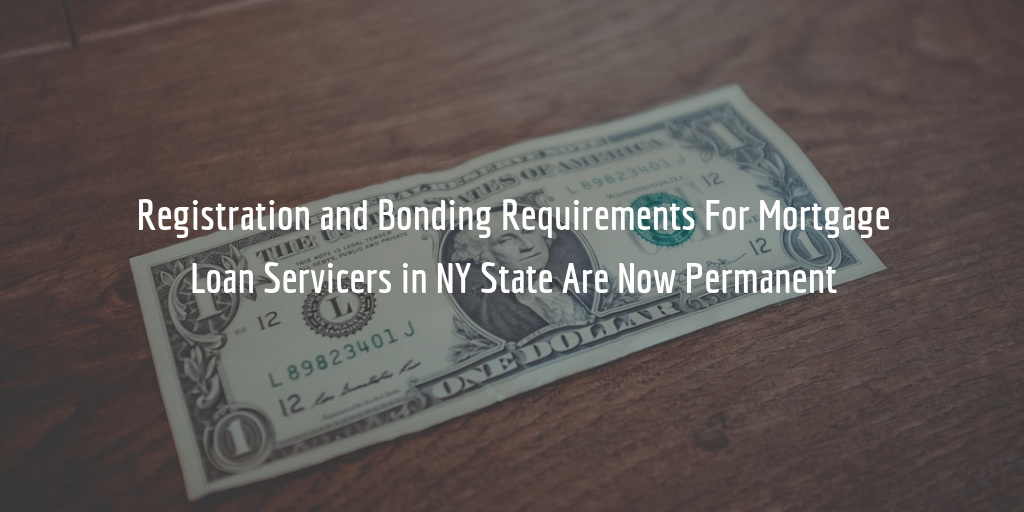 Beginning July 2019, mortgage loan servicers in New York state have been required to register at the NY Department of Financial Services. The requirements which were adopted as part of the Banking Law are not entirely new. Previously, as an emergency measure, the state had frequently required loan servicers to comply with the same set of conditions.
What's new about the adopted rules now is that they are instituted as permanent and henceforth all applicants for a mortgage loan servicer license will need to comply with them. Among other things, they include requirements for applicants to have a certain amount of minimum net worth, as well as to obtain two types of surety bonds.
See the sections below for an overview of the registration and bond requirements for NY mortgage servicers.
New York Mortgage Servicers Registration Requirements
As of July 17, 2019, rules for the registration of mortgage loan servicers in New York state have been adopted.
Under these rules, now part of article 12-D of the state Banking Law, to conduct business as a servicer in the state, applicants will need to apply for a license through the Nationwide Multistate Licensing System & Registry (NMLS). While the licenses are regulated by the New York State Department of Financial Services, applications are submitted and processed through NMLS.
Since the adopted regulations have been in place previously on several occasions, they are not new to loan servicers in the state. Among them, the minimum net worth and surety bond requirements are some of the most important. They are as follows.
Net worth requirement
To be granted a loan servicer license, applicants must cover a minimum net worth financial responsibility requirement.
Such net worth must be in an amount of at least $250,000, plus an amount equal to 1/4 of 1% of the total loans serviced by the applicant.
For third-party servicers this percentage must be 1/4 of 1% of the loans serviced specifically in New York state.
Surety bond requirement
Applicants must also furnish two types of surety bonds before their application can be accepted. These are:
A $250,000 corporate surety bond that guarantees their compliance with the provisions of Banking Law of New York

A Fidelity and Errors and Omissions (E&O) bond in an amount of at least $300,000
The exact amount of the Fidelity/E&O bond is determined on the basis of the total amount in loans serviced by the licensee, according to the following scheme:
$300,000 bond – $100 million or less

plus .15% to the bond amount – of the next $500 million

plus .125% to the bond amount – of the next $400 million

plus .100% to the bond amount – of loans over $1 billion
Finally, the fidelity/E&O bond may provide a deductible amount that can not be more than the greater of either $100,000 or 5% of the face amount of the bond.
NY Mortgage Servicers Bond Requirements
When you apply to get bonded, the surety company will request to review your personal credit score as well as, possibly, other financial information. The surety will then provide you with a quote on your bond, based on that information.
This quote, i.e. the cost of getting bonded, is equal to a percentage of the total amount of your bond. Applicants who have an excellent credit score, one of 700 FICO or more, are typically offered the lowest possible rates on their bonds.
For this type of bond, such applicants can expect to be offered a rate that is as low as .5% of the total bond amount, and up to 1.25%. In turn, applicants with slightly lower scores can expect to get bonded at a rate of 1% or more, and for as much as 5%.
To get an exact quote on your bond, click on the banner below, and complete our simple bond application form. You will hear from us very shortly after!
---