Higher Bond Amounts Introduced for South Carolina RV Dealers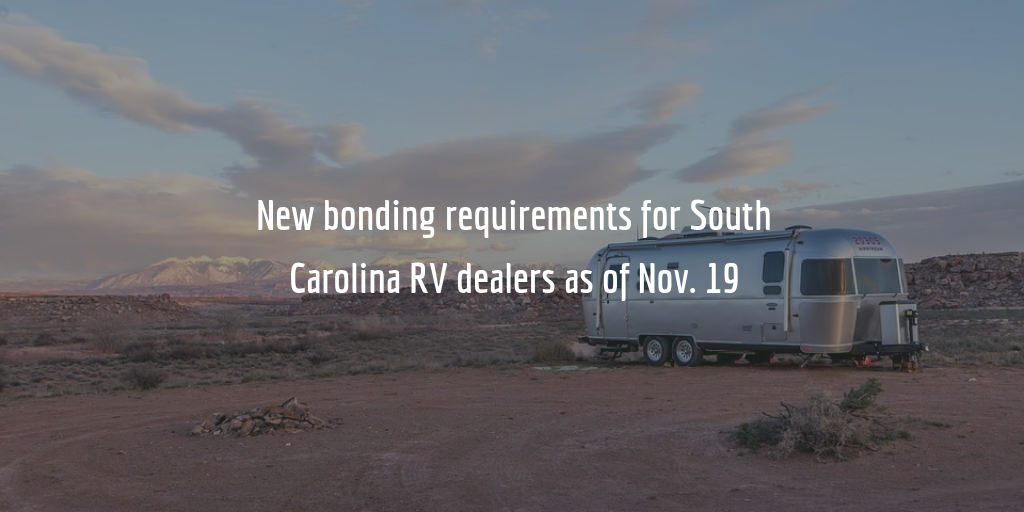 South Carolina recreational vehicle dealerships will see an increase in the amount of their auto dealer bond as of November 19, 2017. The change to the licensing process was introduced in a bill passed at the end of May, which added Chapter 14 of Title 56 of the Code of Laws of South Carolina.
The chapter called "Regulation of Manufacturers, Distributors and Dealers of Recreational Vehicles" establishes clearer procedures for the operations of South Carolina RV dealerships and their relationships to manufacturers and distributors. Read on for a full overview of the bill and its provisions!
South Carolina Senate Bill 321
Senate Bill 321 defines a 'recreational vehicle' as a "motor home, travel trailer, fifth-wheel trailer, or folding camping trailer designed to provide temporary living for quarters or recreational, camping, or travel use."
Accordingly, the bill requires anyone who wishes to sell RVs in South Carolina to become licensed at the state Department of Motor Vehicles. RV dealer licenses issued by the Department are valid for 12 months and must be renewed before they expire. The bill determines the licensing fee for South Carolina RV dealers to be $50. The bill further requires RV dealers to maintain complete records of every transaction for a minimum of four years.
Finally, RV dealers are now also required to obtain a $30,000 South Carolina auto dealer bond. Until now, such dealers needed to submit a $15,000 bond when getting licensed.
New bonding requirements
As of November 19, new RV dealer licensees, as well as dealers who renew their licenses, will need to have a bond in the amount as defined by Bill 321. The bond's purpose is to guarantee that will comply with Chapter 14 of Title 56, as well as all other state statutes that apply to their business.
The bond is also intended to protect the customers of an RV dealer as well as the state from a dealer's dishonest actions, such as fraud or fraudulent representation, that result in losses or damages to either of those parties. If a dealer should engage in such actions, customers may file a complaint against the dealer and a claim can be made against the dealer's bond by the state Department of Motor Vehicles.
Since the bond has a backing of $30,000, claimants whose claims are considered legitimate may receive compensation for their claims up to the full amount of the bond. In such a case, the bonded RV dealer must then repay the surety for the compensation it extends to a claimant.
Since bond claims can be a costly affair, bonded individuals and businesses are always advised to steer clear of situations that could possibly give rise to a claim. Complying with state requirements and sticking to best business practices is the simplest and safest way of avoiding a bond claim!
How much does the South Carolina auto dealer bond cost?
To get bonded, RV dealers must pay a rate on their surety bonds. Bond cost is determined on the basis of an applicant's financial credentials and stability. It is typically equal to a small percentage of the total bond amount.
While the exact cost of the bond is determined for each applicant individually, applicants with a high credit score may be able to secure their bond for as little as $225. To get an exact and entirely FREE quote on your bond, just fill in our online surety bond application form.
Call us at 866.450.3412. if you want to find out more about the bonding requirements, how to submit your application or to get more information about bonds in general!
---