South Carolina Introduced Bonding Requirement for Dealers Auctioning Collector or Investment Grade Vehicles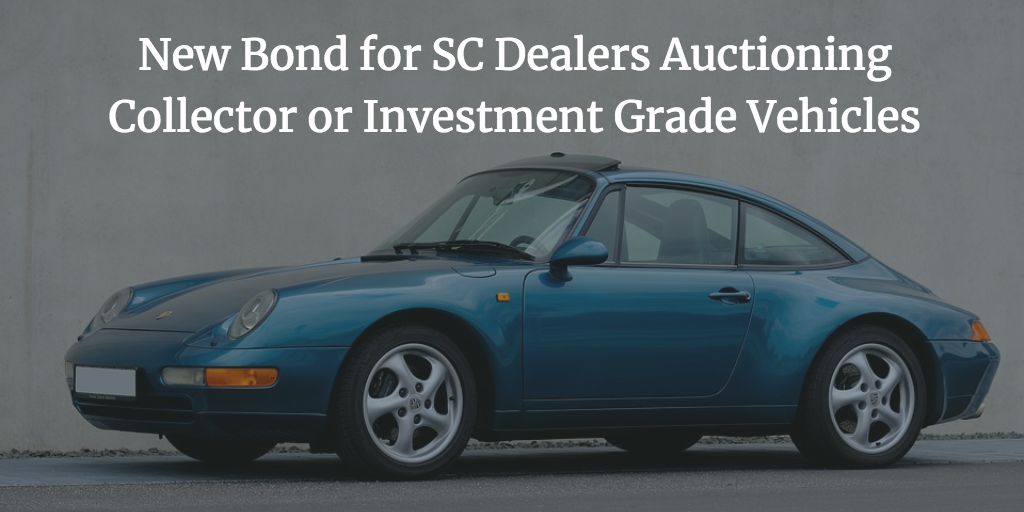 A number of motor vehicle dealers in South Carolina now have to meet a new legal requirement introduced by the state.
House Bill 4795 introduces new licensing criteria for dealers that conduct auction of investment grade or collector motor vehicles. Such dealers now have to obtain a surety bond in order to operate legally in South Carolina.
The bill was introduced in the House on January 31, 2018. It was signed into law by Governor Henry McMaster on May 18, 2018.
The new bonding requirement
The South Carolina bill provides a new definition of what a motor vehicle dealer is under the state legislation. It excludes dealers who auction collector or investment grade vehicles for not more than three days per year.
Such dealers have to obtain a $1 million surety bond. They are also required to conduct their activities for an entity regulated by Section 501(c)(3) of the Internal Revenue Code. Dealers are fully responsible for the payment of all due taxes, as well as for making sure that all auctioned vehicles are registered and titled.
The bonding requirement is an extra layer of guarantee for the state and its citizens. It ensures the legal compliance of motor vehicle dealers. If a dealer transgresses from their obligations and commitments under the state law, a harmed party can file a claim against the surety bond. That's how a fair compensation for suffered damages can be sought. The maximum reimbursement that a claimant can seek is the penal sum of your bond. In this case, it is $1 million.
The bill also defines 'Investment grade vehicle' as a motor vehicle that is not currently being produced, nor is being sold sold by a franchised motor vehicle dealer. It should have a value of more than $250,000. A 'collector motor vehicle' is defined as a motor vehicle that is at least 20 years old.
How to get your dealer bond
In order to obtain the bond you need, you only have to cover a small percentage of it. For motor vehicle dealers, the typical amounts are between 1% and 3% of the required bond amount. The exact bond premium is based on the strength of your finances.
When you apply for a bond, your surety has to examine a number of factors related to your personal and business financials. The most important ones include your personal credit score, but are not limited to it. Your business stats, assets, liquidity, and even professional experience are all criteria that influence your surety bond cost. The more stable they are, the smaller your bond premium is likely to be. You can also review our 1 million dollar bond cost page for further information.
This means that for a large bond amount as the one you have to obtain, you can work on improving your finances, so that you can reduce your bond price. The most effective ways to do that is to polish your credit score and make any outstanding payments that may be downgrading your credit report.
What are your views regarding the new requirements for dealers auctioning collector or investment grade vehicles in South Carolina? Please share them in the comments below.
---