Top Dealership Consultants in the US: From Licensing to Marketing
Are you planning to open an auto dealership or are you already operating one? In either case, it's highly likely you are facing a variety of business challenges. If you still haven't used the services of auto dealership consultants, maybe now is the time.
Dealership consultants provide expert help to budding and existing businesses alike, customizing their services based on current needs. Whether it's finance, tax and budgets, insurance and auto dealer bonds or business advice, consultants are there to make a dealer's life easier. They provide counseling and expert advice to help you strengthen your strategies and improve your productivity.
We've compiled a handy list of some of the top dealer consulting services across the U.S. in various categories. Whatever your business needs are, consultants can really ease your dealership's pain points and help your business along with its path to success.
Dealer licensing

Getting your dealership license is a complicated process, but all car sale businesses need to start from there. Dealer License Consulting is a company that offers a wide range of licensing advice and assistance and will be of great help to budding dealers. They can assist you in obtaining either a retail or a wholesale license.
Dealer License Consulting offers different packages of services that include everything needed to get you licensed — from background and credit checks to dealer license plates. It's accredited by the Better Business Bureau since 2013.
Financial and accounting matters

If you're looking for a Certified Public Accountant, BlumShapiro is a great choice for your dealership. They offer a range of accounting, tax and business consulting services:
accounting and auditing – audits, reviews and compilations, as well as process and controls consulting
tax – tax planning and projections, tax return preparations
employee benefit assurance services – retirement plan audits
valuation and forensics – litigation support
consulting – dealership management and consulting tools
BlumShapiro boasts a whole department specializing in auto dealerships, and this means that they are able to offer expert accounting and finance help in the language that dealerships speak. They follow the auto industry carefully, so they are a good source of information for your business.
Business management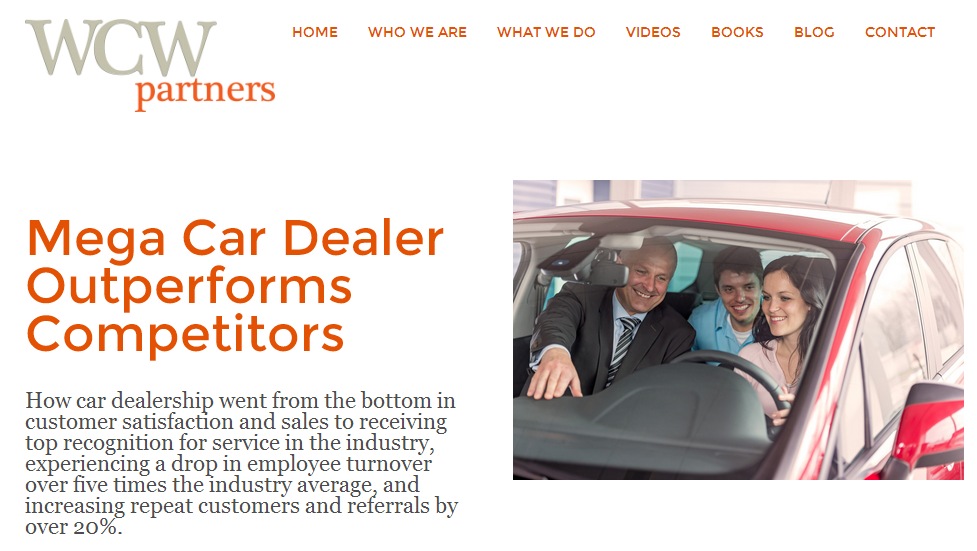 Are you looking for ways to improve your organization's effectiveness, such as customer retention and volume of sales? WCW Partners can be a useful helper in this process. They offer leadership development services that can assist you in effectively leading your staff. They can also provide you with guidance to turn your customers into loyal brand ambassadors, thus boosting customer retention rates. Additionally, you can get help with your sales with WCW Partners' sales improvement plans.
You can check out their case studies, especially Mega Car Dealer, on their website. While WCW Partners consult a wide range of companies, they've had much experience with auto dealerships and their approach includes in-depth adaptation to your industry's business language and setting.
Marketing
Now here we have a clear winner. Dealer.com presents an awesome combination solution for marketing and dealership operations. They offer bundled services in advertising, website creation, inventory online listings management, CRM, centrally managed digital campaigns, and more.
All your marketing and online efforts executed through Dealer.com are visible in a single Control Center, so you have a full overview and control of the services. All the services are crafted to help the visibility and authority of your business grow online and offline alike. This marketing consultancy is certainly a one-stop shop for your dealership's online marketing needs.
Dealership consultants are useful helpers that can greatly enhance your dealership's performance and ease the burden on the management. Do you want to recommend another top specialist in-dealership consulting? Please do so in the comments section below.
---