Contractor Bonding Requirements by State
If you want to find out more about state or local bonding requirements for contractors, you can do so by selecting your state below.
Choose Your State
What Is a Contractor's Bond?
Construction contractors are generally required to be registered or licensed with their state or local authorities, and a contractor license bond is often required in the process.
The contractor license bond is a type of surety bond, which, in essence, is an agreement between three parties: the principal (the contractor), the obligee (the entity requiring the bond, usually the state), and the surety (the bond provider). It acts as a guarantee that you will comply with all regulations imposed by your local authorities.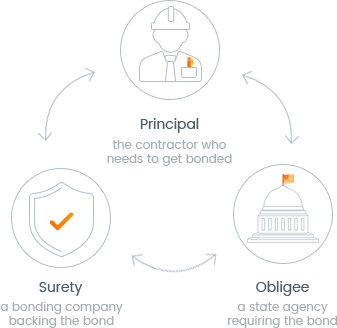 There are other construction bonds such as bid, performance and payment bonds, but they are different from a contractor license bond. The license bond concerns general compliance with the statutes of your license, while the other three types of bonds are posted for work on a specific project. They serve as a guarantee that you will follow your contractual obligations under a specific project, such as completing your work, or paying your subcontractors or suppliers as agreed. You can learn more about the difference between contract bonds and contractor license bonds if you take a look at the infographic at the bottom of the page.
A contractors license bond is like a surety line of credit for your business, providing extra protection for your customers that you will fulfill your work fully and diligently. In order to issue your bond, a surety needs to take a good look at your financials and business, to judge whether you can successfully fulfill your obligations.
If you fail to comply with regulations, causing damage to a party covered by the bond, a claim can be filed. If your actions are proven as unlawful, the surety will cover the immediate costs up to the penal sum of the bond. However, you will have to reimburse it soon after, as per the indemnity agreement that is a part of the bonding process.
Contractor Bond Cost
The cost for your contractor license bond, or the bond premium, is usually between 0.75%-2.5% of the total amount. For example, if you're required to post a $10,000 contractor license bond, you might pay between $100 and $400.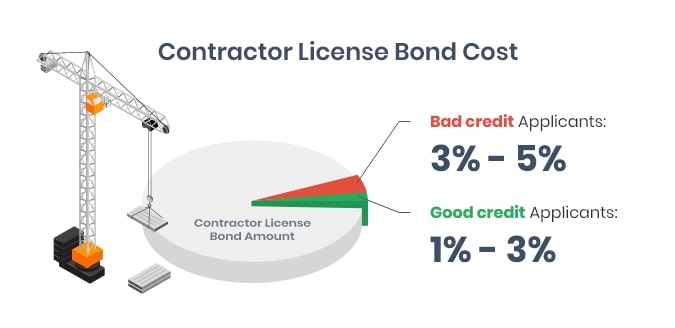 The percentage will depend on your personal and business status: credit score, financial statements and business experience. If your overall condition is good, you'll have to pay less.
Additionally, each state and local authority has different requirements regarding the bond amount.
How can you decrease your contractor bond cost?
There are a few effective ways that can help you lower your bond cost:
Your credit score. The higher it is, the lower you'll pay.
Your overall financial status. Showcase strong financial statements and good liquidity.
Your choice of surety bond provider.
To get a ballpark estimate of your contractor license bond, you can use our surety bond cost calculator on the right side of the page.
If you have more questions on how surety bond costs are determined, feel free check our surety bond cost guide.
Contractor Bonding Companies
With Bryant Surety Bonds, you not only get access to exclusive bonding rates but a lot more. We foster strong relations with numerous A-rated, T-listed contractor bonding companies, which allows us to shop around for the best rate for your particular case. It also means a guarantee that your obligee will always accept your surety bond. This is not always a given, as many bond obligees will not accept a contractor bond unless it is underwritten by a financially strong company with an A rating.
Contractor License Bond with Bad Credit
For many contractors with lower credit score or past bankruptcies, tax liens or court cases, getting bonded can seem like an impossible dream. Many sureties turn down these high-risk applicants.
If you're in a similar situation, Bryant Surety Bonds' bad credit program can help you get bonded. We operate this program in order to allow contractors with less-than-perfect credit, or other financial troubles to get bonded and be able to stay in business.
The bond premiums for the high-risk market are a bit higher, in the range of 5%-10%. They are still a great opportunity to get bonded and licensed, which allows you to work and improve your credit score organically.
Get Your Contractor License Bond Today
To start your bonding process today, just apply online to get your free, no-obligations quote, or call us at (866)-450-3412. If you need assistance with your application, our bond experts will be happy to help.
In order to provide you with the best bonding rate, we'll have to take a look at your personal and financial documents. This way we'll be able to make an accurate judgment of your overall business status, and give you your exact bond premium.
Bond forms vary across states and municipalities; make sure you get the right one from your local authorities. Once you get the completed bond, we recommend that you make a copy for yourself before submitting it to the relevant authorities.
Contractor Bond Claims: What You Need to Know
As mentioned, you can be facing a claim if you have breached the agreement of your contractor bond. This can involve non-compliance with state or local regulations, using fraudulent business methods, failure to declare and pay your taxes, etc. Bond language and forms vary by location, so you need to be well-aware of the ones requried in your place (or places) of operation.
In the event of a claim, there are several possible courses of action. You can seek an out-of-court settlement, which is usually recommended if you know that you have breached the bond agreement and will lose the claim in court anyway. A settlement will generally be less costly and time-consuming and will not hurt your reputation the way a claim will.
Alternatively, you can try and go to court over the claim. If that is your preferred option, you need to make sure that you have sufficient and well-documented evidence to present. Communication with the claimant should be well-documented too, and at every step of the claim process. Finally, it is advisable that you notify the company that issued your contractor license bond. After you present your case in front of the surety, they can decide to intervene in your favor and offer legal aid in court.
If you lose your court case, your will have to financially compensate the claimant up to the full penal sum of the bond.
Difference Between Contractor License Bonds and Contract Bonds
These two types of bonds are frequently confused, so we created a short infographic to explain the difference.
Find the Bond You Need
The table below contains a list of only the most popular surety bonds. If you can't find yours, fill out our online application and select "Not in the list".
General Contractor License Bond

State of Alabama Board for General Contractors

City of Birmingham Contractor License Bond

(City of Dothan, AL) Contractor License Bond

Heating, Air Conditioning, & Refrigeration Contrac

Board of Heating, Air Conditioning, & Refrigeratio

Urban Development Department Bond

Mobile Urban Development Department

Plumbing and or Gas Fitting Bond

State of Alabama Plumbers & Gas Fitters

Construction Contractor Bond

Dept of Commerce, Community and Economic Developme

The Registrar of Contractors

Right of Way Performance Bond

Taxpayer Bond for Contractor 42-5006

Arizona Department of Revenue

(City of Marion, AR) Contractor License Bond

Contractors Licensing Board

Contractors Licensing Board

Public Works Bond (Sonoma County Department)

Waste Collector's Performance Bond

City of Los Angeles - Environmental Affairs Dept

Contractors State License Board

Bond of Qualifying Individual

Structual Pest Control Board

Sewer/Storm Drain Connectin Bond

Farm Labor Contractor Bond

Dept of Industrial Relations

Permit Compliance Bond (El Paso County, CO)

Board of County Commissioners; El Paso County

Contractor License Bond (City of Trinidad, CO)

Installer of Manufactured Homes Bond

Dept of Local Affairs Div of Housing

Right of Way Street Permit for Washo Circle Bond (

El Paso County, CO Public Services Department

Town of South WIndsor Drain Layer's or Excavation

Bureau of Engineering & Highway Operations Permit

State of Connecticut, Dept of Transportation

Town of Farmington Permit Bond

(City of Norwalk, CT) Street Opening or Encroachme

City of Norwalk, Connecticut

Nonresident Contractor Verification Bond

CT Department of Revenue Services

Statutory Compliance Bond

Compliance with City Ordinance Bond (Newark, DE)

City of Newark, Code Enforcement Division

(City of Wilmington, DE) Plumbers Bond

City of Wilmington Dept of Licenses and Inspection

Plumber's Bond (City of Rehoboth Beach)

Department of Labor, Divison of Revenue

$25K Home Improvement Contractor

Dept of Consumer & Regulatory Affairs- Buisness an

Dept of Consumer & Regulatory Affairs- Buisness an

Registered Contractor Qualifying Business

Florida Department of Business and Prof Reg.

Construction License Bond

Florida Construction Industry Licensing Board

Hernando County Contractor License Bond

Hernando County Development Department

Hillsborough County Contractor's Code Compliance B

Governor of The State of Florida

Contractor License Bond (Palm Beach County, FL)

Palm Beach County Construction Industry Lic Board

(Anna Maria, FL) Public Works Bond

City of Anna Maria -Public Works Dept

Financially Responsible Officer

Construction Industry Licensing Board

Statement of Bonding Limits (Application for Trans

Dept of Business and Professional Regulation

General Construction License Bond

Department of Business and Professional Regulation

Certified Contractor Qualifying Business (General)

Department of Business and Professional Regulation

Construction License Bond

Department of Business and Professional Regulation

Construction License Bond

Florida Dept of Business and Professional Reg

Certified Contractor Qualifying Business (Plumbing

Department of Business & Professional Regulation

Certification of Registered Contractor Bond

Dept of Business and Professional Regulation

Additional Business Entity Bond

Department of Business and Professional Regulation

Construction License Bond

Department of Business and Professional Regulation

Certified Contractor Bond

Florida Construction Industry Licensing Board

Registered Contractor Qualifying Business Bond

Department of Business and Professional Regulation

Statement of Bonding Limits (Change of Status of Q

Dept of Business and Professional Regulation

Certified Contractor as an Individual (Commerical

Dept of Business and Professional Regulation

Construction License Bond

Department of Business and Professional Regulation

Contractor License Bond (Registered Contractor as

Department of Business and Professional Regulation

Certified Contractor Qualifying Business (Building

Department of Business and Professional Regulation

Construction License Bond (Change of Status - Inac

Department of Business and Professional Regulation

Construction Industry Licensing Bond(Financially R

State of Florida Dept of Business and Professional

Lincoln County Electrician Bond

Lincoln County Planning and Zoning

Pesticide Ground Contractor Bond

Dept of Agriculture - Pesticide Section

Electrical Contractor Bond (Augusta Richmond Count

Cobb County Code Compliance Bond

Cobb County Development & Inspections

Residential & General Contractors

State Board for General and Residential Contractor

Water Well Pump Installers Bond

GA EPD-Dept of Natural Resources

Performance Bond For Water Well Contractors and Dr

GA EPD-DEPT OF NATURAL RESOURCES

Pesticide Ground Contractor Bond

Dept of Agriculture - Pesticide Section

Dept of Commerce and Consumer Affairs

City of Honolulu Trenching Bond

City and County of Honolulu

HVAC Contractor's/Specialty Contractor's Certifica

State of Idaho Division of Building Safety HVAC Bo

Plumbing Contractor's/Specialty Contractor's Licen

Division of Building Safety

Crystal Lake, ILGeneral Contractor License Bond

Contractor License Bond (Lincolnwood, IL)

General Contractor License

General Contractor License Bond

Kankakee County Regional Planning Department

Electrical Contractor Bond

General Contracting Bond (Village of Itasca, IL)

General Contractor Bond (Village of Rosemont, IL)

General Contractor License Bond (County of Dupage,

Electrical Contractor Bond (Village of Hinsdale)

General Contractor Bond (Elmhurst, IL)

Concrete Work Bond (Elmhurst, IL)

General Contractor License Bond (Harwood Heights,

Village of Harwood Heights

General Contractor License Bond (Granite City, IL)

Roofing Contractor (Limited)

Dept of Financial and Professional Regulation

Roofing Contractor (Unlimited)

Dept of Financial and Professional Regulation

Limited Liability Plumbing Contractor Bond

Illinois Department of Public Health Plumbing Prog

(Community Unit School District No 300) Sign Contr

Community Unit School District No 300 - Purchasing

IN Dept of Natural Resources

General Contractor License Bond

Consolidated City of Indianapolis

Saint Joesph County Health Department General Cont

Saint Joseph County Health Dept.

Consolidated City of Indianapolis

Marshall County General Contractor License

Repair or Removal of Unsafe Building Bond

City of Richmond, Indiana

Waterproofing Contractor Bond (Lake County Plan Co

Lake County Plan Commission

General Contractor Bond (Lake County, IN)

Excavatin in Streets Bond

The City of Mishawaka Indiana

City of Bettendorf Contractor License Bond

City of Bettendorf, Building Inspection Services

License and Permit Bond (Davenport, IA)

General Contractor Bond (Fort Dodge, IA)

City of Fort Dodge, IA; City Treasurer's Office

Right of Way Permit Bond (Fort Dodge, IA)

Division of Labor Out of State Contractor

Iowa division of labor contractor registration

Contractor License Performance & Payment (State) B

Commercial Refrigeration Bond

Plumbing & Mechanical Systems Board

Roofing Contractor License Bond

License & Permit City of Lockport, IL

Compliance with City Ordinance

City of South Euclid 2011 Registration Bond

City Of South Euclid Department of Building

Village of Roselle, IL- Low Power Cabling Installe

Contractor License - South St. Paul, MN

City of South St. Paul, MN

Contractor License - Missoula, MT

Contractor License - Provo City, UT

Contractor License - Lynnfield, MA

Contractor License - Galveston, TX

Contractor License - Missoula, MT

Contractor License - Williams County, VA

Department of Public Works

Engineering & Construction Management Blanket Buil

Financially Responsible Officer $100K

Dept of Buisness and Professional Regulation

LAND USE and CONSTRUCTION SURETY BOND

Mecklenburg County Land Use & Environmental Servic

City of Minneapolis, License and Consumer Services

El Paso, TX, Engineering & Construction Management

Gallia County Health Department

County Sanitation Contractor License PP

County Sanitation Districts of Los Angeles

Residential Specialty Contractor

City of Pittsburgh Street Location Work Permit

City of Pittsburgh-Telecommunications Installing a

City of Portsmouth Contractor License Bond

Building Contractor License

St. Joseph County/City of South Bend

Building Contractor License

Roofing Contractor License Bond

(City of Port Aransas, TX) General Contractor Bond

Suffolk County Dept. of Consumer Affairs

Landscape Contractors Board

Landscape Contractor Board

San Francisco Street Excavation Bond

Dept of Public Works San Francisco ca

Burlington County Board of Chosen Freeholders

Guarantee Payment of Taxes in Subdivisions Bond

Auditor-Collect/Treas/Tax Coll/Prop Tax Div

(Parish of Ascension, LA) Billboard Installation B

Contractor/Sub-Contractor

Secretary, Dept of Revenue

LA Dept of Transportation Oversize

Montgomery County Performance Bond

Montgomery County Maryland Dept of Permitting Serv

Storm Water Management Bond

Home Improvement Contractor

Home Improvement Commission

Home Improvement Contractor's Bond

MD Motor Carrier Division

Town of Weston - Street Opening Permit Bond

Contractor Guarrantee Tax Bond

MA Department of Revenue, Audit Division

Residential Builder and/or Residential maintenance

Michigan Dept. of Licensing and regulatory Affairs

Security Alarm Contractor Bond

Dept of Licensing and Regulatory Affairs

Residential Builder and/or Residential Maintenance

Dept of Licensing & Regulatory Affairs Lic. Div.

City of Detroit,County of Wayne, State of Michigan

Minnesota Department of Labor and Industry

General Contracting License Bond

Electrical Contractor Bond

Dept of Labor and Industry

Dept of Labor and Industry

Dept of Labor and Industry

Technology System Contractor Bond

Minnesota Department of Labor and Industry

Non-Minnesota Contractor's Bond

Planning and Development Contractor's Bond

City of Jackson, Building Permits Division

General Contractor License Bond

City of Neosho Electrical Contractor Bond

Contractor License Bond (City of Dexter, MO)

Performance Bond (Construction)

Missouri Highways and Transportation Commission

(Whitefish, MT) Public Works Contractor License Bo

City of Whitefish Public Works Dept.

Residential Pool and Spa License

Nevada State Contractors Board

General Contractor License Bond

Electrical Contractor Bond

Board of Examiners of Electrical Contractors

General Contractor License Bond

Procuring & Installation of a 1,000 Gallon Grease

Board of Examiners of Master Plumbers

Township of Bloomfield Sidewalk Bond

Construction Industries Division

Installer and/or Repairman License

NM Manufactured Housing Division

Contractor License Code Bond

Construction Industries Division

Modular Structure Certification Bond

New Mexico Regulation & Licensing Dept

Service Contract Provider Bond

Contractors Taxation Surety

Contractors Tax (Single Contract) Bond

New Mexico Taxation & Revenue Department

County of Putnam Electrical Contractor License Bon

More Than ONe Location-Building Operations Permits

Two to Fifty Locations Liability Permit Bond

City of New York/Commissioner of Transportation

Oversize and or Overweight Equipment Hauling Permi

Department of Transportation, State of New York

Irrigation Contractor's License

NC Irrigation Contractors Licensing Board

Land Use and Construction Bond

Mecklenburg County Land Use & Environmental Servic

Contractor License Performance & Payment (Local) B

Obligee info for this request was wrong

Set-Up Contractor License

NC Manufactured Housing Board

State of North Carolina, County of Wake

Modular Building Set-Up Contractor License Bond

North Carolina Department of Insurance

Landscape Contractors' Licensing Compliance Bond

NC Landscape Contractors Board

Manufactured Home Installer Bond

North Dakota Department of Commerce

Contractor License Third Party Liability Bond

Public Service Commission

City of Reynoldsburg Contractors Registration Bond

The City of Reynoldsburg Building Division

Contractor License/Registration Bond Form

City of Cleveland Contractor's Bond

City of Cleveland Dept of Building

Contractor's Bond, City of University Heights

City of University Heights Building Department

Electrical Contractor's Bond

Trumbal County Electrical Department

Dayton & Montgomery County Plumbing Bond

Dayton & Montgomery County Public Health

Contractor License Bond (City of North Canton, OH)

Installer of Manufactured Homes

Dept of Development, Building services Division

Concrete Contractor Bond (Village of Covington, OH

Ohio - Village Of Covington

Sewage Treatment Systems Service Provider Bond

Contractor License Performance & Payment (State) B

Ohio Department of Health

Construction Industries Board License

Oklahoma Construction Industries Board

Oklahoma Corporation Comission Oil and Gas Divisio

Nonresident Contractor's Bond

Residential Construction Contractor License

Construction Contractors Board

Landscape Contractor License

Landscape Contractors Board

Landscape Contractor License

Landscape Contractors Board

Landscape Contractor License

Landscape Contractors Board

State of Oregon Construction Contractor Board- Com

Construction Contractor Board

OR Water Resources Department

Construction Contractors Board

Commercial Contractor License Bond

Construction Contractors Board

Farm Labor Contractor Bond

Bureau of Labor and Industries

St. Clair County Road Commission

St. Clair County Road Commission

Telecommunications Installing and Operating Bond

Peters Township, PA Road Weight Permit Bond

Union Township, PA Road Weight Permit Bond

Surety Bond (Street Permit)

PENNDOT - Bureau of Maintenance & Operations

Pine Township Excess Weight Permit Bond

City of Pittsburgh, PA Excess Weight Bond

Weight Restricted Highways Program Performance Bon

PENNDOT - Bureau of Maintenance & Operations

Registered Residential Specialty Contractor

Residential Builders Commission

South Carolina Manufactured Housing

SC Dept. of Manufactured Housing

Contractor License (No P&P Language)

Residential Builders Commission

(HVAC, plumber, electrician) Licensed Residential

Residential Builders Commission

Metropolitan Government of Nashville and Davidson

NASHVILLE AND DAVIDSON COUNTY

City of Hendersonville Permit Bond

Hendersonville Department of Building & Codes

Fire Protection Sprinkler Contractor

Board of Licensing Contractors, Dept of Commerce a

Home Improvement Contractor

Dept. of Commerce & Insurance, Contractor License

Memphis and Shelby County Code Enforcement Bond

Building Contractor's Bond (City of Abilene)

City of Galveston, TX -(Local) Payment & Performan

AEP Texas Central Company

Development Services Blanket Building and Construc

General Contractor License Bond

Blanket Building & Construction Bond

City of El Paso - Development Services Dept

City of Sonora Electrical Contractor Bond

Blanket Building & Construction Bond

Home Improvement Contractor's/Salesman Bond

Contractors Bond (City of Midland, TX)

Building Contractor's Bond (City of Abilene)

Blanket Building and Construction Bond (Town of Ho

Paving Bond (City of Dallas)

Development Services Dept Blanket Building & Const

Service Contract Provider Surety

Over Axle and Over Gross Weight Tolerance Permit B

Dept. of Motor Vehciles, Motor Carrier Division

Appendix Form D: Contractors License

Division of Occupational and Professional Licensin

Division of Occupational and Professional Licensin

Div. of Occupational & Professional Licensing

Contractor's License Bond

Utah Department of Ocupational Professional Licens

Contractor License Performance & Payment (Local) B

Prince William County, Dept of Development Svcs, B

Continuous Contractor's Surety

Dept of Labor and Industries, Contractor's Registr

Electrical/Telecommunications Contractor's

State of Washington Dept of L&I

Commercial Installer and/or Maintenance Service Pr

Island County Health Department

Fire Sprinkler System Contractor's License Bond

Fire Protection Bureau-Sprinkler Licensing Program

Farm labor Contractor Bond

Dept of Labor & Industries Employee Standards Sec

Side Sewer Contractor Registration

City of Seattle, Department of Planning & Developm

Side Sewer Contractor Performance and Warranty Bon

Division of Highways Encroachment

WV Depratment of Transporation

Risk Management Office-City of Green Bay

Plumber's Preformance Bond

Dwelling Contractor-Restricted Certification Bond

Wisconsin Department of Safety & Prof Services

City of Sheridan, WY Contractor License Bond

City of Sheridan - City Hall 1st Floor

(Town of Jackson, WY) Contractor License Bond

(City of Buffalo, WY) Contractor License Bond

(City of Torrington, WY) Roofing and Construction