Table of Contents
The cost of a $25,000 varies mostly based on the applicant's credit score. Usually, applicants with a FICO of 650 or more pay an annual premium of 0.75% to 2.5% or between $187 and $625. Applicants with credit issues can expect premiums in a range between 2.5% to 10%, i.e. annual payments between $625 and $2,500.
Contract bonds are usually the exception, because underwriters consider them as high-risk bonds and therefore often give quotes in excess of 10%.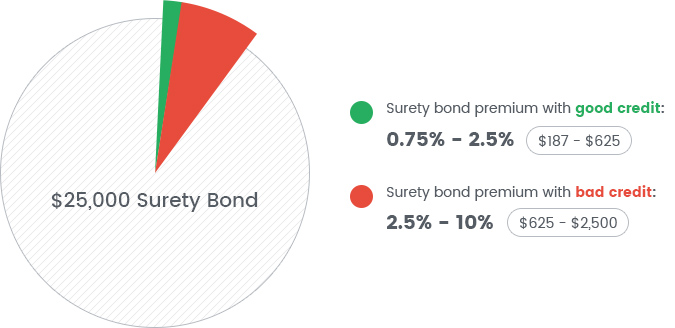 Take a look at the table below where bond premiums are divided based on the credit bracket the applicant is in.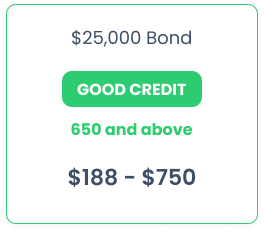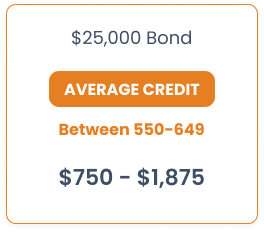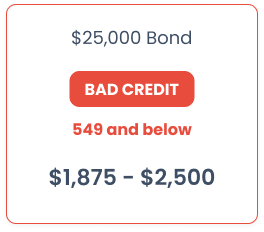 If your credit score is raising your premium too much, you can submit additional details which can strengthen your application. Our How Much Does a Surety Bond Cost? guide contains some valuable tips which can substantially reduce your bonding cost.
How to Get a $25,000 Surety Bond if You Have Bad Credit
Applicants with bad credit pay higher premiums, because surety bond companies perceive them as higher risk. If a holder of a surety bond triggers a claim, the surety is legally responsible too. For this reason some underwriters may refuse to get a bad credit applicant bonded.
To help our clients overcome their credit difficulties, we created the Bad Credit Program. In our experience, 99% of applicants can still get their bond thanks to it. Two exceptions are applicants with open bankruptcies or late child support payments.
Charging you a higher rate due to your credit check is simply how bonding companies look to mitigate their risk. Normal bond rates for someone with bad credit might range from 5% of the total bond price to as high as 10%. In the case of a $25,000 bond, that can mean $1,250 to $2,500.
Applicants with a robust credit history are preferred, but you can still get surety bonds with poor credit. The secret to success is ensuring you get the best deal for your current credit score while also taking steps to improve your credit standing. That way, you can get a better deal when it comes to renewing your bond next year or when the term expires.
Get Your FREE Bond Quote Instantly
FREE Instant Online Quotes - All 50 States - All Credit Types
Get a FREE Bond Quote

Instant ballpark estimate

Tell us about your business

powered by

Get your FREE quote today!
How to Calculate $25,000 Surety Bond Cost
Numerous risk factors are relevant to calculate $25,000 surety bond cost. The specific factors involved vary from one situation to the next, but there are several that you can bank on.
The kind of bond is usually a good starting point. Some industries face higher levels of risk. However, the location or state where the bond is obtained can also be highly influential.
The size of the bonded principal and its operation can impact the bond cost. A smaller business or independent professional might wind up with higher rates than larger competitors or peers with a more established bond history.
Your personal credit score and history are going to factor in quite a bit. If you're new to this, then a surety company might dig into your resume, phone number, history of addresses, and bank accounts while reviewing you as a potential risk.
If you ascertain that a $25,000 surety bond is necessary to operate your business in your state, then you might be intimidated by the size of that number. Fortunately, you don't have to pay that amount to get a bond of that size. However, the actual cost will vary based on the aforementioned factors and your credit rate.
If your credit score is average, then you're going to be in better shape than someone with bad credit. In actual numbers, bad credit is usually anything 599 or less. Anything between 600 and 675 might be considered average credit. In such cases, your surety bond rate might be between 3% and 5%. That translates to premiums starting at $750 and going up to $1,250.
The best place to be is to have good credit. That might be when you're over 675 or even 700 or higher. Then, your rates might be available in the range of 1% to 3%. That would mean a $25,000 surety bond might cost you only $250 to $750.
Most Common $25,000 Surety Bonds
Georgia, California and Texas are among the states which require that contractors obtain a $25,000 surety bond which will make sure their clients are protected against fraud and unethical business practices.
Florida requires travel agencies to procure a surety in an amount between $25,000 and $50,000 depending on the type of travel they offer.
Many state governments safeguard the interest of homebuyers by requiring mortgage brokers to get bonded with a $25,000 surety bond. Among them are Texas, California, Ohio and Oregon.
---
---
Frequently Asked Questions
Still Have Questions?
Still haven't found the answer you are looking for?
Give us a call at 866.450.3412 or leave your question below.