Table of Contents
The cost of a $25,000 varies mostly based on the applicant's credit score. Usually, applicants with a FICO of 650 or more pay an annual premium of 0.75% to 2.5% or between $187 and $625. Applicants with credit issues can expect premiums in a range between 2.5% to 10%, i.e. annual payments between $625 and $2,500.
Contract bonds are usually the exception, because underwriters consider them as high-risk bonds and therefore often give quotes in excess of 10%.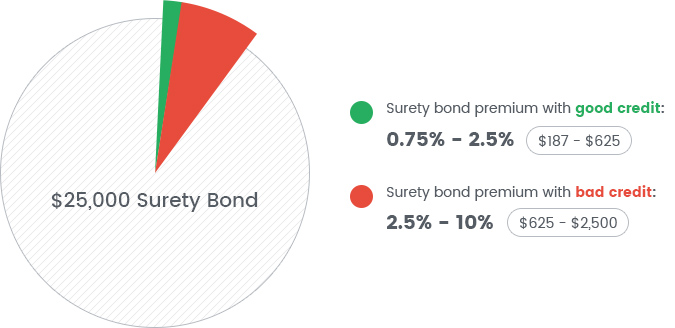 Take a look at the table below where bond premiums are divided based on the credit bracket the applicant is in.
Surety Bond Cost by Credit Score
Surety Bond Amount
Above 700
Between 650-699
Between 600-649
Below 599
$25,000
$187,5-$375
$250-$625
$625-$1,250
$1,250-$2,500
* The table provides a bond cost ballpark estimate based on the applicant's credit score. Actual bond prices can differ due to a number of factors. For an exact quote,
please complete our online application
. It's fast and 100% free!.
If your credit score is raising your premium too much, you can submit additional details which can strengthen your application. Our How Much Does a Surety Bond Cost? guide contains some valuable tips which can substantially reduce your bonding cost.
How to get a $25,000 surety bond if you have bad credit
Applicants with bad credit pay higher premiums, because surety bond companies perceive them as higher risk. If a holder of a surety bond triggers a claim, the surety is legally responsible too. For this reason some underwriters may refuse to get a bad credit applicant bonded.
To help our clients overcome their credit difficulties, we created the Bad Credit Program. In our experience, 99% of applicants can still get their bond thanks to it. Two exceptions are applicants with open bankruptcies or late child support payments.
Get Your FREE Bond Quote Instantly
FREE Instant Online Quotes - All 50 States - All Credit Types
Tell us about your business

powered by

Get your FREE quote today!
Most Common $25,000 Surety Bonds
Georgia, California and Texas are among the states which require that contractors obtain a $25,000 surety bond which will make sure their clients are protected against fraud and unethical business practices.
Florida requires travel agencies to procure a surety in an amount between $25,000 and $50,000 depending on the type of travel they offer.
Many state governments safeguard the interest of homebuyers by requiring mortgage brokers to get bonded with a $25,000 surety bond. Among them are Texas, California, Ohio and Oregon.
---
---
Frequently Asked Questions
Still Have Questions?
Still haven't found the answer you are looking for?
Give us a call at (866) 450-3412 or leave your question below.