Table of Contents
If you want to know what a surety bond is, chances are you need to obtain one as part of your licensing requirements, for a certain type of permit, or for a construction project.
A surety bond is a legally-binding agreement backed by financial security, which guarantees that the bonded party will comply with the terms of the agreement. If the party violates these terms, they are liable to pay compensation to the party that has requested the bond.
Surety Bond Definition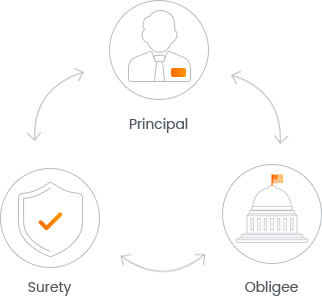 A surety bond is a three-party agreement that provides a financial guarantee that the bonded party will fulfill their obligations as determined by the agreement. The three parties involved are:
The Obligee: The party requesting the bond (a government entity)
The Principal: The party required to get bonded (e.g. contractors, auto dealers, freight brokers, mortgage brokers, etc.)
The Surety: The company that issues the bond and backs it financially
How Do Surety Bonds Work?
By obtaining a surety bond, you (the principal) provide a financial guarantee (backed by the surety) that you will comply with the terms of the bond agreement.
Bond agreements usually require principals to perform their obligations in accordance with state laws and regulations.
Surety bonds also serve as protection to individuals who make use of the principal's services. If a principal violates the bond's conditions and causes harm or losses to the obligee, the bond serves as a guarantee for financial compensation against such losses.
What Does a Surety Bond Cover?
If you violate the terms of your bond and you receive a claim, your surety bond can cover compensation up to the full penal sum of the surety bond. This means that if you hold a $50,000 surety bond, the bond can cover a claim up to $50,000.
When a surety compensates the obligee, the principal must fully reimburse the surety. Principals are fully liable for any claims made against their bond.
Who Needs a Surety Bond?
Bonds are most frequently required for obtaining a business license or permit. Some of the businesses commonly required to obtain license and permit bonds are auto dealers, mortgage brokers, contractors, freight brokers, telemarketing agencies, and many more. Typically, your state or local government determines these bonding requirements. You can contact your state's licensing authority to find out if you need a surety bond for your business.
Surety bonds are also required of contractors who want to bid or perform work on a construction project. They are also frequently required as a payment guarantee for subcontractors. Whether you need to get bonded under a construction contract is determined on a case-by-case basis by project owners. Most state and federal construction projects will require contractors to get bonded. These bonds are called construction bonds.
How Much Does a Surety Bond Cost?
Surety bond premiums are quoted as a percentage of the required bond amount.
The exact cost of your bond will depend on:
The bond amount - the amount of your bond is determined by your state's licensing authority or specified in construction contracts and documents

The type of bond - rates for different types of bonds differ based on the risk assumed by the surety when issuing a particular type of bond

Your financials - your credit score is the most important factor that influences your bond premium but your financial history is also taken into account
Complete our online application below and get a free surety bond quote instantly. It's fast, it's free and there are no obligations.
Find Out Your Bond Cost
Free Quote - Fast and Secure - Low Rates
Tell us about your business

powered by

Get your FREE quote today!
What Is a Surety Company?
A surety bond company is the entity that issues and backs bonds financially. If a claim needs to be resolved and compensation paid out - the surety company steps in as the bond's guarantor. Once a claim has been covered, the bond principal must reimburse the surety in full for any compensation it pays out.
Applicants typically cannot apply directly with a bond company because these companies do not work with the public. Instead, they can apply for a bond through bonding agencies.
How Long Is a Surety Bond Good For?
A surety bond's duration depends on the type of bond.
License bonds are always tied to the license that they are issued for. If a license is valid for one year, the bond will also be valid for one year and must be renewed with the license.
The duration of a contract bond is usually specified in the contract. It typically covers the duration of the contract and may extend for several years after the completion of the project.
Can a Surety Bond Be Canceled?
A surety bond is typically canceled when it expires. Prior to its expiration, the surety will issue a notice of cancellation and send it to the obligee to notify them that the principal's bond is about to expire.
A bond can also be canceled under a number of other circumstances. In some cases, a bond agreement, also known as a surety bond indemnity agreement, may have a cancellation clause that specifies under what conditions a surety may cancel the bond.
Is a Surety Bond Refundable?
Typically, surety bonds cannot be refunded.
Construction bonds are non-cancellable and you cannot get a refund on such a bond.
With license bonds, once a bond is obtained, it is considered "fully earned" and is usually not refunded. However, in rare cases, it may be possible to get at least a partial refund. For example, if you get a bond but decide not to apply for the license, and do not submit it to the obligee, you may be able to secure a partial refund.
For more information about refunding a surety bond, make sure to get in touch with your surety bond provider.
Where To Get a Surety Bond?
You can get a surety bond from a surety bond agency licensed in the state where you want to operate. Your bond quote provided by the agency will be based on the pool of surety bond companies it works with.
That is why it is advisable to work with agencies that partner with bonding companies that are A-rated and listed with the U.S. Department of Treasury (DoT).
Get Bonded with Bryant Surety Bonds
To get a surety bond, simply complete the bond application form, and get started with the bonding process!
Most applicants receive an instant free quote along with full information about the bonding process.
Do you have any questions about surety bonds and getting bonded? Call us at 866.450.3412!
---
---
Frequently Asked Questions
Still Have Questions?
Still haven't found the answer you are looking for?
Give us a call at (866) 450-3412 or leave your question below.