What is a Freight Broker Bond?
Freight brokers and freight forwarders in the U.S. are required by the Federal Motor Carrier Safety Administration (FMCSA) to provide a $75,000 freight broker surety bond. Obtaining the bond is part of the steps to getting a freight broker license. The freight broker bond is also known as BMC-84 bond, ICC broker bond, or FMCSA broker bond.
The FMCSA requires this bond to protect shippers and motor carriers from brokers and freight forwarders who fall short of their contractual obligations, such as conducting fraud or failing to pay trucking companies on time.
Essentially, a freight broker bond is a binding agreement between the following three parties: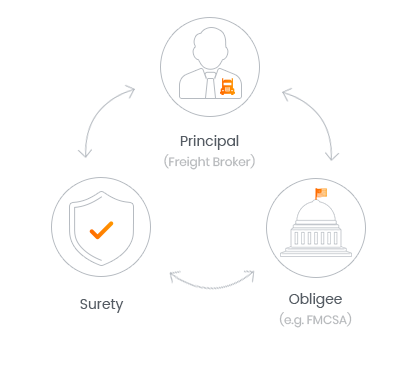 Principal (the freight broker)
Obligee (the FMCSA)
Surety (the surety bond company)
The bond must be issued by a surety bond company that has been authorized by the the Secretary of the Treasury, and since the general public does not have direct access to these companies, this is where Bryant Surety Bonds steps in to help.
By working exclusively with A-rated and T-listed companies, Bryant Surety Bonds is able to provide freight brokers with the best rates available, and guaranteed bond acceptance by the Federal Motor Carrier Safety Administration.
How to Get a Freight Broker Bond?
In order to get your freight broker bond, and have it automatically sent over to the FMCSA on your behalf, you must complete the following easy steps:
Apply Online - fill out our easy online application, and let us do the rest.
Get your FREE quote - receive your no-obligation online quote.
Get your Bond - once paid for, you will quickly receive a digital copy of your bond.
Once purchased, your bond will be forwarded to the FMCSA on the same day. You can verify your freight broker bond on their Company Snapshot Page . However, keep in mind that it might take the FMCSA up to 2-3 business days to update their electronic records.
If you are thinking about applying online, you can review the necessary requirements needed to process your application below.
Freight Broker Bond Requirements
When applying for a freight broker bond, you will need to provide the following information:
MC Number (optional) - this number is provided by the FMCSA, and is separate from a US DOT number.
Contact Information - email and physical addresses are used for communication, and to send over bonds once they have been paid for.
Company Name - although you can apply for a quote without providing a company name, it will be required to have one in order for your bond to be issued.
SSN - social security numbers are used to pull soft credit checks.
Residency Status - all applicants need to have legal status in the US, green card holders, and naturalized citizens are accepted.
Years in Business - years of industry experience are another important factor in calculating the bond premium; the more experience, the lower the rate.
Active Claims - you will need to let us know if there are any active claims against you or your business, and if so, they will need to be resolved first before receiving a new quote.
Ownership - we will need to know if there is more than one owner, and what percentage each owner has of the brokerage when applying.
How much does a Freight Broker Bond cost?
The cost of the freight broker bond is only a percentage of the $75,000 bond amount, called the premium, and it is determined by the surety bond company issuing the bond.
That percentage is often largely based on the freight broker's credit score. However, providing additional information that shows financial strength and experience can help lower the cost. Sureties will then assess all the risks involved in bonding, will formulate a quote based on all the provided information.
Below are some of the main factors that have an impact on your freight broker bond cost:
Personal credit score
Years of industry experience
Current or previous bond claims
Business financials
Fixed and liquid asset
Freight broker bond rates can be as low as 1.25% ($938) for experienced brokers with excellent credit score and financial records. Applicants with an average credit score and financials can expect their rates to be between 3% and 5%.
You can use our Surety Bond Cost Calculator below to get a ballpark estimate based on your credit score alone, or directly apply online for a free quote.
Surety Bond Cost Calculator

Tell us where to send you your
FREE

estimate

SEND ME MY ESTIMATE!

We'll never share your information with third parties

Thank you

for your request!
The ballpark estimate on your premium is: $100 - $167
We've sent a copy of your estimate on your email as well.
Want an exact quote? Simply fill out our online application It's fast and 100% free!
Get a free exact quote
Get another estimate
Can I get a Freight Broker Bond with Bad Credit?
Yes, freight brokers with poor credit score can still get bonded. However, you should expect the bond premium to be a bit higher.
Freight brokers with credit score of 650 or lower, or with no credit history, are considered high-risk applicants. This is why bad credit bond rates typically start at 5% of the bond amount and can go up to 12%.
Bryant Surety Bonds has a special Bad Credit Program that will help you get bonded at the lowest possible price. To understand how much your freight broker bond will cost you, fill out our Freight Broker Bond Form (it takes 5min).
To lower your freight broker bond premium, you can do some of the following things:
Improve your credit score over time
Resolve any tax liens
Resolve any civil judgments
Resolve any unpaid debt
Submit additional financial documents showing your financial strength.
To learn about how you can lower your freight broker bond cost, check out the video below.
Choosing Between BMC-84 and BMC-85
When applying for your freight broker license, you will have two options in choosing how to meet the financial security requirement that is established by the FMCSA. The most popular option is by far the BMC-84 bond, but there is also another way to fulfill that requirement, and that is the BMC-85 trust fund.
Each option has its own pros and cons that you can see for yourself below.
The BMC-84 Bond
As previously mentioned, this is the most popular way that freight brokers satisfy the freight broker securities requirement. Unlike the BMC-85, this bond is managed by your surety bond company, rather than a government agency.
PROS
99% approval - аs long as your finances are in order, you are almost guaranteed to get approved for your bonding needs
Pay only the premium - you are responsible to pay only a small percentage of the bond amount
Immediate filing - once the bond has been paid, Bryant Surety Bonds will immediately file the bond with the FMCSA
Designated claims agent - in case of a claim, as a freight broker, you will have a personal agent from your surety company to represent you in court
CONS
Credit history based - if you have a low credit score, you can expect to pay a high premium
The BMC-85 Trust
With this option, you need to lock the full amount of $75,000 into a trust fund that may not be accessed for the duration of owning your freight broker's license. This is a common option for larger businesses and companies, due to the fact that they already have the capital. If this is a viable option for your brokerage, then you will need to fill out a BMC-85 trust fund agreement and submit it to the FMCSA.
PROS
No credit checks - undergoing a credit check will not be necessary
CONS
Collateral ($75,000 cash) - all cash must be put in a trust fund upfront
Government processes all claims - there will not be a representative to support you in the case of a claim against your brokerage
Less capital - by providing a large cash sum upfront, the business loses that amount for growth and expansions, especially if the freight brokerage is just starting up
Annual fee (1-2%) - most of the trust companies and banks will still additionally charge you an annual fee that is on average around $1,000 - $1,500
Hold your Cash - the trust can hold on to your cash months, and even years after you cancel your policy
Freight Broker Bond Claims Process
If a claim has been filed against your BMC-84 freight broker bond, do not panic! Even though statistically, the freight industry has some of the highest rates in filed claims, many of them are settled in a timely manner, and are usually due to a missed or late payment transaction.
Although the reasons for filing a claim against a freight broker might be the same, the claim process is actually a bit different in regards to whether you have a BMC-84 bond, or a BMC-85 trust fund.
Filing Against a BMC-84 Freight Broker Bond
The first step that a claimant does, is to locate your surety bond provider through the FMCSA database which requires a username and password.

Claimants then contact the surety bond agent and fill out the necessary paperwork for the submission of the claim.

Once the claim has been filed, a claim agent is assigned to represent the freight broker.

In case the claim has been proven to be legitimate, the surety bond provider then compensates the claimant up to the bond amount. The freight broker then is responsible to fully reimburse back the surety bond provider, as stated in the bond indemnity agreement.
Filing Against a BMC-85 Trust Fund
Claimants must contact the Federal Services Corporation (FSC), which is an independent contractor authorized by the FMCSA to handle all broker claims.

A "Carrier Claim Inquiry" is then submitted, and a claim application along with instructions is sent to your email address within the next 48 hours.

If found legitimate, the broker is then responsible to pay the claimant directly all outstanding amounts and damages.
Freight Broker Bond Renewal and Cancellation
Freight broker bonds are valid for 1 year from the issue date. You must pay your renewal premium before the expiration date to avoid having your license revoked.
Alternatively, if you wish to cancel your bond, you must give the FMCSA a 30-day cancellation notice using Form BMC 36. Keep in mind that canceling your bond does not mean that you are not liable for violations done prior to the cancellation date.
Becoming a freight broker can be both a very rewarding, but also an arduous task. Along with it, there are multiple other steps that a potential candidate must undergo in order to become a licensed and successful freight broker.
---
---