How to Become a Freight Broker [The Ultimate Guide]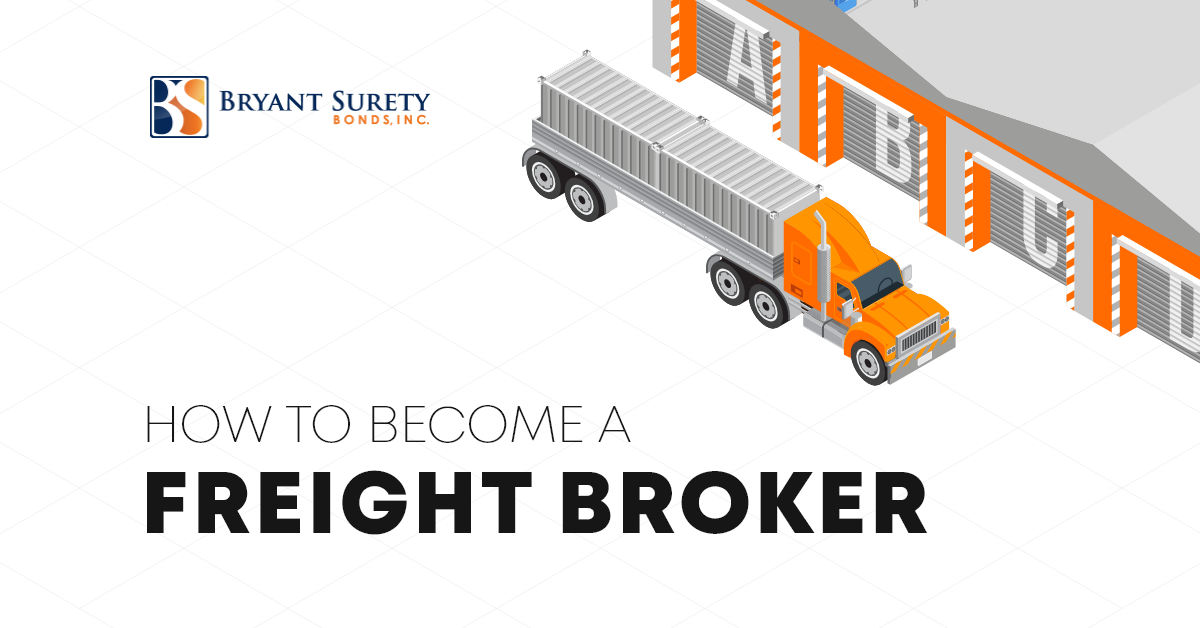 Freight brokers are an indispensable part of the freight industry, helping it grow and function. As the trucking industry has grown over the last few years, the reliance on brokers by both shippers and carriers has steadily increased.
To become a freight broker, sometimes also referred to as a truck broker or a transportation broker, you must complete several legal and practice requirements.
This guide explains the whole process of starting a freight brokerage business, from A to Z. It also includes practical information about your startup costs, training, and how to find your first clients. 
For a full guide on how to become a freight broker, keep reading below!
What Does a Freight Broker Do?

A freight broker serves as a link between shippers and carriers. Freight brokers help shippers find the right motor carriers to transport their goods where they need to be in a timely manner. 
Brokers negotiate the rates and the delivery time with carriers on behalf of the shipping company.  In turn, they try to ensure full and regular loads for carriers that are along their preferred routes and destinations. Their main source of income consists of the commission they get in providing this type of service to both carriers and shippers. 
But their job doesn't stop here. While they are called brokers, they actually oversee the whole process – from the initial order to the freight reaching its final destination. That includes tracking the freight, keeping records of transportation times, pickups, deliveries, and so forth.
Freight brokers are a bit of legal experts as well. They need to be familiar with the shipping and handling procedures and regulations.
Sometimes, brokers are also registered as motor carriers. In this case, they have their own fleet and can provide part of the truck transportation. This requires them to get two separate licenses from the FMCSA, but more on that later.
How much does a freight broker make?
According to the U.S. Bureau of Labor Statistics, freight brokers have a mean annual wage of $46,070. 
Online, some freight brokers report making as much as $90,000 or more a year but of course, this depends on the type of freight they deal with, the amount of business they do, and their experience and skills. 
This places most brokers above the national median income and even above the average household income.
How to Become a Freight Broker

To become a freight broker, you have to pass through the steps listed below:
Get training and industry experience

Register a business entity in your state

Prepare a business plan and find a way to finance your business

Start your freight broker license application with the FMCSA

Provide the required freight broker bond or a trust fund

Obtain insurance (optional)

Assign your process agents on a state level

Receive your freight broker license

Set up an office

Find carriers and shippers to work with
These are the main requirements you will need to cover in order to get started as a freight broker. See the sections that follow for a detailed description of each step.
Step #1: Get training and industry experience

While you can become a freight broker without previous experience, it seems wiser to have gained some experience before doing so. Before becoming a broker yourself, you may want to consider working at a brokerage company for a while to get a better understanding of the job. Occupying any position in the freight transportation business is also sure to help you understand how brokers work. So if you have such experience, you're already ahead of the game.
As with previous experience, getting training isn't a requirement, but it can help you with starting out more successfully. For most training courses, mastering the material typically seems to take between 2 and 4 weeks of study and lectures.
For more information about where to sign up for training, see our guide about the top freight broker training experts!
Step #2: Register a business entity in your state

Before you can begin the actual licensing process with the FMCSA, you need to create a business entity. This step is completed on the state level. In most states, you need to contact the Office of the Secretary of State for your business registration.
There are four common options for the structure of your business entity that you can choose from – sole proprietorship, corporation, partnership, or LLC. The requirements that you have to meet for registering each entity vary between states. You can learn more about the different types of business entities from the Small Business Administration's Business Guide.
In addition, you will typically need to obtain a tax registration from your state's Department of Revenue.
Note: If you will be acting as a carrier, apart from being a broker, you will also need to register with your state Department of Transportation.
Step #3: Prepare a business plan and find a way to finance your business

If you plan on applying for a loan from a bank to finance your business, you will need to have a detailed business plan. Your plan must include information about how you will be leading and managing your business, as well as how you plan on conducting marketing and finding new clients. 
A good business plan will convince a bank or a funding program to extend money to you to at least finance the costs of getting started as well as running the business for the first few months. See the SBA's guide on how to plan your business, if you've never done so before.
You may also consider getting a line of credit, since sometimes you may need to pay carriers before you've received your check from the shippers. A line of credit will help you to resolve this situation without turbulence. 
Step #4: Start your freight broker license application with the FMCSA

Once you've registered your business entity, you are ready to launch the licensing procedure with the FMCSA.
You can complete your freight broker license application via the online Unified Registration System. This is the portal through which you register and submit your documentation.
As a freight broker, you need to apply for an operating authority (MC number) that gives you the right to conduct specific activities related to the movement of freight. You can obtain a Broker Authority for being a Broker of Property or a Broker of Household Goods, or both, but they are applied for separately.
The main requirements that you have to meet to obtain your MC number include:
Provide personal and business information

Have an Employer Identification Number (EIN) from the IRS if you are planning to hire employees

Pay a $300 application fee per authority

Obtain a $75,000 security instrument in the form of a freight broker bond or a trust fund agreement
If your application is complete and satisfies all criteria, you will receive a grant letter with your MC number. This kicks off a 10-day period when any party can contend your right to operate as a freight broker. Once it is over and there have been no protests, you will be issued your operating authority.
Note: If you plan on acting as a carrier, you need to apply for a USDOT number along with applying for your broker authority.
Step #5: Provide the required freight broker bond or a trust fund

One of the major requirements for obtaining operating authority as a freight broker from the FMCSA is to provide security in the amount of $75,000. 
The main two options for satisfying this criterion are to obtain a freight broker bond (BMC-84) or a trust fund agreement (BMC-85).
You are required to fulfill the bonding requirement within 90 days after publishing your registration with the FMCSA.
While both options are viable, many brokers prefer the surety bond. To obtain a bond, you don't have to cover the whole security amount, like with a trust fund. Instead, you have to pay a small percentage of it, called the bond premium. It is based on the strength of your personal and business finances. The more stable they are, the lower your premium will be.
Typically, the rates are between 1,25% and 4% for applicants with good credit. Thus, your bond cost can be as low as $938 to $3,000. This is a yearly premium that is non-refundable. However, it is a more manageable solution in comparison with securing $75,000 in a trust fund.
Estimate your surety bond cost with our free surety bond cost calculator.
Surety Bond Cost Calculator

Tell us where to send you your
FREE

estimate

SEND ME MY ESTIMATE!

We'll never share your information with third parties

Thank you

for your request!
The ballpark estimate on your premium is: $100 - $167
We've sent a copy of your estimate on your email as well.
Want an exact quote? Simply fill out our online application It's fast and 100% free!
Get a free exact quote
Get another estimate
The purpose of the security requirement is to ensure your compliance with all applicable laws. It serves as a protection mechanism for federal authorities and for your customers and business partners in case you violate your legal obligations and they suffer damages as a result of that. Harmed parties can seek a reimbursement of up to $75,000, which is the security amount required of you.
Step #6: Obtain insurance (optional)

Freight brokers are not required to provide cargo insurance. However, you would need insurance if you are also getting authority as a motor carrier or freight forwarder.
However, it is still a good idea to obtain the full set of insurance policies, so that you are sure no issues would end up ruining your business. Many carriers and shippers would also prefer working with a freight broker who has cargo insurance, as this is a safety net for them too.
The main insurance policies that are recommended include:
Cargo insurance

General liability and property insurance
In case you have more than two employees, you will be required to obtain workers' compensation insurance on the state level.
The common premiums for cargo insurance are around $1,500 per year. The same amount would likely be needed for obtaining general liability and workers' compensation policies.
Step #7: Assign your process agents on a state level

Your final licensing step involves registering process agents for each state in which you want to operate or write contracts. It is also handled by the FMCSA.
This is done by completing the BOC-3 Form. For your state of residence, you can register yourself as a process agent. For the rest, you will need to assign a different person registered in the specific state.
Step #8: Receive your freight broker license

If nobody has objected to your application for operating authority, and your application has been approved by the FMCSA as complying with all requirements, you will be issued your MC number. You are then officially a licensed freight broker.
Step #9: Set up an office

You will require some kind of office space and equipment, regardless if you work from home or at a separate location with someone else. 
The basic equipment that you will need includes a:
Personal computer

Telephone (preferably a mobile, and a landline)

Printer, copy, and fax machine

Good internet connection

Freight brokering software, such as a Transport Management System (TMS)

Load board software – required to find carriers
These are the basics for running your freight brokerage business. 
Step #10: Find carriers and shippers to work with

The main way to find carriers is by using a load board. There are several big load board software solutions out there that you can make use of.
If you've worked in the industry for a while, you will likely have already made some contacts. Consider drawing on your existing contacts when starting your freight brokerage too.
If you don't have any contacts, you can look online in a number of ways. There are several very large freight brokers, carriers, and shippers groups on Facebook and LinkedIn. Try joining them, to start building connections.
You can also join the Truckers Report Trucking Industry Forum Board which has thousands of members. There are tens of different forums, including a forum specifically dedicated to freight brokers. There, you can learn more about finding carriers and shippers to work with, and what are the best practices when doing so.
Finally, the FMCSA maintains several websites that can provide you with safety-related information about your carriers. Use these resources to determine if the carriers you are about to work with meet the required professional standards. Your business depends on the work quality of your partners, so it is important to choose them carefully!
Step #11: Start brokering freight

You are now a freight broker and can get started! 
Once you've completed all of the above-mentioned requirements and steps, you should be prepared to act as a freight broker in full capacity. 
Congratulations and good luck!
[FAQ] Frequently Asked Questions About Becoming a Freight Broker
Here are some of the questions that people who are thinking about becoming brokers frequently tend to ask.
Q1: How much does it cost to become a freight broker?
The cost of opening a brokerage is not a fixed sum but will depend on your particular situation. Altogether, to get started as a broker, you can expect to pay somewhere between $3,800 and $5,300. This includes the costs for your registration, your freight broker bond, your equipment and software, your operating authority, and others.
For an overview of the most important costs you can expect to have and how you can lower them, check out our breakdown of the top costs of becoming a freight broker.
Q2: What makes a freight broker successful?

The qualities that make a freight broker successful are related to how you deal with clients (carriers and shippers alike), how you handle stressful situations, and whether you have an attitude of wanting to learn more every day and providing the best possible service.
Since the broker is the middle-man between shippers and carriers, he or she must be a reliable and trustworthy person. Honesty, transparency, being proactive, and customer-oriented are all important keys to becoming a successful broker and pay off on a daily basis.
Of course, developing the right professional competencies and capacities is just as important but those are only one part of the story!
Q3: Are freight brokers and freight forwarders the same thing?
Freight brokers and freight forwarders perform different types of activities and require different licenses. 
While freight brokers help shippers find the right carriers, freight forwarders are responsible for their clients' freight, and secure its transportation, prepare documentation, and handle all other legal requirements.
See our guide on how to get a freight forwarder license to learn more about the latter.
Q4: Can I become a broker without any previous experience?
Yes, that's entirely possible. No previous professional knowledge is required to become a freight broker. You will have to learn more about the legal requirements of operating as a freight broker though. 
You can learn more about the specific legal requirements for brokers in Title 49, Subtitle B, Chapter III of the Code of Federal Regulations.
Q5: Is the freight broker license obtained on a state level?
No, unlike many other professional licenses, the freight broker license is not applied for or issued on a state level. This is a federally regulated license, and you must apply at the Federal Motor Carrier Safety Administration to get licensed.
Once you do become licensed as a freight broker, you must appoint process agents in each state in which you plan to operate in. So, say that you want to operate in Texas, Florida, California, and Georgia. You will need to appoint a process agent in each of these states, to satisfy the legal requirement.
---