How to Become a Freight Broker in 2023 [The Ultimate Guide]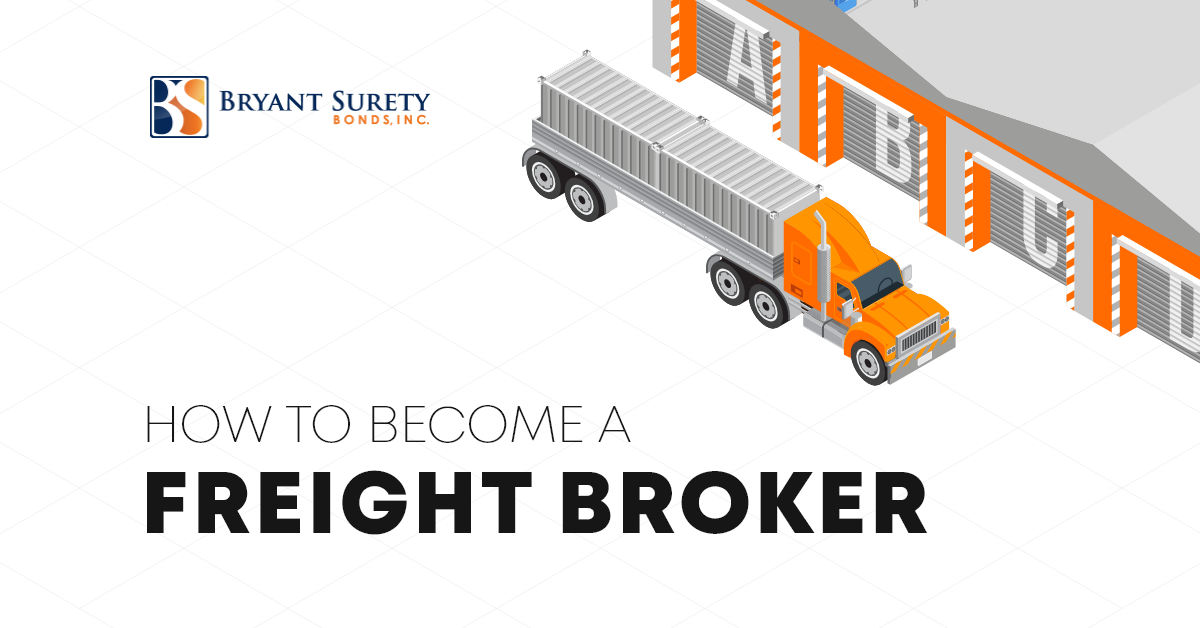 As more and more people rely on shipping to get their products from one place to the next, freight brokers are more in demand than ever before. If you're thinking of starting your own freight broker business, you'll need to complete some training programs and meet some legal requirements. Read on for an in-depth look at the extensive process of becoming a freight broker in the United States.
What Does a Freight Broker Do?

Freight brokers provide a direct link between shippers and carriers. Any good freight broker will be able to connect shippers with the proper means of transportation to ship their goods in a timely manner.
The main tasks for which a freight broker will be responsible include:
Negotiating pricing and contracts
Choosing safe freight carriers
Scheduling orders with carriers
Acquiring new shippers
Keeping shippers up-to-date about freight progress
Recording key actions to track business
Prepping carriers for loading
Marketing to attract new leads
Quoting estimates
Freight brokers directly negotiate pricing and delivery times with carriers in the shipping industry. A successful freight broker will provide consistent loads for carriers along their ideal routes and destinations. Brokers receive pay in the form of commissions from carriers and shippers.
While you may think of a broker as an individual who negotiates a deal, that's not the only thing that freight brokers do. They actually oversee the entire shipping process from the initial order to the product reaching its final destination. This can include many steps like tracking freight, recording pickups and deliveries, and so forth.
Apart from being intermediaries for shippers and carriers, freight brokers need to have specific knowledge about legal regulations for shipping different products. It's part of their job to have that legal shipping industry knowledge so that carriers and shippers know they're legally cleared to transport products.
Some freight brokers will even have their own business for truck transportation. These brokers must obtain two different operating licenses from the Federal Motor Carrier Safety Administration (FMCSA).
How Much Does a Freight Broker Make?
A hot topic when it comes to thinking about starting a new business as a freight broker is what you can expect to receive for your income. The U.S. Bureau of Labor Statistics reports that, as of May 2021, the median wage for a freight broker was $46,910 annually.
It's important to realize that this data is an average for all freight brokers across the country. There are many brokers who report making $90,000 or more a year. Your income will vary according to many factors like the type of freight you're dealing with, your experience and skill level, and the amount of business that you regularly do.
How Long Does It Take to Become a Freight Broker?
Most working in the industry suggest that you can get your freight broker business up and running in three to six months. While it takes as little as 10 days to obtain licensing, you first need to gather all the documentation and obtain the necessary insurance coverage. If you opt for a training program, expect that to take an additional 30 to 45 days to complete.
What Skills Does a Freight Broker Need?
While becoming a freight broker can be a lucrative career choice, you'll need to have some essential skills. These include:
Excellent communication
Multitasking
Time management
Organization
Negotiation
Ability to network consistently
Attention to analytic details
Pros and Cons of Becoming a Freight Broker
Just like any other career field, there are both pros and cons to becoming a freight broker. By understanding what these are, you can be more informed to make a decision about your future.
The Pros of Becoming a Freight Broker
Probably the most significant pro of becoming a freight broker is that it's a constantly in-demand market. With over 70% of all freight being transported on trucks, there's more than enough business to go around. As an active salesperson, you can cultivate some rewarding, long-lasting relationships.
Another key advantage of operating your own freight broker business is that your income potential is great. Since your income is based on sales, you can work to get as many sales as you want. There are no external limitations on your ability to earn money.
Technology makes the freight brokerage business much easier to enter these days. With software for finding shippers and carriers, it is simple to get the contact information you need to get started with creating contracts. Additionally, since you won't have customers coming into your office, you don't need one. You can enjoy a home office setup where you can work when you want to.
The Cons of Becoming a Freight Broker
A big con to becoming a freight broker is that it's costly. The upfront expenses of obtaining licensing, having the cash flow to pay carriers, purchasing necessary software, marketing your new business, and obtaining new insurance coverage can be brutal.
Another disadvantage to becoming a freight broker is that it takes a lot of time and effort to cultivate a list of clients. It's not uncommon to deal with a shipper who doesn't pay on time or a carrier who damages the freight. These can be risky clients that should be replaced with quality shippers and carriers. Unfortunately, you won't always know who is or isn't a great connection until after you've done business with them.
How Much Does It Cost to Become a Freight Broker?
While the actual cost of becoming a broker varies depending on a number of factors, like the state that you're in, you can expect to pay between $3,800 and $10,300 to get started. This cost will include things like registration fees, a surety bond, software, equipment, and operating authority.
Steps to Become a Freight Broker

To become a freight broker, in a nutshell, you'll need to create a business and obtain a special license to operate. However, there are many smaller steps along the way that will allow you to reach your ultimate goal in the transportation industry.
Industry Experience and Training

This first step is optional. However, many companies will only do business with freight brokers who show that they have industry knowledge and experience. It's a good idea to attend a freight broker school to obtain a thorough understanding of the industry. Most training programs will last between two and four weeks.
Apart from training programs, it's a good idea to get some hands-on industry knowledge. One of the easiest ways to do this is to work for a brokerage company. An entry-level position will provide you with vital experience in working with trucking companies, truck drivers, and shippers.
Register a Legal Business in Your State

Once you're ready to start your freight broker business, it's time to register. You'll need to come up with a business name and register that name with your state's Office of the Secretary of State. You'll also need to apply for an employer identification number (EIN) with the IRS.
When you register a new business, you'll have four main types of entities to choose from: a partnership, corporation, sole proprietorship, or limited liability company. It's best to consult a business attorney to determine what the best structure would be for your intended business.
It's important to note that if you plan on having a fleet of transportation vehicles as part of your freight business, you'll need to register with your state's Department of Transportation.
Create a Business Plan

Next, you'll need to write a complete business plan. This will outline what your business will do, how it will acquire necessary assets, and what its goals are for the future. Think of your business plan as a full-blown game plan for how your enterprise is going to operate.
When it comes to obtaining funding for your business, most lenders will require you to have a thorough business plan. This gives them the necessary insight into what you anticipate and what they can expect going forward.
Most freight businesses will need a source of funding during their first few months of operation. Keep in mind that you may have to pay carriers before you get checks from your shippers. Liquidity is key for any successful freight broker.
Obtain a Broker License

Once you've registered your business, you're eligible to obtain a freight broker license. You'll need to complete an application through the online Unified Registration System. Through this portal, you can register and submit the required documentation to the FMCSA.
You'll also need to apply for operating authority, also known as an MC number. This gives you specific authority to conduct certain freight operations. Depending on the specific type of freight that you'll be moving, you may need a Broker of Property or Broker of Household Goods from the Broker Authority.
There are some main key requirements that you'll have to undergo to obtain your motor carrier (MC) number. These include:
Supply business and personal information
An EIN if you plan on hiring employees
A $300 application fee per authority
When you submit all the information above, your application will be ready to be approved. You'll receive a grant letter that has your new MC number on it. You'll have to wait 10 days for your license to become official. This period allows for anyone who wishes to protest your licensing to do so. If no protests are reported, you'll receive your operating authority.
It's crucial to note that if you want to have carriers as part of your freight brokerage, you'll need to apply for a U.S. Department of Transportation (USDOT) number. You'll do this online along with applying for your broker authority.
Obtain a Freight Broker Bond

To satisfy the $75,000 bond requirement, you have two main options: the BMC-84 bond and the BMC-85 bond. The BMC-84 is known as a freight broker bond, while the BMC-85 is known as a trust fund agreement. You'll need to obtain this bond requirement within 90 days after publishing your registration with the FMCSA.
Many are confused about what they have to cover for a bond. You don't need to have $75,000 in cash as your security. Rather, the bond agency will charge you a small percentage of the overall bond amount, known as the bond premium.
The amount of this bond premium will depend on your business and personal finances. The more stable your credit is, the lower your bond premium will be. It's also important to note that you'll have to pay this premium every year to maintain your surety bond.
This bond isn't optional. Rather, it's a necessity to help ensure the future of your business, customers, and employees. A bond helps to provide money in the event that you violate your legal obligations and must pay out damages to those who suffered due to your actions or omissions. While $75,000 is the minimum requirement to obtain an operating license, you can get surety bonds for just about any amount you would like.
Surety Bond Cost Calculator

Tell us where to send you your
FREE

estimate

SEND ME MY ESTIMATE!

We'll never share your information with third parties

Thank you

for your request!
The ballpark estimate on your premium is: $100 - $167
We've sent a copy of your estimate on your email as well.
Want an exact quote? Simply fill out our online application It's fast and 100% free!
Get a free exact quote
Get another estimate
Obtain the Necessary Insurance

While not all states require that freight brokers invest in cargo insurance, this type of coverage is well worth the peace of mind it offers you. When issues occur, you can have a safety net to cover them instead of needing to pay out of pocket. It's also a good idea to look into general liability and property insurance. If you plan on being a freight carrier alongside a broker, you'll also need contingent cargo insurance to operate legally.
It's important to note that businesses with more than two employees will need to obtain workers' compensation insurance from their state. The name of the agency responsible for issuing this insurance varies. Some states require that you purchase workers' compensation insurance from a state fund. Some mandate severe penalties for not carrying workers' comp insurance.
Name Your Process Agents for Each State

To wrap up the licensing process, you'll need to physically register a process agent for each state in which you plan on operating or writing contracts. This information needs to be submitted to the FMCSA by using Form BOC-3. While you'll likely register yourself as a processing agent for your home state of operation, you'll need to name a different process agent for each state where you do business. You may not list yourself as the process agent for every state.
Receive your freight broker license

If nobody has objected to your application for operating authority, and your application has been approved by the FMCSA as complying with all requirements, you will be issued your MC number. You are then officially a licensed freight broker.
Set Up Your Office

Next, you'll want to get your office established. This can be a home office or an outside physical office location, depending on your preferences. Either way, you'll need to invest in some basic pieces of equipment. These include:
Computer
Fax
Copier
Printer
Phone
Freight brokering software
Load board software
Strong and reliable internet connection
To be a successful freight broker, you'll need to invest in two key software programs. First is the freight brokering software, which helps to track vital information following federal recording requirements. The second is load board software, which is necessary for finding carriers.
Find Shipper and Carrier Clients

Once your physical office is established, it's time to start creating relationships with both shippers and carriers. The load board software is going to be your key source for finding quality carriers to work with. When it comes to finding shippers, there are various options out there.
If you have some industry experience, then you probably have some past contacts that you can call on. If you don't, there are various forums and online directories as well as Facebook groups that will provide you with some shippers that you can contact. Also, consider investing in a quality marketing strategy to bring more potential clients to you.
Start brokering freight

You are now a freight broker and can get started!
Once you've completed all of the above-mentioned requirements and steps, you should be prepared to act as a freight broker in full capacity.
Congratulations and good luck!
Frequently Asked Questions About Becoming a Freight Broker
How much does it cost to become a freight broker?
The cost of opening a brokerage is not a fixed sum but will depend on your particular situation. Altogether, to get started as a broker, you can expect to pay somewhere between $3,800 and $5,300. This includes the costs for your registration, your freight broker bond, your equipment and software, your operating authority, and others.
For an overview of the most important costs you can expect to have and how you can lower them, check out our breakdown of the top costs of becoming a freight broker.
What makes a freight broker successful?

The qualities that make a freight broker successful are related to how you deal with clients (carriers and shippers alike), how you handle stressful situations, and whether you have an attitude of wanting to learn more every day and providing the best possible service.
Since the broker is the middleman between shippers and carriers, he or she must be a reliable and trustworthy person. Honesty, transparency, being proactive, and being customer-oriented are all important keys to becoming a successful broker and pay off on a daily basis.
Of course, developing the right professional competencies and capacities is just as important but those are only one part of the story!
Is a Freight Broker the Same as a Freight Forwarder?
The short answer is no. Freight forwarders perform different activities than freight brokers, and each requires its own license. Freight brokers are all about helping shippers connect with viable carriers. On the other hand, freight forwarders are concerned with the actual freight, transportation, documentation, and other legal requirements.
See our guide on how to get a freight forwarder license to learn more about the latter.
Are Freight Broker Licenses Available at the State Level?
No. Freight broker licenses can only be obtained on a federal level. They are issued by the Federal Motor Carrier Safety Administration (FMCSA) and remain federally regulated. It's vital to note that you will have to identify process agents in each state in which you plan to do business. This is different from federal licensing.
How Can You Determine if a Carrier Is a Good Contact?
Since the success of your freight broker business really depends on your ability to actively connect shippers with quality carriers to transport their freight, you need to ensure that you're finding the right carriers. There are a few key things you can do to help make sure that you're doing business with reputable carriers.
First and foremost, you want to ensure that they are actually licensed by the FMCSA and that they have appropriate insurance coverage to handle well above the freight values that you're shipping. Don't just take an insurance certificate at face value. Put a call into the insurance provider to verify a potential carrier's policy and coverage limits.
The Motor Carrier Operating Authority will have on record the names of motor carriers that are authorized to operate. A simple look at their online listings can allow you to verify that a potential carrier is operating with full authority to do so.
Is Freight Broker Training School Mandated?
Currently, you're not required to show proof of any freight broker training school to obtain licensing to operate a freight brokerage. However, training will provide you with the necessary knowledge and skills that will allow you to succeed in this type of business. It's not unlikely for a training school to become a new requirement for licensing in the near future.
Do You Need More Than One Process Agent to Operate in Multiple States?
The FMCSA requires that you name one process agent per state where you plan on doing business. You can't list the same process agent for more than one state. The main reason that you need to have an individual in each state is so that they can legally receive court documents on behalf of your business in the event that you're sued.
How Much of a Commission Do Freight Brokers Make?
Freight brokers are compensated for their legal know-how and ability to connect shippers with necessary carriers. Most brokers can expect to receive between 10% and 35% commission on each freight shipment that they handle. Depending on the shipper and carrier, freight brokers may also be offered incentives and additional commissions.
Where Can You Find Customers?
Probably the most difficult part of any new freight broker company is trying to find new clients. You need to be finding both shippers with freight to move and carriers who can safely and efficiently move that freight.
The best place to start finding customers is to check online software programs. Load boards can be extremely helpful for finding carriers and shippers alike. You'll likely have to do some cold calling to introduce your business and try to acquire their business.
Apart from software programs, you can search online forums. LinkedIn and Facebook both have groups for freight brokers. Additionally, if you've had past industry experience or know others in the industry, reaching out to get information about new clients can be a successful way to grow your new client list.
Some other great ways to obtain new customers are through local meet-ups and industry organizations. The more you're able to network with others in your industry, the more you're going to be able to discover and connect with both shippers and carriers who are in need of your professional services.
Becoming a freight broker can be a great way to change careers and open up a whole new income potential and generational business for your family.
---