Table of Contents
It's important to understand that the $75,000 amount is not the sum required to pay in order to get the surety bond. It only refers to the maximum penal sum of the bond, i.e the maximum compensation a claimant can get if their claim is proven.
To get your surety bond you will have to pay a bond premium annually. There are several factors which will determine your premium. Without a doubt the most important among them is your personal credit score.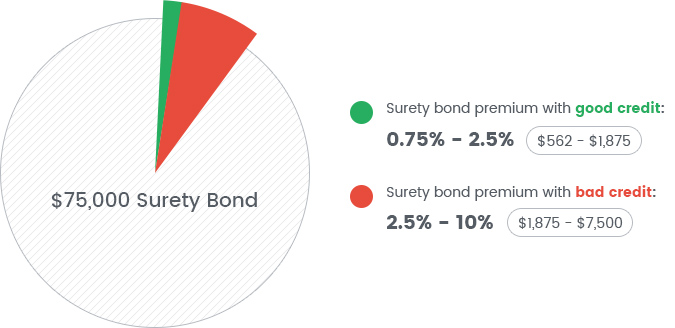 Applicants with a FICO score of 650 or above usually pay between 0.75% and 2.5%, while applicants with bad credit can expect premiums in the range of 2.5% to 10%. This means, a $75,000 surety bond will cost a good credit applicant somewhere between $562 and $1,875. For a bad credit applicant the cost will be in the range between $1,875 and $7,500.
Here is a breakdown of what your premiums are likely to be based on your credit score.
Surety Bond Cost by Credit Score
Surety Bond Amount
Above 700
Between 650-699
Between 600-649
Below 599
$75,000
$562,5-$1,125
$750-$1,875
$1,875-$3,750
$3,750-$7,500
* The table provides a bond cost ballpark estimate based on the applicant's credit score. Actual bond prices can differ due to a number of factors. For an exact quote,
please complete our online application
. It's fast and 100% free!.
If your credit score is poor, you can include additional information in your application which can positively affect your surety bond premium. For more information on bonding costs, as well as cost-saving tips, be sure to check out our How Much Does a Surety Bond Cost? guide.
Getting a $75,000 surety bond with bad credit
Applicants with bad credit have a hard time getting bonded, because a poor credit history (or no credit history) is associated with more risk for bond underwriters. However, obtaining a surety bond is still possible, albeit at a slightly higher premium.
Bryant Surety Bonds offers a bad credit surety bonds program, which can help you get bonded at a rate of 2.5% to 10%.
Get Your FREE Bond Quote Instantly
FREE Instant Online Quotes - All 50 States - All Credit Types
Tell us about your business

powered by

Get your FREE quote today!
Most Common $75,000 Surety Bonds
Here are some of the surety bonds that have a $75,000 amount:
Freight broker bonds are required from freight brokers and forwarders in all states to ensure compliance with certain federal regulations. They also make sure shippers and motor carriers are paid on time.
A NVOCC surety bond is required from both US and non-US based NVOCCs to ensure compliance with rules and regulations governing their industry.
---
---
Frequently Asked Questions
Still Have Questions?
Still haven't found the answer you are looking for?
Give us a call at 866.450.3412 or leave your question below.