Wisconsin Contractors License Bond Requirements
A contractor license bond is required of several different types of contractors in Wisconsin. These are:
Contractors throughout Wisconsin are required to obtain one of these bonds when applying for a license or permit. To find out how much your bond might cost, see the next section for a detailed breakdown.
We at Bryant Surety Bonds can help all Wisconsin contractor license applicants to get bonded at low rates. You can go ahead and get a free quote on your bond immediately. Simply complete our online application form, and we will get in touch with you.
Do you need a contract bond instead? See our contract bonds page to find the bond you need!
Get a quick estimate of the cost of your bond by using our surety bond calculator below!
Surety Bond Cost Calculator

Tell us where to send you your
FREE

estimate

SEND ME MY ESTIMATE!

We'll never share your information with third parties

Thank you

for your request!
The ballpark estimate on your premium is: $100 - $167
We've sent a copy of your estimate on your email as well.
Want an exact quote? Simply fill out our online application It's fast and 100% free!
Get a free exact quote
Get another estimate
How Much Does a Wisconsin Contractors License Bond Cost?
The cost of your bond is equal to a percentage of its total amount. To determine the cost, sureties consider a number of financial factors. Among them, your personal credit score is the most important one.
Those applicants who have a high credit score (700+ FICO) are typically offered a rate of 1% of the total amount of their bond. For example, if you are offered a 1% rate on your bond, it would cost $250 to get a $25,000 dwelling contractor bond.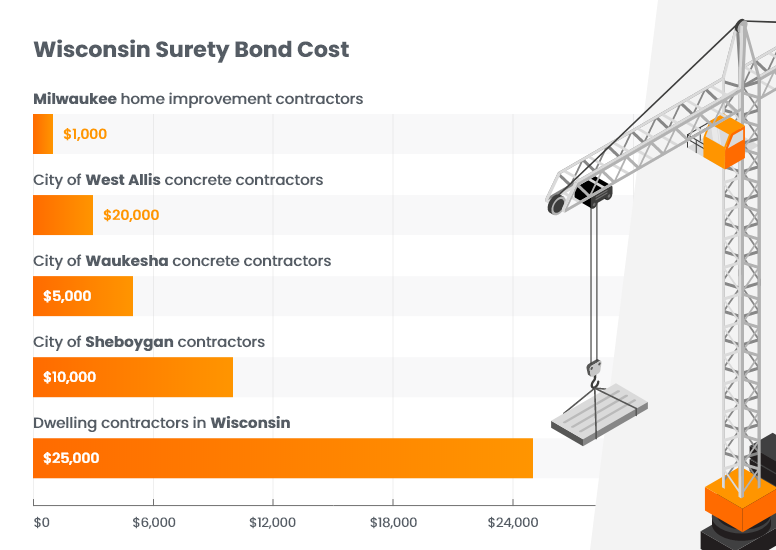 See the table below for a ballpark estimate of the cost of your Wisconsin contractor license bond.
Wisconsin Contractor License Bond Cost
License Type
Surety Bond Amount
Surety Bond Cost by Credit Score
Above 700
650-699
600-649
Below 599
Milwaukee home improvement contractor
$1,000
$100
$100
$100
$100
City of West Allis concrete contractor
$3,000
$100
$100
$100-$120
$100-$150
City of Waukesha concrete contractors and drainlayers, City of Sheboygan contractors, Milwaukee concrete contractors
$5,000
$100
$100-$125
$125-$250
$250-$500
City of LaCrosse natural gas contractors
$10,000
$100-$200
$150-$300
$200-$400
$300-$500
Wisconsin dwelling contractors and City of Superior contractors
$25,000
$187,5-$375
$250-$626
$625-$1,250
$1,250-$2,500
* The table provides a bond cost ballpark estimate based on the applicant's credit score. Actual bond prices can differ due to a number of factors. For an exact quote,
please complete our online application
. It's fast and 100% free!.
Sureties will usually also consider the following additional financial factors when determining your bond premium:
Personal and business financial statements
Fixed and liquid assets
Work experience and record
If you want to lower your bond cost, you must primarily focus on increasing your credit score. In addition to that, you can also work on improving these additional factors.
Do you need more information about how your bond premium is set by the surety? See our surety bond cost guide for a detailed explanation!
Dwelling Contractors
Wisconsin dwelling contractors are the only contractors who are required to get a license bond on a state level. The financial responsibility requirement for dwelling contractors is specified in Wisconsin Statutes § 101.654(2).
This section specifies that the bond is for the purpose of providing security to any person who sustains a loss as a result of a dwelling contractor's failure to comply with the provisions of the one- and 2-family dwelling code or any other applicable ordinance.
Both the full and restricted dwelling contractor certifications, as well as surety bonds, are issued for the duration of one year. To renew your certification and bond, you must submit renewal papers prior to the expiration date.
Wisconsin Dwelling Contractor Licensing Requirements
Dwelling contractors are licensed with the DSPS. To become licensed, you will need to meet the following requirements:
For more information about becoming a dwelling contractor in Wisconsin, contact a DSPS representative.
---
---