Table of Contents
A $5,000 surety bond can cost as little as $100 for applicants with a good credit score, or go as high as $500 for applicants with bad credit.
For more detailed information, you can consult the table below: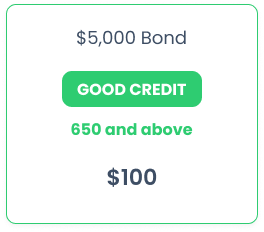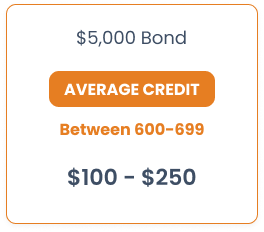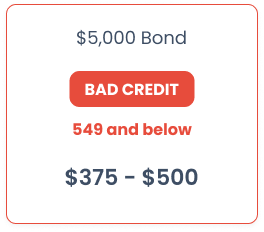 As you can see, premiums for applicants with good credit are no more than 2.5%. Costs can go as high as 10% for applicants with a credit score lower than 600. Remember, however, that these are only estimates. Premiums can be changed based on each applicant's information that's provided to the surety underwriter.
Factors such as financial strength, years of operation and past claims can all affect your premium. You can learn all about it in our surety bond cost guide.
Can I get a $5,000 surety bond if I have bad credit?
Applicants with bad credit are usually subject to more stringent underwriting consideration. However, since $5,000 surety bonds do not pose a huge financial risk for bonding companies, the majority of applicants will be able to get bonded without any problems.
If you work to improve your credit score, and clear past due items from your credit report, you can gradually see your bonding costs go down.
Get Your FREE Bond Quote Instantly
FREE Instant Online Quotes - All 50 States - All Credit Types
Get a FREE Bond Quote

Instant ballpark estimate

Tell us about your business

powered by

Get your FREE quote today!
Most Common $5,000 Surety Bonds
$5,000 surety bonds are required from motor vehicle dealers in many states, although this amount more frequently applies to motorcycle or other small motorized vehicle dealers rather than automobile dealers. Some of these states are
Wisconsin
,
Washington
,
Connecticut
,
Minnesota
,
South Dakota
and
Maine
.
Tax preparers in California must post a $5,000 surety bond to get licensed. The bond acts as protection to clients of tax preparers, as the latter have access to sensitive information.
Minimum required amounts for Nebraska farm labor contractors are $5,000. The same is true for Washington farm labor contractors who employ between one and 10 people.
Contractors in many states or municipalities may be required to post a surety bond in the amount of $5,000 before they are issued a license. Such states include Indiana, Florida, Alabama, Mississippi, South Carolina, Arizona and others.
---
---
Frequently Asked Questions
Still Have Questions?
Still haven't found the answer you are looking for?
Give us a call at 866.450.3412 or leave your question below.