Florida Contractor License Bond Requirements
The state Construction Industry Licensing Board at the Department of Business and Professional Regulation requires applicants for a Florida construction license to get bonded only if they need to prove financial responsibility. The contractor license bond is necessary if your FICO credit score is below 660.
The required amounts for the different Florida contractor license type are the following:
Division I license - $20,000
Division II license - $10,000
Division II license after completing a board-approved financial responsibility course - $10,000
Division I license after completing a board-approved financial responsibility course - $5,000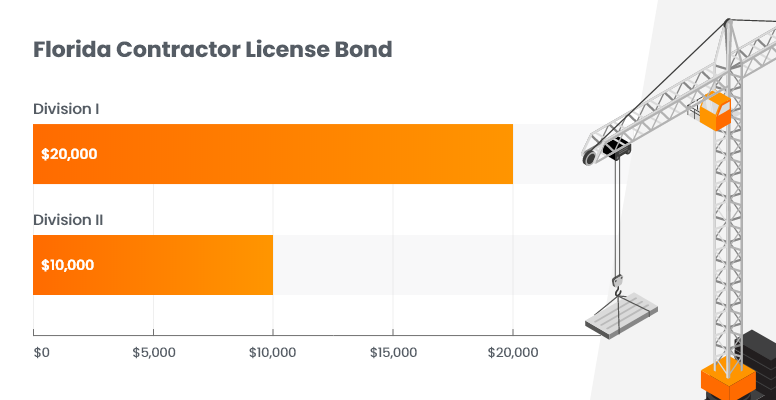 The purpose of the bond is to guarantee the applicants' financial responsibility. It should be maintained until your credit score becomes more than 660.
In addition to the state level, contractors may need to get bonded to meet the criteria of local authorities too. You can check out the cities and counties with contractor bond requirements in the table below. It contains the contractor license types and the bond amounts necessary in each place.
Bryant Surety Bonds can provide you with any type of Florida contractor license bonds that you may need. You can fill out our online application form to get your free quote.
Need bonding for bidding on construction projects? Make sure to consult our contract bonds page.
Get a quick estimate of the cost of your bond by using our surety bond calculator below!
Surety Bond Cost Calculator

Tell us where to send you your
FREE

estimate

SEND ME MY ESTIMATE!

We'll never share your information with third parties

Thank you

for your request!
The ballpark estimate on your premium is: $100 - $167
We've sent a copy of your estimate on your email as well.
Want an exact quote? Simply fill out our online application It's fast and 100% free!
Get a free exact quote
Get another estimate
How Much Does a Contractor Bond Cost in Florida?
The price of your Florida surety bond is set on the basis of the bond amount that state or local authorities require.
Your bond premium is a small percentage of that amount. The most important factor that affects it is your personal credit score, but your personal and business finances, fixed and liquid assets, and industry experience may also have an influence.
The rates start at 1% for applicants with a good credit score and stable financial profile.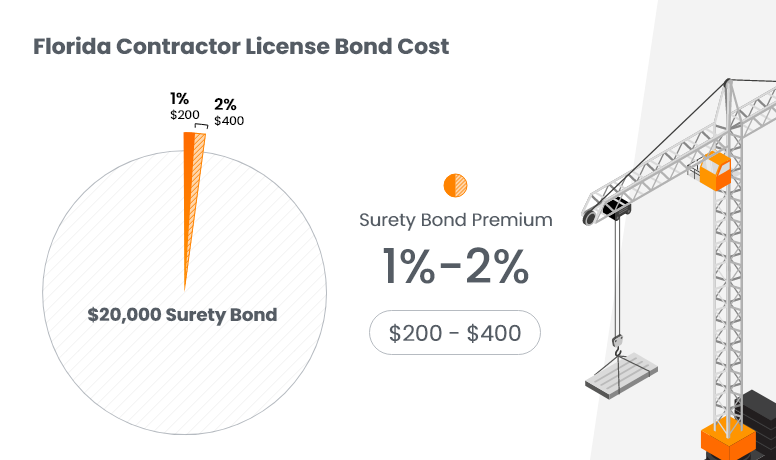 Florida Contractor License Bond Costs
License type
Bond Amount
Starting Price
Division I contractor
$20,000
$200
Division II contractor
$10,000
$100
Division I contractor after completing a board-approved financial responsibility course
$10,000
$100
Division II contractor after completing a board-approved financial responsibility course
$5,000
$100
Auburndale contractor
$5,000
$100
Cape Coral registered contractor
$25,000
$250
Dundee contractor
$5,000
$100
Fort Meade contractor
$5,000
$100
Hillsborough County contractor
$5,000
$100
Jacksonville sign contractor
$5,000
$100
Kissimmee contractor
$5,000
$100
Lake Alfred contractor
$5,000
$100
Lake County contractor
$5,000
$100
Orlando contractor
$5,000
$100
Osceola County contractor
$5,000
$100
Palm Beach County contractor
$2,000
$100
Panama City contractor (different types)
$5,000
$100
Pasco County contractor
$5,000
$100
Polk County contractor
$5,000
$100
Winter Haven contractor
$10,000
$100
* The table provides a bond cost ballpark estimate based on the applicant's credit score. Actual bond prices can differ due to a number of factors. For an exact quote,
please complete our online application
. It's fast and 100% free!.
You can consult our detailed surety bond cost guide for more details about the formulation of your price.
Types of Contractors and Their Bond Requirements
In the state of Florida, certain contractors could be required to have a specific work license, especially if they perform services in the construction industry. The contractor must obtain these bonds from the Construction Industry Board, which is a part of the Florida Department of Business and Professional Regulation. Additionally, licensing requirements may exist to provide professional services in certain Florida counties, cities, or municipal districts. Those requirements are defined by the building codes of a particular area. Any person who secures a license bond ensures that their work complies with local ordinances and regulations. A professional license is necessary for most types of construction projects. With some professional licenses, there is also a requirement to obtain a Florida contractor license bond. These bonds differ from surety bonds.
What is a surety bond? A certified license bond allows contractors to perform work throughout the state of Florida. If they have a registered license, they may only be able to work in a specific area.
With that bond, it will ensure that the public will receive some type of compensation for any surety bond claims should the contractor fail to comply with the state's licensing regulations. Florida requires any general or specialty contractor with a FICO credit score below 660 to obtain these license bonds. The contractor can post a cash deposit on the license bond for any poor credit score below 660. That cash deposit will go toward obtaining a $5,000, $10,000, or $20,000 construction contractor surety bond. These bonds allow the contractor to become eligible for professional licensure. In those cases, the contractor will need to purchase a bond whether they already have a contractor license or not. Contractors with a higher score can cancel their bond requirement within 30 days.
Different types of performance bonds that contractors need include the following.
General and Specialty Contractors
Florida requires general and specialty contractors to purchase a construction contractor bond. General contractors will have to acquire a Division I bond while a specialty contractor only needs to apply for a Division II one.
Electrical Contractors
Like a general or specialty contractor, electrical contractors who wish to obtain an electrician license in the state will need an electrical contractor bond. According to the state licensing board, an electrical contractor must have a certified license that allows the individual to work as a contractor in Florida. A contractor will need to have a Certified Electrical Contractor license from the Florida Department of Business and Professional Regulation. The state defines anyone who works in the electrical trade field to install, repair, or alter electrical fixtures, appliances, wiring, and conduit as an electrical contractor. These bonds fall into the Division II category.
Many of these licenses are limited to specific jurisdictions, meaning the electrical contractor can only work in that city or county.
Telecommunication Contractors
Telecommunication contractors will need to secure a Division II bond with the state. Florida defines any telecommunication contractor as a professional installing, repairing, or maintaining any land-based or digital communications in the state. These contractors will often work with other contractors to build or improve telecommunication systems in a particular city, municipality, or county.
If the individual is not licensed as an alarm or a technical contractor, then they must have a limited energy or low voltage specialty contractor license unless they are part of a public service or utility company.
Fire Protection Sprinkler System Contractors
According to the state licensing board, there are several definitions for a fire protection sprinkler system contractor. A "Contractor I" can design, fabricate, inspect, repair, and install any type of fire protection system, excluding pre-designed ones.
Those professionals designated as "Contractor II" are limited in their work area. They can design, install, repair, and service foam and water, water spray, and water sprinklers. Also, these individuals can maintain fire protection air lines, thermal systems, tank heaters, and pumps.
A "Contractor III" can work on dry chemicals, carbon dioxide, foam, and other chemical systems. Contractors falling under the "Contractor IV" designation specialize in fire protection sprinkler systems for single-family dwellings. These license bonds are a part of the Division II category.
Farm Labor Contractors
Along with securing a federal bond, Florida farm labor contractors also need to apply for a farm labor contractor bond. Anyone who hires, transports, or provides farm labor workers with compensation is considered a farm labor contractor. Along with that, the individual contract workers are also responsible for securing their own bonds to work within the state. The farm labor workers must purchase the state bond at the time of the licensing application.
Along with buying a bond, the individual workers must take a test to obtain their licenses. These bonds ensure that the contractor abides by all labor laws, providing ethical treatment of all farm laborers and meeting requirements established by the Florida Farm Bureau.
Painter Contractors
In the state of Florida, there are no specific licenses for painting contractors. Instead, an individual will have to apply for a general contractor license, which is a Division I bond. These types of individuals are either considered certified or registered contractors. A certified general contractor can work anywhere in the state of Florida. On the other hand, a registered contractor only has a license to operate in a specific county, city, or municipality.
HVAC Contractors
Anyone working as a contractor to service air conditioning, heating, or refrigeration in the state of Florida must have a license from the Florida Department of Business and Professional Regulation. And to have have that license it's necessary to obtain a HVAC bond.
The state has four different HVAC contractor licenses. A state-certified Class A license allows a contractor to work on any size of HVAC unit in the state. With a registered Class A license, the contractor can work on any equipment size but is limited to specific locations. State-certified Class B licenses specify that the contractor can only work on cooling systems that are less than 20 tons and heating systems with less than 500,000 BTU. The registered Class B license allows the same type of work, but it will limit the contractor to certain local areas.
Carpenter Contractors
Some types of carpenters do not need to be licensed by the Florida Department of Business and Professional Regulation. Those who complete minor work may not need a license. Some small carpentry work can include door, floor, or window repairs that cost less than $500. However, the carpentry contractor will need a general contractor license for bigger projects. A Division I license is often required when the work will be more than $500. Generally, that work will become a part of the finished structure of a building. A carpenter contractor can get a certified or registered contractor license.
Drywaller Contractor
The state of Florida has its own definition of a drywaller contractor. These contractors are officially called "gypsum drywall contractors." They will need a professional license for any project. These contractors will install drywall and all metal accessories, such as non-load bearing studs, runners, channels, hangers, drywall metal suspension materials, and prefabrication ceiling components. Plus, they will prepare the surface for the application of drywall materials. This license allows the contractor to install, tape, texture, and finish the drywall, including adding any special finishes.
Along with that, the installation can include affixing drywall to metal and wood ceilings, walls, and other surfaces. The scope of work for this contractor is limited to a specific phase of construction. A gypsum drywall contractor license is considered a Division II license bond.
Steelworker Contractor
Since most steelwork is required for structural work, these workers will need to secure a general contractor's license bond. These workers are responsible for fabricating and designing structural steel and sheet metal to build a structure. Steelworker contractors can cut and weld steel. Also, they will use concrete to reinforce steel bars.
Some contractors will work exclusively with sheet metal. Under state definitions, sheet metal is metalwork consisting of U.S. No. 10 gauge or lighter sheet metal. These individuals can obtain a license to perform work on any air ducts or air handling systems. While this work may fall into the HVAC category, sheet metal work does require a special Division II license.
Floor Laying Contractor
The state of Florida does not require floor-laying contractors to have an official license. Whether the individual installs wood panels or clay titles, there is no need to purchase a license bond or apply for any particular certification. However, some floorwork does go beyond the typical flooring project. If the contractor needs to work on the drywall or make major structural repairs, then those individuals will be required to get a general contractor license to complete the work.
Sewer and Sewer Service Contractors
Many sewer and sewer service contractors will need a plumbing license from the Florida Department of Business and Professional Regulation. According to the agency, a plumber's job can include the installation, repair, maintenance, and alteration of storage draining, sanitary drainage, sewer plants, water supply systems, venting systems, septic tanks, wells, irrigation systems, swimming pool piping, and solar heating water systems. The Florida plumbing license will cover all work in the state.
If the contractor needs to work on underground utility or water lines, then that individual will need a Division II license bond as an underground utility and excavation contractor. These professionals can drill to maintain, repair, or install water distribution systems, storm collection systems, and sewers. Certified contractors can perform most of the work on public or private properties. Like most contractor bonds, this type of work will fall under the Division II category.
Florida Contractor License Requirements
The requirements for getting a Florida general contractor license and specialty licenses vary depending on your location.
On the state level, you'll need to satisfy the following criteria to get a license from the Department of Business and Professional Regulation:
Complete the Florida contractor license application
Meet the experience requirements of at least 4 years of experience or a combination of college and experience
Pass state examination
Submit a $300,000 public liability and $50,000 property damage insurance and a worker's compensation insurance policy (if applicable)
Post a Florida construction bond (if you don't meet the financial responsibility criteria)
Pay the relevant licensing fees
On the local level, the requirements are different and are set by your city or county authorities.
Renewal Process of Florida Contractor License Bond
After all of the hard work to pass the requirements and obtain a professional certification, the contractor will want to hold onto that license. A license allows an individual to work legally in the state. Without it, an individual could face fines or even be charged with a misdemeanor. Along with that, the Florida Contractor License Bond legitimizes a business. Plus, these companies and individuals can be included in the Florida Department of Business and Professional Regulation registry.
Renewing the bond is a simple process. No matter if the individual holds a certified or registered contractor license, the contractor must renew the license and bond every two years in the state. However, different renewal dates will depend on the type of license bond. The contractor must renew the bond for registered contractor licenses by August 31 of every odd-numbered year, such as 2023. If the contractor has a certified license, then it will need to be renewed by August 31 of every even-numbered year, like 2022.
The Florida Department of Business and Professional Regulation has made the process easy for all contractors. The contractor can renew all of the licenses online. Any contractor will need to go to the online services portal and set up an account. New accounts must be linked to the existing license number. If there is an existing account, the contractor can log in and renew their license in a few easy steps.
When it comes time to renew the license, there will be an associated fee of $209 and an additional $50 fee for qualified businesses from the Florida Department of Business and Professional Regulation. In some cases, the contractor will need to meet a few education requirements to renew the license. Any building, mechanical, plumbing, or general contractor is required to take 14 hours of continuing education classes for every renewal period. These classes focus on relevant subjects like:
Business practices
Workplace safety
Laws, rules, and regulations
Workers' compensation
The contractor must complete all of these hours before renewing a license. General and building contractors must take a one-hour class on wind migration. The Florida Department of Business and Professional Regulation requires all contractors to take these classes from approved education providers. Many contractors can quickly look up their location and find an educational program to earn these credits.
With any professional license renewal in the state of Florida, contractors need to renew their license bonds. Like the initial application, obtaining and renewing these bonds is simple. In most cases, the individual will need to complete a renewal form. Sometimes, the contractor's credit score could go up or down. If the credit score increases, there will be fewer license bond requirements than those with poor credit.
It is important to renew the license bond on time. Along with taking the classes and filling out the appropriate paperwork, a contractor must have everything completed promptly. In many cases, it can take a few days to process invoices or gather all of the paperwork. Consider renewing a license bond at least a month before it is due. Sometimes, the bond company may need more information before renewing the license bond.
---
---