Utah Contractor License Bond Requirements
The Utah Division of Occupational and Professional Licensing (DOPL) requires general and specialty contractor applicants to obtain a contractor license bond for their licensing in certain situations. They include:
If in the last 2 years, you have been delinquent in payment of a debt or obligation, such as state or federal income taxes, payroll withholding, unemployment, workers' compensation, and liability insurance premiums, debts to subcontractors or suppliers, the Residence Lien Recovery Fund, credit cards, banks, alimony, or child support;
If you have filed bankruptcy within the last 7 years or have had any judgments entered against you within the last 5 years;
If the current value of all real and personal property you own doesn't exceed the total liabilities you owe.
In case you fall in any of these categories, the bonding amounts you'll need to provide are the following, depending on the license type you're applying for:
General Building (B100) & General Engineering Contractors (E100) – $50,000
Residential & Small Commercial Contractors (R100) – $25,000
All other license classifications – $15,000
You'll have to submit your bond in the official forms provided by the DOPL together with your license application.
The purpose of your Utah contractor license bond is to be additional financial security for the state and for your customers. It ensures you will adhere to the Utah Code Ann. Title 58, Chapter 55 (Utah Construction Trades Licensing Act) in your work as a licensed contractor. The bond can be used to compensate parties who suffer losses due to any violations on your side.
Bryant Surety Bonds can provide bonds for all types of Utah contractor license classifications. You can get started by completing our online application form to receive your free quote.
Bidding on a construction project for which you need to get bonded too? Make sure to check out our contract bonds guide.
Get a quick estimate of the cost of your bond by using our surety bond calculator below!
Surety Bond Cost Calculator

Tell us where to send you your
FREE

estimate

SEND ME MY ESTIMATE!

We'll never share your information with third parties

Thank you

for your request!
The ballpark estimate on your premium is: $100 - $167
We've sent a copy of your estimate on your email as well.
Want an exact quote? Simply fill out our online application It's fast and 100% free!
Get a free exact quote
Get another estimate
How Much Does a Contractor License Bond Cost in Utah?
The cost of your Utah contractor license bond is a small percentage of the required amount, which is called the premium. If you have to get a $50,000 bond for a Utah general contractor license and your rate is set at 1%, your premium would be as low as $500.
The bond rate that your surety offers depends on the strength of your personal and business finances. Your credit score is the most important factor, with a good credit score considered one above FICO 700.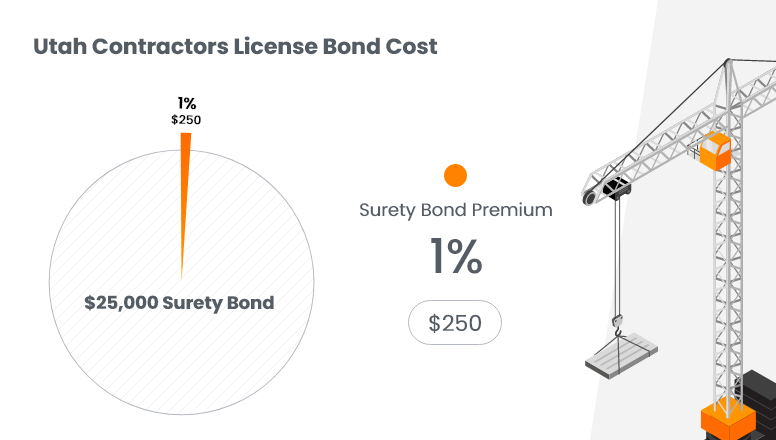 You can review the following table for a ballpark estimate of your premium:
Utah Contractor License Bond Costs
License type
Bond Amount
Starting Price
General Building & General Engineering Contractors
$50,000
$500
Residential & Small Commercial Contractors
$25,000
$250
All other license classifications
$15,000
$150
* The table provides a bond cost ballpark estimate based on the applicant's credit score. Actual bond prices can differ due to a number of factors. For an exact quote,
please complete our online application
. It's fast and 100% free!.
The rest of the factors that may affect your Utah surety bond cost include:
Personal and business finances
Fixed and liquid assets
Business experience and track record
Need more information about the way your bond cost is formulated? You can check out our in-depth surety bond cost guide for more details.
Utah Contractor Licensing Requirements
The license requirements depend on the license type you'd like to obtain in the state. Some of the criteria that apply to all license types include:
Complete the contractor license application form
Business entity registration and information
Completion of the qualifying questionnaire in the application form
Financial information
Proof of experience and qualifications
Proof of passing any required trade or Utah Laws and Rules exams
General Liability Insurance Certificate with a minimum required coverage of $100,000 for each incident and $300,000 in total
Workers' compensation certificate (if applicable)
Payment of the applicable license fees
---
---