Your Full Guide on How to Get a Pennsylvania Dealer License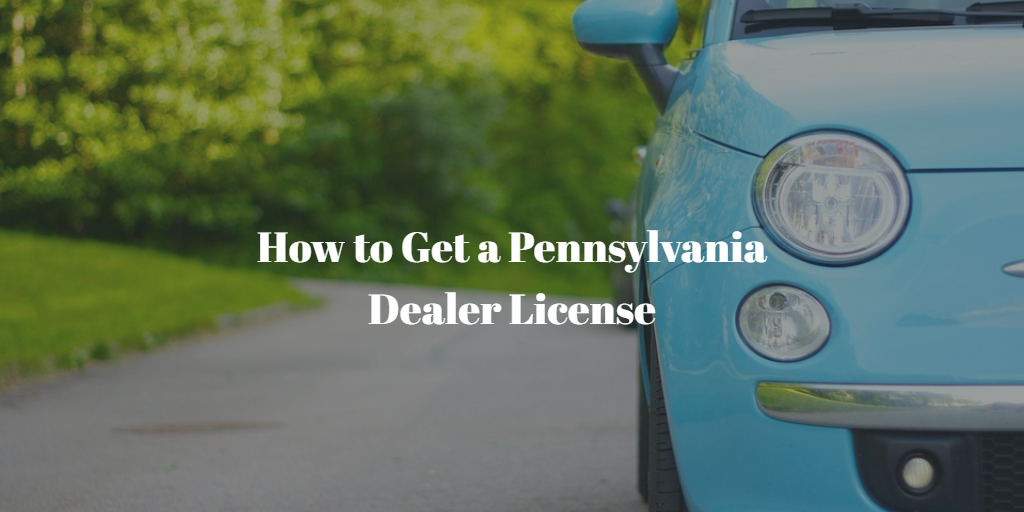 Many Pennsylvanians dream of opening their own auto dealerships. Before you can become an auto dealer and open your dealership in the Commonwealth of Pennsylvania, you will first need to obtain an auto dealer license from the Pennsylvania Department of Transportation (PennDOT). Getting a dealer license requires you to complete multiple steps, and the process can be involved. You will need to apply at the State Board of Vehicle Manufacturers, Dealers, and Salespersons through PennDOT and submit a completed dealer application form together with multiple required supporting documents and certificates. You will also need to apply for dealer plates from the Pennsylvania DoT and submit a Pennsylvania auto dealer bond, in addition to meeting other requirements.
While the process involved might initially seem complex, it can be broken down into several succinct steps. Here is some information about the licensing process for auto dealers in Pennsylvania.
Who Requires a Dealer's License in Pennsylvania?
Anyone in Pennsylvania who intends to sell five or more vehicles in a 12-month period must obtain an auto dealer license to lawfully operate their car selling business. If you sell four or fewer vehicles each year, you likely won't need a license. However, the vehicles you sell as a private party must all be owned by you, titled in your name, and used for household, personal, or private business use. If you want to sell vehicles that are registered in other people's names, you will need to get a Pennsylvania dealer license.
Pennsylvania categorizes dealer licenses into several different types. You will need to determine which of the following motor vehicle dealer license types you might need based on your intended business activities:
New vehicle dealer license – For individuals and dealerships that want to sell new vehicles under a franchise agreement with the manufacturer and distributor
Used vehicle dealer license – For individuals and dealerships that want to sell used vehicles
Motorcycle dealer license – For individuals and dealerships that want to sell motorcycles
New trailer dealer license – For individuals and dealerships that want to sell trailers that can be hauled behind other vehicles
Mobile home dealer license – For businesses that want to sell mobile homes to obtain a dealer identification number only
Once you know whether you need to get a dealer license and the type of license you need, you can then move forward with the application process.
Apply for a Pennsylvania Dealer License at the State Board
The application process for getting a license for a car dealership in Pennsylvania requires you to complete several steps.
You will need to apply to the State Board of Vehicle Manufacturers, Dealers, and Salespersons through the Pennsylvania Department of State to submit the Vehicle Dealership Initial License application. This initial application requires you to submit extensive documents about your dealership and your sales personnel to get an auto dealer license and a salesperson license.
You will need to attach the following documents to your initial application:
Business formation and business entity documents showing your legal entity structure as it is registered with the Pennsylvania Department of State (Sole proprietorship, LLC, LLP, or corporation)
Photographs of the interior and exterior of your dealership
Signage of your dealership that displays your dealership's license name
A detailed diagram of all buildings included as a part of your dealership
Copy of your lease agreement or property deed for the dealership property
Letter from the telephone company showing your business phone number, messenger service, or a copy of your phone bill
Verification of your business's zoning compliance from your local zoning board
A copy of the certificate of occupancy issued to your business
Documented work history of each involved business partner
Completed application for salesperson initial license for dealerships that are not operating as sole proprietorships
Criminal background check
Copy of your franchise agreement if you will be seeking a new car dealer license
$65 auto dealer license fee
After you have submitted an application to the State Board, the board will schedule an inspection of your dealership once it accepts your application. If you pass the inspection, you will receive your Pennsylvania dealer license so that you can start operating your business.
Learn more about how to get licensed and start your auto dealership by downloading our FREE Pennsylvania Dealer License Ebook Guide!

Apply for Pennsylvania Dealer License Plates at the DoT
Once you have applied for an auto dealer license from the State Board, you will then need to apply at the Pennsylvania DoT for vehicle dealer registration plates. To apply for a dealer plate or plates, you will need to do the following things:
Complete Form MV-349, which is the dealer plate application form
Submit a $20,000 Pennsylvania auto dealer bond for each location from the issuing agents
Submit a copy of a sample contract
Submit a copy of an original background check and criminal history report
Apply for your federal tax ID number (FEIN) from the Internal Revenue Service (IRS)
Read and make sure you understand Chapter 13, Title 75, Chapter 53, Title 67, and Chapter 43, Title 67 of the Pennsylvania Vehicle Code
After you complete these steps, the state will issue your dealer plates to you. You will then begin to operate your Pennsylvania auto dealer business legally. Out of these steps, obtaining your auto dealer bond may raise some questions. Here is some information about the bonding process and how to get bonded in Pennsylvania.
Get Your Pennsylvania Auto Dealer Bond
All Pennsylvania auto dealers are required to purchase and maintain a $20,000 auto dealer bond for each of their locations. If you operate two dealership locations, this means you will need to purchase two $20,000 bonds. The point of the surety bond requirement is to protect your customers in case you engage in fraud or other types of misconduct or have violated the laws, ordinances, and regulations that govern your business.
If you violate the law or engage in dishonesty, a customer who has been harmed or the state can file a bond claim against your bond. If that occurs, the surety company will investigate the claim. If it validates the claim, it will pay compensation to the claimant up to the penal sum of the bond, which is the maximum bond amount. However, you will be responsible for compensating the bond company for all money it pays out in the claim. It is best for you to conduct your dealership honestly and to always comply with the law to avoid bond claims. A claim against your bond could be expensive and cause harm to your business. If your bond is revoked, it could also cause you to lose your auto dealer license and be forced to cease your business operations.
An auto dealer bond is a type of surety bond and is a form of credit instead of insurance. When you apply for a surety bond, the bond agency will conduct an underwriting process to examine your experience, financial stability, reputation, and credit. Based on the factors it considers during underwriting, the agency will offer you a quote. The bond quote will depend on the degree of assessed risk the surety company believes you would pose if it agrees to underwrite your bond. If you have a great credit score and experience, you might be charged a low bond premium between 1% and 3% of the required bond amount. This means that your Pennsylvania dealer bond might cost you as little as $220 to $600. You must pay the bond premium upfront to secure your bond.
How And When to Renew Your Pennsylvania Auto Dealer License
Dealership licenses in Pennsylvania expire on May 31 of each odd-numbered year. You must renew your license before its expiration date. If you don't, your ability to legally operate your dealership will be suspended until you come into compliance. You will receive a renewal notice with instructions about renewing your license from the Pennsylvania DoT two to three months before your license expires to maintain your licensure. Make sure to follow the instructions and submit your renewal application early. To remain compliant as a licensed dealer, you will also need to renew your auto dealer bond and submit proof that your bond is in place. If your credit has improved, your bond cost might be lower than what you initially had to pay, however.
FAQs
How long does it take to get an auto dealer license in Pennsylvania?
Once you have completed all the paperwork and have purchased your motor vehicle dealer bond, you will then need to call the Pennsylvania Vehicles Board to verify that they have everything they need. You will need to mail your documents, forms, and application fee to the State Board at the following address:
Pennsylvania Department of Transportation
State Board of Vehicle Manufacturers
Dealers and Salespersons
P.O. Box 2649
Harrisburg, PA 17105
Once your documents have been approved, an inspection will be scheduled. If you pass the inspection, you will receive a temporary authorization so that you can start operating your dealership. Your dealer license and dealer identification number will arrive in the mail about four weeks after you receive your temporary authorization. The entire process from start to finish should take six months or less.
How do I Get a Dealer's License Without a Lot in Pennsylvania?
While you won't need a beautiful, large car lot, you will need to have a business location that is separate from your residence. Your business location will need to include a permanent office next to a display area with a surface, A large-enough display area to display five vehicles away from your parking areas, a lockable file cabinet, desk, and phone in your office, and a permanent sign that displays your dealership name and operating hours. Your display area must be large enough for five vehicles to be displayed with their doors open or at least 5,000 square feet if you plan to sell recreational vehicles. You will also need to meet the zoning requirements and obtain a certificate of occupancy from the Department of Labor and Industry and make sure you meet the other license requirements.
Get Your FREE Bond Quote Instantly
No Obligation - Fast and Secure - All Credit Types
Get a FREE Bond Quote

Instant ballpark estimate

Tell us about your business

powered by

Get your FREE quote today!
---