Your Full Guide on How to Get a Pennsylvania Dealer License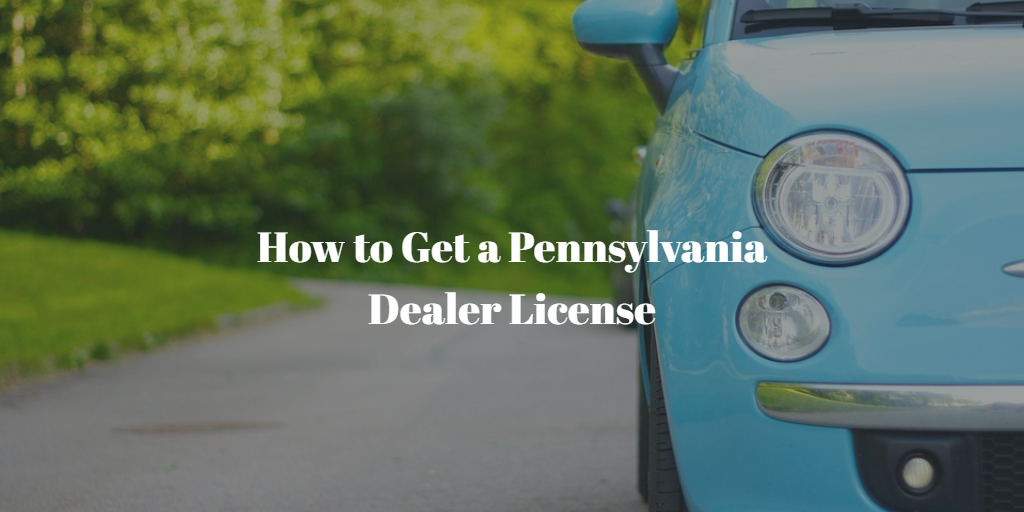 Pennsylvanians who wish to follow in the footsteps of H. O. Koller, the first American known to have opened a franchised dealership in the city of Reading, PA. in 1898, need to obtain a license that grants them the status of auto dealers.
To obtain a Pennsylvania dealer license, applicants must first apply at the State Board of Vehicle Manufacturers, Dealers, and Salespersons and submit a fully completed application form, including a variety of documents and further certificates. Applicants must also apply for dealer plates at the Pennsylvania Department of Transportation (DoT) where they will be required to submit a Pennsylvania auto dealer bond, among other things.
Read a detailed account of the full licensing procedure below!
Apply for a Pennsylvania dealer license at the State Board
There are two major stages of getting your car dealership licensed in Pennsylvania.
First, you must apply at the State Board of Vehicle Manufacturers, Dealers, and Salespersons at the Pennsylvania Department of State. There you must submit a Vehicle Dealership Initial License application, which also requires extensive documentation concerning your dealership and your salespeople.
Specific details about the exact requirements of your application are listed on the application link. Here's a rough list of everything you need to add to your application:
Formation documentation – whether a corporation, LLC, LLP or sole proprietorship

Complete photographs of the whole facility, inside and out

Dealership sign, showing the license name of the dealership

A diagram of all buildings

Copy of deed or lease agreement

Copy of telephone bill or letter from a telephone company

Zoning compliance verification

Copy of Certificate of Occupancy issued

Work history documents of all business partners

A fully completed

Salesperson Initial License application

– applicable for those dealerships which are not sole proprietorships

Criminal history check

Copy of franchise agreement for new car dealers

Pay a $65 licensing fee
Once you have applied to the State Board and your application has been accepted, an inspection of your office will be scheduled. If you pass the inspection, your very own Pennsylvania dealer license will be issued.
Learn more about how to get licensed and start your auto dealership by downloading our FREE Pennsylvania Dealer License Ebook Guide!

Apply for Pennsylvania dealer license plates at the DoT
The second step to becoming a fully fledged dealer is to apply at the Pennsylvania DoT for 'Vehicle dealer registration plates for dealers licensed by the Department of state'. To do so, you must:
Fill in the relevant application form,

MV-349

– Submit your $20,000 Pennsylvania auto dealer bond (one for every location)

Submit a sample contract

Submit an original criminal history record

Apply for a federal tax ID number

Read and familiarize yourself with: Chapter 13 – Title 75; Chapter 53 – Title 67 and Chapter 43 – Title 67 of the Pennsylvania Vehicle Code
Once you fulfill these requirements as well, your dealer plates will be issued and you will be able to conduct business as an auto dealer in Pennsylvania. Among these, obtaining your auto dealer bond may raise some questions for you, especially if you've never gotten a bond before.
Read on to find out about the cost of your bond and how you can get bonded.
Get your Pennsylvania auto dealer bond
A $20,000 auto dealer bond is required of all car dealers in the state, one for each of their locations. The point of the bond is to provide protection to the customers of the dealership in the form of financial compensation if they have been treated dishonestly and the dealer has violated state laws and regulations.
In such cases, claims can be filed against a bond by customers or by the state and the surety that issued the bond is responsible for paying the initial compensation to claimants. The dealer must compensate the surety for their backing, though, so bond claims are best avoided since they can be long, arduous and cause a lot of harm to a dealership's reputation.
When you apply for your bond, your surety bond agency will offer you a quote which is based on your personal credit score. While other factors also influence your surety bond cost, credit score plays a central role. Typically, high credit applicants are offered a so-called standard market rate, which is between 1% and 3% of the total bond amount.
In other words, obtaining your Pennsylvania auto dealer bond may cost you between $200 and $600.
Get Your FREE Bond Quote Instantly
No Obligation - Fast and Secure - All Credit Types
Tell us about your business

powered by

Get your FREE quote today!
To get started with your bond application fill in and submit our surety bond application. You can also call us at 866.450.3412 if you'd like to speak to one of our experts directly!
---