How to Get Your Wisconsin Dealer License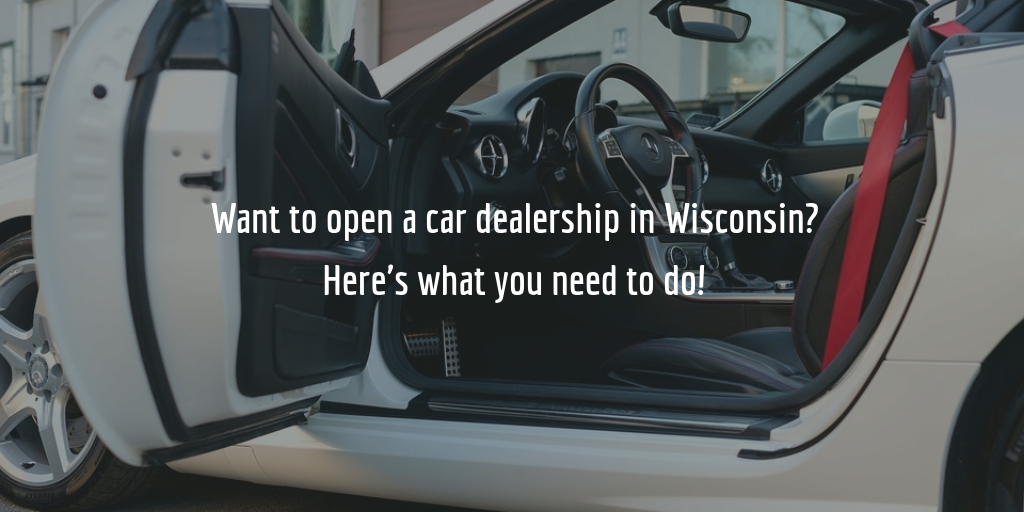 To open your own car dealership in Wisconsin or to sell cars to retail dealers, you need to obtain a Wisconsin dealer license from the state Department of Motor Vehicles (DMV). To qualify for a license, you will need to complete certain pre-licensing requirements, such as to obtain a Wisconsin auto dealer bond, have a zoning permit and others.
See below for a full explanation of the qualification criteria and the licensing requirements for the Wisconsin dealer license.
Wisconsin dealer license qualification criteria
Qualification criteria for wholesale dealers and retail dealers in Wisconsin differ slightly. To qualify for a license, both types of dealers must:
Have a permanent business location with display lots as well as office space

Obtain a zoning and local permit approval for the business location

Provide a lease agreement or proof of ownership for the dealership estate

Have at least one licensed representative (or salesperson, in the case of retailers) which can be the applicant himself

Display a business sign and working hours

Pay all

applicable licensing fees

– $40 license fee, $150 license plate fee, $20 processing fee

Obtain a Wisconsin dealer bond – wholesale dealers must obtain a $25,000 bond, while retail dealers must get a $50,000 bond
Separately, retail dealers must also:
Present their sales tax permit obtained through the Wisconsin Department of Revenue

Have a service department at their dealership or present an agreement with a service facility close to the dealership

Provide a manufacturer's certificate of appointment (if selling new vehicles)
Once dealers have complied with the qualification requirements for obtaining their Wisconsin dealer license, they can proceed with applying at the Wisconsin DMV for their license. Here is what dealers will need to provide when applying for their business license.
Wisconsin dealer license application process
To apply for their license, applicants for retail or wholesale dealer licenses must complete a number of forms provided by the DMV.
Applicants for a retail dealer license must complete and submit the following forms:
2 copies of the Motor Vehicle Dealer Two Year License Application form (MV2186)

Entity/Owner Statement (MV2844), one for each owner, partner, shareholder (and others) with a share of 10% or more

Business Facilities Statement (MV3180)

Proof of auto dealer bond (MV2511)

Motor Vehicle Dealer Service Agreement (MV2085) – required for dealerships without a service department

Salesperson/Representative License Application Form (MV2184)

Manufacturer/Importer/Distributor Certification of Dealer (MV2131), required of dealers who will be selling new vehicles
Some of the above forms must also be completed by wholesale dealer license applicants. These include MV2844, MV2511, and MV2184. Additionally, wholesalers also need to submit:
2 copies of the Motor Vehicle Wholesaler Two Year License Application form (MV2860)

Wholesale Business Facilities Statement (MV3188)
Finally, both retailers and wholesalers can submit the Buyer's license application (MV2941), and the Salvage Buyer Identification (BID) Card Application (MV2651). Both of these are optional and depend on whether the applicant wants to receive the right to bid at auctions or motor vehicle salvage pools.
Once you've completed all of the above forms, you need to submit them to the Wisconsin DMV for processing. If there are no issues with your application, and you've covered all the qualification criteria, you will be issued your dealer license. Licenses are issued for a period of two years and must be renewed, along with the surety bond, before they expire. the Wisconsin Department of Transportation (WisDOT) Dealer & Agent Section typically contacts licensees two months prior to their license expiration date with all the relevant materials and instructions needed to renew the license.
Learn more about how to get licensed and start your auto dealership in Wisconsin by downloading our FREE ebook guide!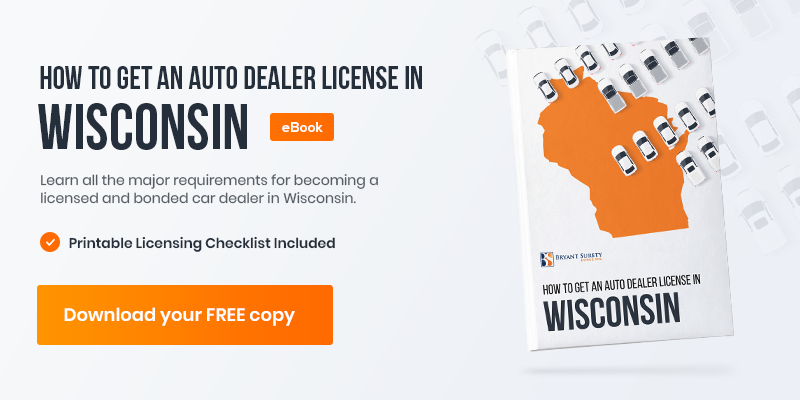 How to get a Wisconsin auto dealer bond
Without getting a dealer bond applicants for a dealer license can't proceed with the licensing process. The surety bond requirement is essential for licensing because it serves as a type of guarantee for the state and the public.
The guarantee it extends is that dealers who have gotten bonded will comply with the terms of Chapter 218 of the Wisconsin Statutes. If a dealer should violate these terms, and cause their customers or the state any damages or losses, a claim can be filed against their bond, and claimants are compensated by the surety.
To get your bond, you need to pay a bond premium, and not the whole bond amount, as is sometimes mistakenly thought. The bond premium or bond cost is a small percentage of the total bond amount. It is determined by the surety company which issues and backs your bond when you apply for the bond. The surety takes your personal credit score as well as other financial indicators into consideration when setting a rate on your bond.
Typically, applicants with high credit scores are offered the lowest rates – between 1% and 3% of the total bond amount. To get a free quote on your Wisconsin auto dealer bond, complete our online surety bond application form and we will shortly contact you with your quote.
Get a FREE Auto Dealer Bond Quote Today!
No Obligation - Fast and Secure - All Credit Types
Get a FREE Bond Quote

Instant ballpark estimate

Tell us about your business

powered by

Get your FREE quote today!
If you have any questions regarding the bonding requirements for Wisconsin auto dealers, give us a call at 866-450-3412 to speak to our surety experts!
---