How to Get a California Motorcycle Dealer License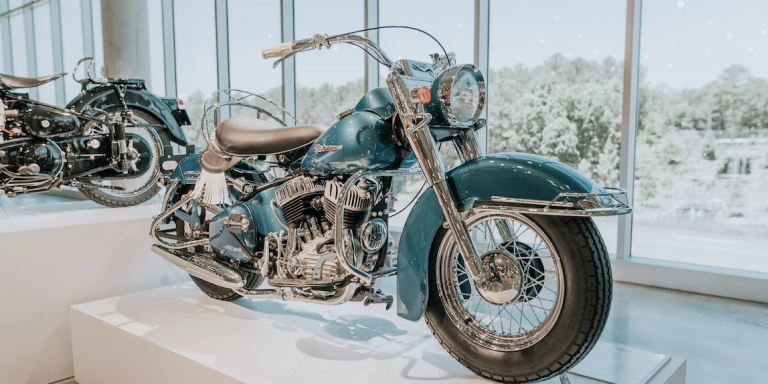 If you're planning on selling new or used motorcycles for profit in California, you'll need to obtain a dealership license from the state's Department of Motor Vehicles (DMV).
Applicants must undergo training and provide the relevant documentation required to obtain a California motorcycle dealer license. It's important to understand all the licensure requirements, so you can adequately serve your customers.
To make the process easier, we've developed this quick guide that outlines the California motorcycle dealer license and bond requirements.
Steps to Obtain a California Motorcycle License
To obtain a California motorcycle dealer license, simply follow these steps.
Step 1: Decide Which Dealer License You Need
Before applying for a California motorcycle dealer license, you must first decide what license you need. This is critical as having an incorrect license could limit your business or make it non-compliant with state regulations.
There are four different classes of California auto dealer licenses. These are:
(i) New Dealer
This license allows you to sell new motorcycles/vehicles to the public or other licensed dealers
(ii) Used Dealer
This license allows you to sell used motorcycles to the public or other licensed dealers
(iii) Wholesale Dealer
A wholesale dealer is only permitted to sell motorcycles/vehicles to other licensed dealers. They cannot sell to the general public.
(iv) Autobroker Endorsement
This license allows the licensee to assist in purchasing a motorcycle/vehicle that does not belong to them at a fee.
If you plan to sell pre-owned motorcycles, you need either a used dealer license or a wholesale dealer license. But if your goal is to sell motorcycles to the public as well as to other dealers, you'll need a used motorcycle dealer license.
If you plan to work with other dealers only, a wholesale dealer license is the best option for you. Note that wholesale dealers aren't required to have business premises and can work whenever they want, even from home, if they choose to.
Step 2: Complete California Dealer License Application Packet
Once you've figured out what type of license you want, the next step is to complete a dealer license application. Be sure to fill out the right application forms based on whether you plan to sell new or used motorcycles. Basically, you'll have to choose between:
New dealer application form
Used dealer application form
Both packet forms contain the following documents that must be completed:
Application for an original occupational license
Deposit agreement and assignment
Surety bond instructions
Personal history questionnaire
Addendum to the deposit agreement
Authorization to release financial information
Step 3: Undergo a Criminal Background Check
Criminal background You'll still have to pay the $176 application fee. After paying, the state will notify you whether it will grant you the license before you can obtain your surety bond and register your business location.
If you were previously convicted, you could file an abbreviated application.
Step 4: Obtain a Permanent Business Location
Depending on your license type, you may need a permanent place of business.
If you're applying for a dealer's license, you're required to have a business location. Your business location will need to:
Have a physical office fitted with a desk, telephone, and filing cabinet holding all records related to your business.
Obtain zoning verification to ensure the business location is compliant with local regulations.
Meet the minimum display area size required in California
In addition to these requirements, all dealers must display a sign at their business location. The sign must be clearly readable and permanently affixed outside the business premises.
Step 5: Set Up Your Business Structure
Before you start operating as a motorcycle dealer, you'll need to determine your ideal business structure. In other words, you'll need to register your dealership with the state of California.
You could register it as a corporation, limited liability company, or even a partnership. If you're unsure of what structure type is right for you, it is best to seek the advice of a financial expert or legal counsel.
Step 6: Submit Your Application
Once you've completed all the motorcycle dealer application forms, you can submit them to your local DMV office.
It may take up to three months (120 days) for the DMV to review your application and notify you about the result. During this time, the DMV personnel will likely perform site inspections to determine whether you meet all the requirements.
What are the Requirements for a California Motorcycle Dealer's License?
California's Department of Motor Vehicles requires all applicants to:
Dealer Education and Training Program
The California state DMV requires anyone interested in a retail or wholesale license to take a 6-hour pre-licensing training course from an approved dealer education provider.
No additional preparation or industry experience is needed.
Dealer education programs are conducted online, but you'll have to pass an in-person test upon completion. The test consists of 40 multiple-choice questions, and you'll need a score of at least 70% to pass. You got three attempts to pass and must wait 1 week between sittings.
Bonding and Insurance Requirements
In California, auto dealers are required to post a surety bond when applying for a license.
The amount you pay varies by license type. And different dealer licenses often require different surety bonds. For car dealers, the most common surety bond is the $50,000 dealer surety bond which applies to dealers who sell more than 25 vehicles per year.
For California motorcycle dealers, the deal amount is set at $10,000. But you don't need to pay the full amount to get bonded, but a premium of that value.
How Much Does Getting a Motorcycle Dealer License Cost?
As mentioned, processing your California motorcycle dealer license will take roughly 120 days. During the application, you'll need to pay the following fees:
$175 initial license application fee
$71 for each dealer plate
$100 Autobroker fee
$300 New Motor Vehicle Board fee
The California DMV will let you check your license status.
License Expiration and Renewal
California auto dealer licenses expire annually.
You'll need to submit renewal documents no later than 90 days before the license expiration date. Licensees must also submit proof of continuing dealer education every 2 years.
---