How to Get a Utah Collection Agency License [Complete Guide]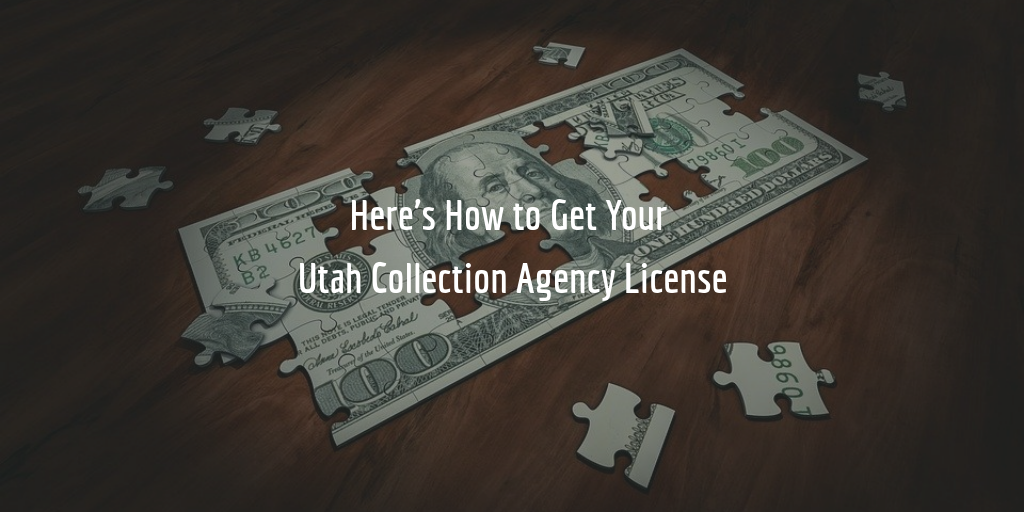 Anyone who wants to offer debt collection services in Utah must become registered with the Division of Corporations and Commercial Code. The application process for the Utah collection agency license is very simple and straightforward.
Its requirements include, among others, registering your business in the state, completing a license application, posting a Utah collection agency bond.
For a full breakdown of the licensing process for Utah collection agencies, see our full guide below!
Planning on opening your own collection agency? We can provide you with a full walkthrough of the process and some advice! See our free e-book!

1. Register Your Business With the Division
Before you apply for your collection agency license, you must have applied for a business entity registration or at least an assumed business name, if you will be a sole proprietor. The simplest way to register is to use the Utah One Stop Online Business Registration portal.
Apart from your registration with the state, make sure to check whether your county or city doesn't require you to also have a local business registration. Once you've legally constituted your entity and/or obtained an assumed name, you can proceed with the license application process.
Note: If you are unsure what kind of business structure you should choose, make sure to consult an attorney prior to registering.
2. Get a Utah Collection Agency Bond
The collection agency bond is one of the most important requirements of the licensing process. The bond guarantees your compliance with the provisions of Title 12 of the Utah Code.
Your surety bond must be in an amount of $10,000. You can get a 100% free quote on your bond by completing the bond form below!
Get Your FREE Bond Quote Instantly
FREE Instant Online Quotes - All 50 States - All Credit Types
Get a FREE Bond Quote

Instant ballpark estimate

Tell us about your business

powered by

Get your FREE quote today!
3. Complete Your Utah Collection Agency License Application
Once you've obtained your surety bond, you can also complete your collection agency application form.
The form cannot be completed in handwriting, so make sure to complete it on your computer, before you print it out and send it to the Division.
4. Submit Your Application Form and Registration Fee
When you've completed the form, you can submit it to the Division by mail or personally at one of the following addresses.
Mailing address:
Utah Division of Corporations & Commercial Code
PO Box 146705
Salt Lake City Utah 84114-6705
Walk-in:
Heber M. Wells Building
160 E 300 S, 1st Floor
Salt Lake City Utah 84111
As part of your registration, you must pay a $32 processing fee which you can pay cash, with a credit card, as well check, or money order.
When submitting your application, you must also attach your original collection agency bond to the form.
5. Renew Your Utah Collection Agency License
Collection agencies must renew their registration with the Division every year. As part of the renewal process, you must submit a renewal application form as well as a new surety bond. The bond must be in an amount of $10,000.
It is licensees' responsibility to renew in time. If you miss the deadline, your registration may expire.
If you have any questions about the registration process for Utah collection agencies, make sure to contact the Division at [email protected] or give them a call at (801) 530-4849.
---