Alaska Auto Dealer License Guide 2023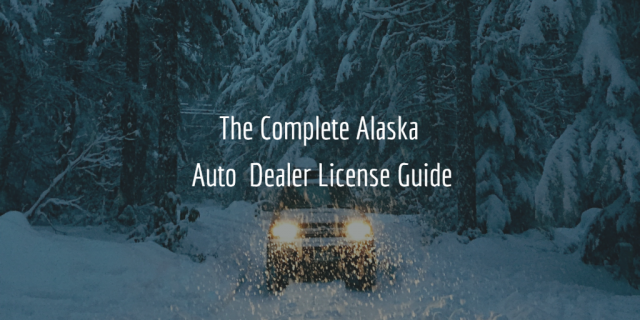 Anyone in Alaska who wishes to sell more than 5 vehicles in any consecutive 12 months must obtain an Alaska auto dealer license. This license is issued by the state Division of Motor Vehicles (DMV).
Only one type of dealer license is issued in the state of Alaska, regardless of the type of vehicles a dealer wants to sell. Agents who negotiate with dealers on behalf of buyers are also required to obtain an Alaska dealer license.
A minor difference in licensing requirements between dealers of cars and motorcycles does exist. Car dealers are required to post a $50,000 auto dealer bond, whereas dealers of motorcycles need to submit a $25,000 bond.
For a full overview of the licensing process for Alaska car dealers, see our detailed guide below!
1. Register Your Business in the State
Before you can apply for your Alaska auto dealer license, you need to obtain a "LOB 42: Trade" business license from the state Division of Corporations, Business and Professional Licensing. As part of the application, make sure to consult with the Division if you will need to obtain a Federal Employer Identification Number (FEIN) from the IRS or not.
The business licensing procedure can be conducted online, and you will need to pay a yearly license fee of $50.
2. Secure a Permanent Location For Your Dealership
To operate your dealership, you must find and lease or buy a suitable location. Your dealership must:
Comply with all local zoning and business ordinances

Have a permanent office structure where your records are kept and can be reviewed

Have signs and banners that are legible and permanently affixed
3. Obtain an Alaska Auto Dealer Bond
All applicants for a dealer license must obtain an Alaska auto dealer bond. It is required to guarantee a licensee's compliance with the state laws and protect the clients in case of a dealer's violation. Bond amounts are as follows:
$50,000 for auto dealers and buyers' agents
$25,000 for dealers selling motorcycles exclusively
4. Complete a Dealer Application Form and Attach Supporting Documentation
Download your dealer application form and complete it in its entirety. Most noteworthy, that the signature of the applicant must be notarized.
You will also need to attach the following items to your application packet, prior to submitting it:
A passport-type photo of every owner, partner, corporate officer, or member of the dealership

Your Alaska auto dealer surety bond

A photo of your dealership location

Your business license from the Division of Corporations

A completed Application for Dealer Plates, included in the application form (if you want to obtain plates)
5. Submit Your Application and Pay Fees
Once you are ready with your application package, you can submit it to the Division by mailing it to the following address:
Division of Motor Vehicles
ATTN: DEALER/FLEET
1300 W Benson Boulevard STE 300
Anchorage, AK 99503-3691
When mailing your application, you will also have to include a $50 registration fee, in the form of a check or money order.
It may take up to 10 days for your application to be processed and between 4-6 weeks for your dealer registration certificate to be issued.
6. Alaska Auto Dealer License Renewal
Alaska car dealers must renew their licenses every two years prior to January 1.
Furthermore, the DMV will send you a letter with the required forms prior to your renewal. Yet, it is explicitly mentioned on the DMV website that this is a courtesy and dealers should make sure to renew on time, regardless of whether they have received a letter or not.
To get started with your renewal, download the license renewal form, and follow the provided instructions.
---