How to Get a South Carolina Dealer License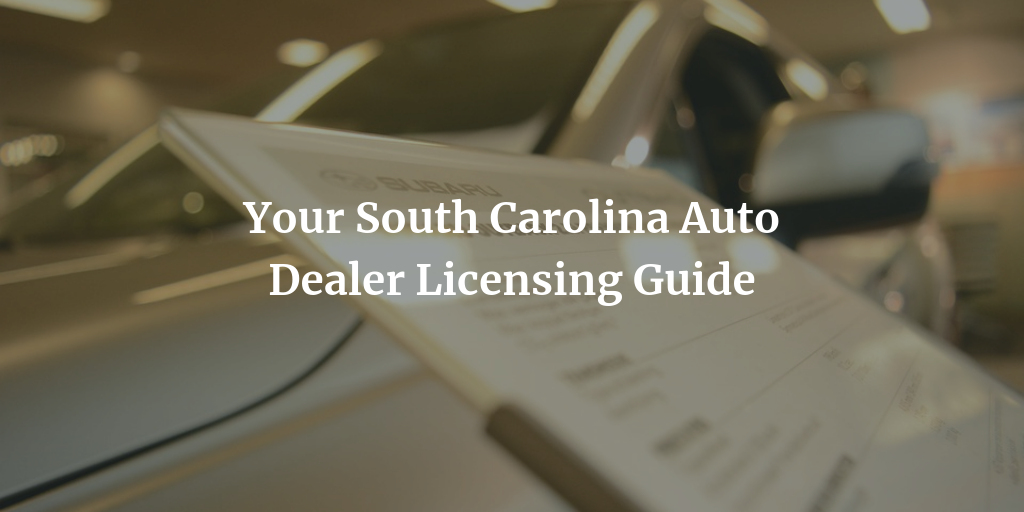 South Carolina law requires those wishing to sell motor vehicles in the state to obtain a license before doing so.
Getting licensed is a fairly straightforward process but involves passing a pre-licensing course, passing a criminal background check, as well as submitting a South Carolina auto dealer bond.
Read about the whole process and requirements to get a SC dealer license below!
South Carolina Dealer License Types
Dealer licenses in South Carolina are issued by the SC Department of Motor Vehicles (DMV). Before you get started with the application process, you need to decide what kind of dealer license you wish to obtain. South Carolina has a total of 7 licenses related to the process of buying, selling, and trading motor vehicles. These are:
Motor Vehicle Dealer License

Motor Vehicle Wholesaler License

Motor Vehicle Wholesale Auction License

Motorcycle Dealer License

Motorcycle Wholesaler License

Travel Trailer Dealer License

Temporary Travel Trailer/Camper Dealer License
While the application process is fairly similar for these licenses, there are some minor differences. This article will focus on the application process for motor vehicles dealer licenses, and motor vehicles wholesaler licenses. Make sure to check the DMV website for more information regarding getting other types of licenses.
SC Dealer License Requirements
To apply for either the vehicle dealer license or the vehicle wholesaler license, you will need to complete and submit the following forms and documents:
An affidavit of eligibility for every owner who has a business share of 10% or more

A criminal background check report through S2Verify (as above, for every owner of 10% or more)

A $30,000 South Carolina auto dealer bond
Vehicle dealers, in particular, must then also complete the following requirements:
Provide a diagram of your business location that features your building and display area

Provide a copy of your retail license from the state Department of Retail

Provide proof of your city or county business license or a letter from the city or county that such a license is not required

Pass a pre-Licensing course and submit the course certificate
Wholesale dealers, on the other hand, must complete these requirements:
Provide a copy of your wholesale dealer agreement

Submit city or county compliance documents – such as a zoning permit, your business license, and others

Provide a diagram of the location of the structure and office where you will be storing records
Both dealer types also require garage liability insurance coverage if they intend to apply for a dealer demonstration plate.
Once you have fulfilled all of the above requirements, you are ready to apply for your license. Mail all of the above to:
SCDMV
Dealer Licensing and Audit Unit
PO Box 1498
Blythewood, SC 29016-0023
If your license application is approved, you will be notified and will be asked to pay $50 to get your license. Licenses are valid for 12 months after they have been issued and must be renewed prior to their expiration date. See the renewal page for more information regarding the renewal of your license.
Learn more about how to get a SC dealer license and start your auto dealership in South Carolina by downloading our FREE ebook guide!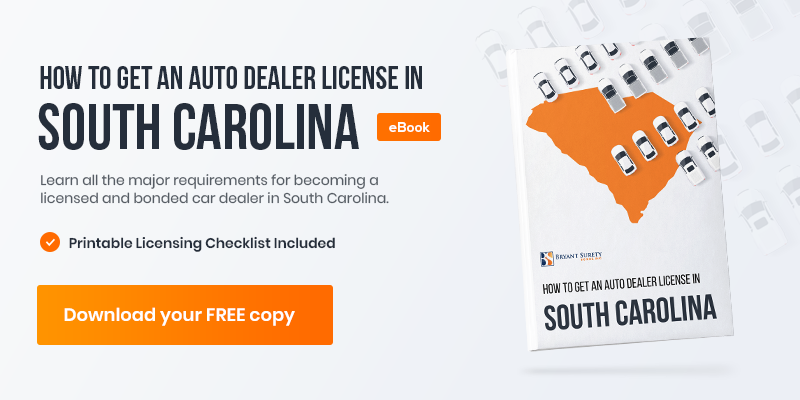 South Carolina Auto Dealer Bond Requirement
First-time applicants may not know what bonds are or how they work. A surety bond is a financial security agreement that provides guarantees to dealers' clients that dealers will comply with state laws. If a dealer violates the laws by, for example, lying to their clients and thereby causing losses to them, a claim can be filed against their dealer bond.
When a claim is filed, the surety investigates the issue and may compensate claimants up to as much as the full amount of the bond. This bond is in the amount of $30,000 – the total amount of compensation a surety may extend to one or several claimants. If a surety covers a bond claim, the bonded dealer must reimburse the surety in full. That is how bond agreements work.
Bond amount and bond cost are not the same, however! The cost of getting bonded is equal to only a small percentage of the total bond amount. Your personal credit score plays a major part in determining the bond rate you are offered by the surety. The higher your credit score is, the cheaper it will be to get bonded.
Applicants who have a credit score of 700 FICO or more can expect a rate between .75%-1.5% on their bond. So, if you are offered a 1% rate on your bond, you will need to pay $300 to get bonded!
Complete our application form below and we will provide you with an exact quote on your dealer bond! Requesting a quote is free of charge!
Get a FREE Auto Dealer Bond Quote Today!
No Obligation - Fast and Secure - All Credit Types
Get a FREE Bond Quote

Instant ballpark estimate

Tell us about your business

powered by

Get your FREE quote today!
---