How to Get a North Dakota Dealer License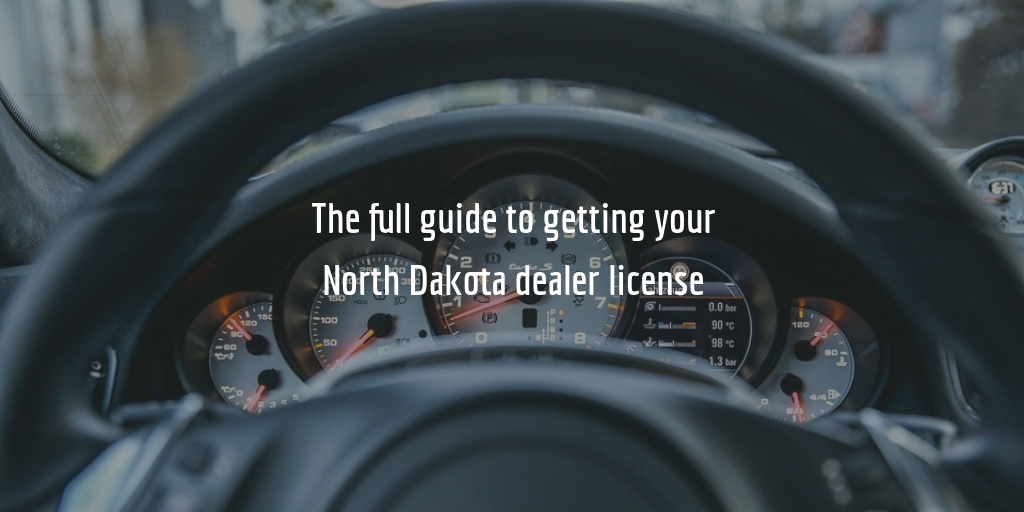 Looking to sell cars in North Dakota? You will need to apply for a dealer license at the North Dakota Department of Transportation (NDDOT), Motor Vehicle Division (MVD).
The main licensing requirements for dealers in the state include establishing a place of business, obtaining liability insurance, and posting a North Dakota auto dealer bond.
See the sections below for a full overview of the application process for your North Dakota dealer license!
1. Choose Your North Dakota Dealer License Type
The MVD issues and regulates several different dealer licenses. These are:
New Motor Vehicle Dealer

Used Motor Vehicle Dealer

Motor-Powered Recreational (MPR) Vehicle Dealer (this includes motorcycles, ATVs and UTVs, snowmobiles, and various unconventional vehicles)

Trailer Dealer

Mobile Home and Manufactured Home Dealer
Note: New vehicle dealers are also licensed to sell used vehicles.
2. Register Your Business in the State
Prior to applying for your dealer license, you must register your dealership as a business.
You can use the ND New Business Registration to guide you through the process. Your registration will include:
Registering your business with the Secretary of State

Getting a tax permit from Office of State Tax Commissioner

Obtaining an Employer Identification Number (EIN) from the Internal Revenue Service (IRS)
When you complete these requirements, you can proceed with your license application.
3. Find a Suitable Business Location
All dealers must have an established place of business. New and used vehicle dealers must comply with the greatest number of requirements for their dealerships. These include:
Zoning approval by local authorities

A permanently enclosed building of at least 250 sq. ft. that is owned rented or leased to be used as the main dealership building

The office must be properly heated and lighted, and have all the standard office equipment necessary for business, as well as a publicly listed business telephone

Business records must be kept at the primary business location

A display lot of at least 2,500 sq. ft.

Business sign measuring at least 32 sq. ft. with letters at least 10 inches high
These are the main new and used dealership location requirements. The requirements for other dealer license types can be found in the North Dakota Dealer Handbook.
Note: Your dealership location will need to pass an inspection by an agent from the MVD before you are issued your license.
4. Complete the North Dakota Dealer License Requirements
Apart from satisfying the above location requirements, you will also need to assemble a number of different documents. Begin by completing your dealer license application form.
Before you submit it, you will need to attach the following to your application form:
Zoning approval form

Proof of lease or ownership of the dealership location

North Dakota auto dealer bond (see next section)

Garage liability insurance certificate (for new and used dealers)

Franchise agreement (for new dealers)
5. Get Your North Dakota Auto Dealer Bond
All vehicle dealers in North Dakota must post a North Dakota auto dealer bond as part of the licensing process. Bond amounts must be as follows:
$25,000 for new and used vehicle dealers

$50,000 for mobile home and manufactured home dealers

$10,000 for trailer and MPR vehicle dealers
These bonds are required as a form of guarantee that you will comply with the laws of North Dakota when conducting business as a vehicle dealer.
To find out how much your bond cost will be, complete our online application form. It takes 2 minutes and it's completely free.

Get a FREE Auto Dealer Bond Quote Today!
No Obligation - Fast and Secure - All Credit Types
Get a FREE Bond Quote

Instant ballpark estimate

Tell us about your business

powered by

Get your FREE quote today!
6. Submit Your Application Packet and Wait for Approval
After you've covered all of the above requirements, you can submit your application packet and pay the required licensing fees.
Mail your application and supplementary documents to:
Motor Vehicle Division; Dealer Services; 608 E. Boulevard Ave.; Bismarck, ND 58505
Include the fee required for your license in the form of a check, made payable to the "Department of Transportation"
$100 for new and used vehicle dealers

$35 for mobile home and manufactured home dealers

$30 for trailer dealers

$25 for MPR vehicle dealers
You will further need to include a fee for your dealer plates. The amount of this fee depends on the number of plates you request.
Finally, you also need to include a fee for the inspection of your dealership:
$100 for new, used, and trailer dealers

$50 for MPR vehicle dealers

Mobile home/manufactured home dealers do not pay an inspection fee
After you submit your application and fees and pass an inspection, you will be issued your North Dakota dealer license!
7. How to Renew Your Dealer License
North Dakota auto dealers must renew their license yearly. Licenses run from January 1 to December 31 and must be renewed prior to the expiration date. If you do not renew your license on time, you will be charged an additional $100 late renewal fee.
To be eligible for license renewal as a new or used vehicle dealer, you must have sold at least 8 cars in any given year.
If you want to know more about the process of opening a car dealership in North Dakota, call the contact the NDDOT Dealer Services at 701-328-2725!
---