How to Get a Rhode Island Dealer License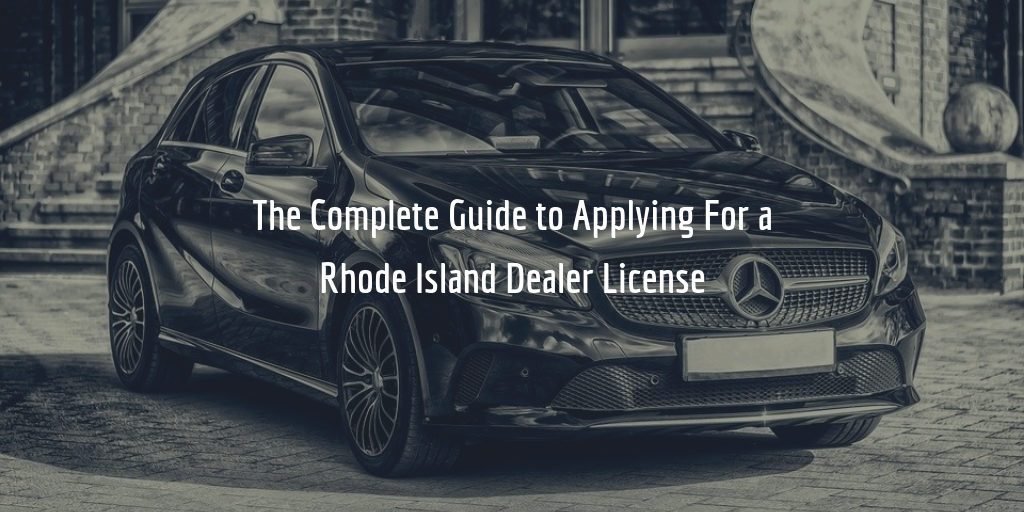 Image source: Pixabay
Want to open a car dealership in Rhode Island? You'll need to apply for a license at the state Division of Motor Vehicles (DMV).
To get licensed with the DMV, you will need to go through a series of licensing steps. These involve providing some paperwork, securing a place of business, obtaining a Rhode Island auto dealer bond, and more.
Keep reading for a full breakdown of all the steps required to get your Rhode Island dealer license!
1. Choose the Type of Dealer License You Want to Apply For
There are 4 types of licenses that you can apply for from the DMV. These differ based on the types of vehicles you intend to sell. These are:
New Vehicles Only

Used Vehicles Only

New and Used Vehicles

Motorcycles/Mopeds
The licensing requirements for the different license types are the same.
2. Register Your Business in the State
Before you can apply at the DMV, you need to register at several other state departments.
You can use the Rhode Island Business Portal Assistant to determine the exact registrations you need to pass, based on your company structure, whether you will have employees, etc. The Portal will also provide you with links to apply online for the various permits you require.
You will likely need to pass the perform the following:
Pass a Business Application and Registration (BAR) at the RI Department of State and obtain a Retail Sales Permit

Obtain an Employer Identification Number (EIN) from the Internal Revenue Service (IRS)

File for a W-4 Employee's Withholding Allowance Certificate from the state Department of Revenue

Contact your city licensing agency to establish whether you need a local business permit
Some of the cities that require a second-hand license to sell used vehicles include: Central Falls, Cranston, East Providence, Esmond, Exeter, Foster, Johnston, Pawtucket, Providence, Warwick West Greenwich, and Woonsocket
Once you've covered the above, you can proceed with tackling the main Rhode Island dealer license requirements.
3. Find a Suitable Place of Business and Have it Approved
Before you can apply at the DMV, you need to have your dealership location and business name approved by the Dealers' License & Regulations Office. Used car dealerships must always include "auto sales" in their name.
You should not complete your application or any other requirements prior to that. Once you've found a location, contact the office at 401-462-5733 for information.
Moreover, your place of business must also comply with the following requirements:
A letter of zoning approval from your city or town

Building area of 2,400 sq. ft. or 4,800 sq. ft. if you have a body shop

An outside display area of 2,400 sq. ft.

A service and repair shop with sufficient tools to perform routine repairs and maintenance of vehicles

Business sign of at least 24 sq. ft. with the name of the dealership on it

A working business telephone line
4. Complete Your Rhode Island Dealer License Application
You can now go ahead and complete your dealership application form. Along with your form, you will need to assemble and submit the following:
Financial statement and balance sheet prepared by a certified public accountant (CPA) (included in the application form)

Proof of an approved line of credit for $50,000

$50,000 Rhode Island auto dealer bond

Criminal background check for every owner, partner or corporate officer issued by the Rhode Island Attorney General's Office

City license (if applicable)

Copy of lease agreement (for a minimum of 1 year) or of the deed (if you own the property)

4 photographs of the outside of the dealership from all angles (must include the entire structure and the display area)

Articles of incorporation (if applicable)

A letter of intent from the manufacturer or distributor (

for franchise dealers only

)
Once you have completed the form and assembled the above paperwork, you can submit your application for evaluation by the Dealer's Hearing Board. Submit the application at the following address:
State of Rhode Island
Division of Motor Vehicles
Dealers' License and Regulation Office
600 New London Avenue
Cranston, RI 02920-3024
5. Get a Rhode Island Auto Dealer Bond
All auto dealers in Rhode Island must get a Rhode Island auto dealer bond.
This bond guarantees that they will comply with the provisions of Chapter 1499 Public Laws of 1956. The bond must be in the amount of $50,000.
6. Comply With Post-Approval Requirements
After your application has been approved by the Board, and before you can offer cars for sale in Rhode Island, you must satisfy several further requirements:
Request license and plate numbers from the Licensing Aide at (401) 462-5732

Order your sales tax permit and blue forms from the Division of Taxation and submit copies thereof to the Dealers' License and Regulation Office

Provide a picture of your dealership sign

Pay a $302.50 license fee by money order or check, made payable to the Office

Send your original certificate (GU-1338 certificate) of insurance filing on dealer plate insurance coverage to the Financial Responsibility Office in the DMV

Send a blank Bill of Sale form for approval to the Office by fax

Provide a Dealer agreement (

for franchise dealers only

)
Once you have satisfied these requirements, you will be contacted by an aide from the Office to finalize the licensing process.
7. Renewing Your Rhode Island Dealer License
All licenses are valid for one year and expire on December 31. In order to have your license renewed, you must submit your renewal documents by October 31.
If you have any questions about the initial licensing process or the renewal of your license, call the Dealers' License and Regulation Office at 401-462-5733.
---