How to Get a Hawaii Contractor License [Full Guide]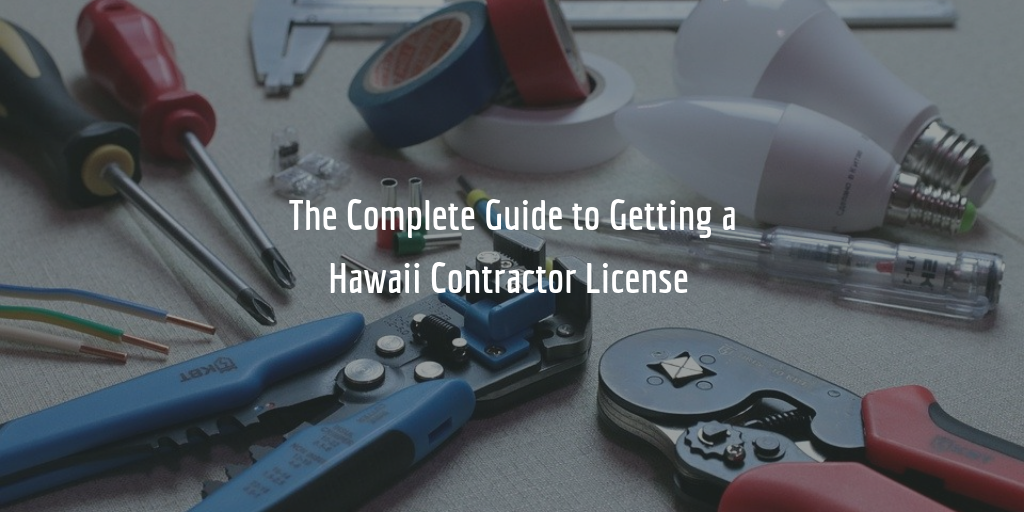 Want to perform residential, commercial, or public works construction, alterations or improvements in Hawaii? You will need to get a Hawaii contractor license from the state Department of Commerce and Consumer Affairs (DCCA).
There are three different Hawaii contractor license types, depending on the type of work you wish to perform. These are:
General engineering contractor
General building contractor
Specialty contractors
The licensing requirements for these three classifications are largely the same. You will need to complete an application form, provide proof of having passed a contractor licensing examination, as well as proof of holding an insurance certificate and, possibly, a Hawaii contractor license bond.
Want to know how to apply? Read our detailed guide below!
1. Pick Your Hawaii Contractors License Classification
The Hawaii Contractor License Board at the Professional & Vocational Licensing Division of the DCC issues the above three license types. They permit the following type of work to be performed by licensees:
General engineering ("A") – so-called "fixed works projects" that include highways, tunnels, bridges, harbors, drainage, and water power projects
General building ("B") – the construction of structures which requires the involvement of more than two different building trades
Specialty ("C") – particular specialties as required by the applicant
These licenses are issued for three different kinds of applicants (business categories):
Entities (corporations, partnerships, LLPs, etc.)
Sole proprietors
Responsible managing employees (RMEs)
As part of the licensing process, entities must designate an RME to pass a license examination, whereas sole proprietors must pass the examination themselves. Based on how you apply for your license, you will face slightly different requirements.
Note: Individuals with license types "A" and "B" automatically hold a number of specialty classifications as part of obtaining their license type. You can learn more about this from Chapter 77 of the Hawaii Administrative Rules (HAR).
2. Register Your Business in the State (for entities and sole proprietors)
Sole proprietors and entities must register with the Business Registration Division.
The former must only register a trade name, whereas the latter must register the entity and receive a Certificate of Good Standing or any other business formation-related documentation.
3. Meet the Hawaii Contractor License Requirements
To get started, complete one of the Hawaii contractors license application forms which applies to your type of business category:
When you complete your application form, you need to submit it for approval to the Board. You also have to attach some of the following types of supporting documents to it:
Trade name registration and entity registration documents (if applicable)

Contractors financial statement

(

for sole proprietors and entities

)

A credit report for each officer, partner, manager, or member

A current Hawaii State Tax Clearance with an original State Department of Taxation stamp (

for sole proprietors and entities

)

A

Principal RME Designation form

(

only for entities

)

3 notarized experience certificates (

for sole proprietors and RMEs

)
The experience requirement is a minimum of 4 years of supervisory experience within the past 10 years immediately preceding your application
Once you complete the application form and assemble all of the supporting paperwork, you can submit the packet to the Board. You will need to include a $50 non-refundable application fee in the form of a check, for each application you file. The check must be made payable to "Commerce and Consumer Affairs".
You must submit your application packet to the Board's Honolulu office on or before the first Tuesday of any month.
Mail your documents and fee to the following address:
Contractors License Board
DCCA, PVL Licensing Branch
P.O. Box 3469
Honolulu, HI 96801
Note: For applicants who specifically want to perform electrical or plumbing work, you must apply at the Board of Electricians and Plumbers.
4. Receive Approval and Complete the Remaining Requirements
When you submit your application it will be reviewed by the Board. If you comply with the initial requirements, you will receive the Board's approval to proceed with the remaining ones.
Examination
Sole proprietors and RME license applicants will need to hold a two-part examination.
Part 1 of the exam is Business and Law, and Part 2 is based on the trade/classification you are applying for. You will receive examination registration forms from the Board when your initial application is approved.
The examination fee is $75 per part.
Liability and Insurance
Entity and sole proprietor applicants will need to obtain proof of liability and workers' compensation insurance. Your liability insurance policy must be in the following amounts:
Bodily injury liability for at least $100,000 per person and $300,000 per occurrence

Property damage liability for at least $50,000 per occurrence
Both of these types of applicants must also make sure that they have an established place of business where they may be served notice and legal process. They must also display their contractor's license at their place of business.
Surety Bond
Under certain circumstances, the Board may also require applicants to get a Hawaii contractor license bond. The exact amount of your bond is determined by the Board but will be a minimum of $5,000. You can get a free quote on your bond by completing the simple bond form below.
Get a FREE quote on your contractor license bond
Fast and Secure - Best Rates in Hawaii - All Credit Types
Get a FREE Bond Quote

Instant ballpark estimate

Tell us about your business

powered by

Get your FREE quote today!
5. Pay Licensing Fees
Finally, after covering the above, you will also need to pay a licensing fee in one of the following amounts:
Entity and sole proprietor applicants

must pay:
$663 if getting licensed between October 1st of an even-numbered year and September 30th of an odd-numbered year OR
$494 if getting licensed between October 1st of an odd-numbered year and September 30th of an even-numbered year
$438 if getting licensed between October 1st of an even-numbered year and September 30th of an odd-numbered year OR
$334 if getting licensed between October 1st of an odd-numbered year and September 30th of an even-numbered year
6. Renew Your Hawaii Contractor License
All licenses expire on September 30 of even-numbered years. You will be mailed a renewal application before August 15 of that year and must submit the renewal documents and fees prior to the expiration date. The renewal packet will inform you of the supporting documentation you need to include.
Renewal fees are $353 for entities and sole proprietors and $208 for RMEs.
To learn more about the licensing and renewal process for contractors in the state of Hawaii, get in touch with the License Board at (808) 586-2700.
---