How to Get Your Wyoming Dealer License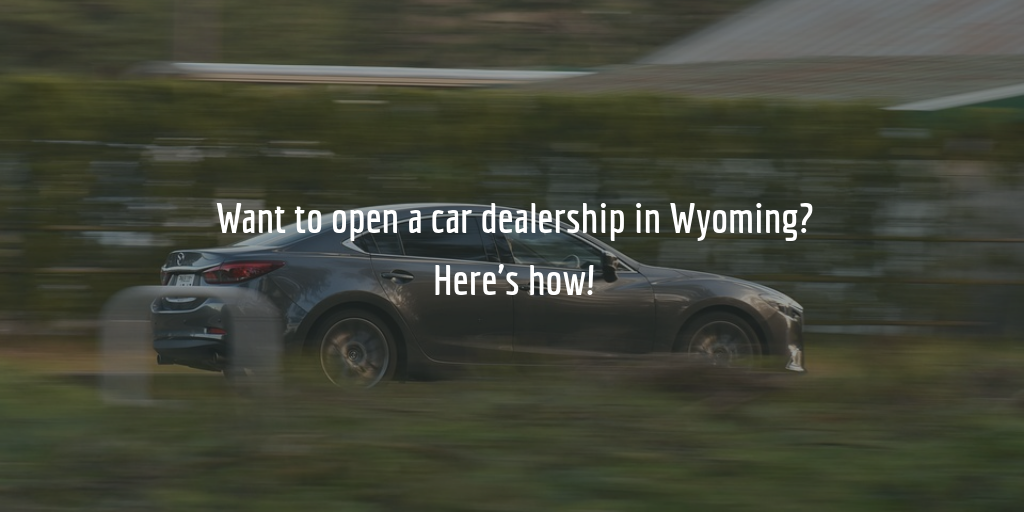 Do you want to open a car dealership in Wyoming? You will need to get a Wyoming dealer license from the state Department of Transportation (DOT).
There are several different dealer license types in the state but the licensing requirements for them are largely the same. They include securing a dealership location, getting a sales & use tax license, a Wyoming auto dealer bond, and several others.
Keep reading for a detailed walkthrough of how to get a Wyoming car dealer license!
1. Wyoming Dealer License Types
The state DOT issues 4 different types of dealer licenses. These are:
New Vehicle Dealer
Used Vehicle Dealer (selling less than 12 vehicles per year)
Used Vehicle Dealer (selling more than 12 vehicles per year)
Manufacturer
2. Get a State Business Registration and Sales Tax License
Before you move forward with the dealer licensing process, you need to register with the Secretary of State and the Department of Revenue (DOR).
To get started with your business registration, go to the Secretary of State website and follow the instructions. The registration fee for a limited liability company or a profit corporation is $100. If you file online, you will also need to pay a convenience fee of $2.
For your sales & use tax application, visit the DOR website and complete the application form. You will need to pay a $60 non-refundable application fee for your tax license.
Finally, you also need to apply for a Federal Employer Identification Number (FEIN) from the Internal Revenue Service (IRS). This is required for tax purposes.
3. Find a Suitable Dealership Location (does NOT apply to manufacturers
)
All Wyoming auto dealers must comply with the following requirements for their dealership location:
The dealership must be located in a permanent structure which is not primarily used as a residence

The dealer must occupy the place on a continuous basis – or provide a separate written notice if this will not be the case

Daily records of inventory must be stored at the dealership

There must be enough space to display at least 5 vehicles (for dealers selling 12 or more vehicles per year)

An exterior sign that indicates the type of the business must be permanently displayed; The sign must be clearly visible from the road

The dealership must have a landline telephone that is located inside and its number must be listed in the phone book

The place of business must comply with all city or county zoning requirements; A letter of approval that the location is approved for the sale of vehicles is also required

The property must be leased or rented
4. Pass a State and National Criminal History Record Background Check
All dealership owners must complete the License Background Check Questionnaire.
Wyoming auto dealers must also have their fingerprints taken at the local law enforcement agency. You must submit two blue fingerprint cards – the State-Non Criminal and the Federal Criminal card.
Typically, fingerprints are submitted along with the license application. Due to the time it takes to process them, you can submit them earlier. When submitting them, you must include a $39 processing fee in certified funds, made payable to 'Attorney General – DCI'.
5. Secure a Wyoming Auto Dealer Bond
All Wyoming dealer license applicants must obtain a $25,000 Wyoming auto dealer bond. This bond guarantees that dealers will comply with the provisions of the Wyoming Statutes.
Note: Make sure that your bond is not executed until your license application is approved by the DOT.
If you need an exact surety bond quote, complete our online application form. It takes 2 minutes and it's completely free.
Get a FREE Auto Dealer Bond Quote Today!
No Obligation - Fast and Secure - All Credit Types
Get a FREE Bond Quote

Instant ballpark estimate

Tell us about your business

powered by

Get your FREE quote today!
6. Complete and Submit Your Dealer License Application
You can now proceed with completing the vehicle dealer application form MV-422.
Applicants for a Wyoming auto dealer license must fill out sections 1-4 and 6-8, whereas applicants for a manufacturer license must fill out sections 1-3 and 5-8.
You also have to attach the following supporting documentation to your application before you submit it to the DOT:
A copy of your business registration documents

IRS documentation of your FEIN

A copy of your sales & use tax from the DOR

Color photos of your dealership building sign, and display area; dealers who sell less than 12 vehicles per year must only provide photos of their building and sign

Proof of compliance with zoning provisions and written approval

A copy of the lease or rental agreement for the dealership

Background check questionnaire

Copies of franchise or dealer sales and service agreements (

for new dealers only

)
When you've assembled all the necessary documents, mail your application packet to the DOT at the following address:
WYDOT
ATTN: Motor Vehicle Services
5300 Bishop Blvd.
Cheyenne, WY 82009-3340
You must also include a licensе fee when submitting your application.
All

dealers who sell more than 12 vehicles per year and all manufacturers must pay a license fee of $100

All

dealers who sell fewer than 12 vehicles per year

must pay a

license fee of $25
Once you are licensed, you can obtain a demo/manufacturer or full use plates. For the former, you must pay a $25 fee, and for the latter – a $125 fee.
Dealers who sell fewer than 12 vehicles are only allowed to have 1 demo plate, and cannot get a full use plate.
7. Wyoming Dealer License Renewal
Licenses for both dealers and manufacturers are valid for one year. The effective and expiration dates of your license will correspond to the dates of your surety bond.
You must renew your license and bond prior to their expiration. To learn more about the renewal process, contact the Wyoming DOT at (307) 777-4375.
---