How to Get a Wyoming Collection Agency License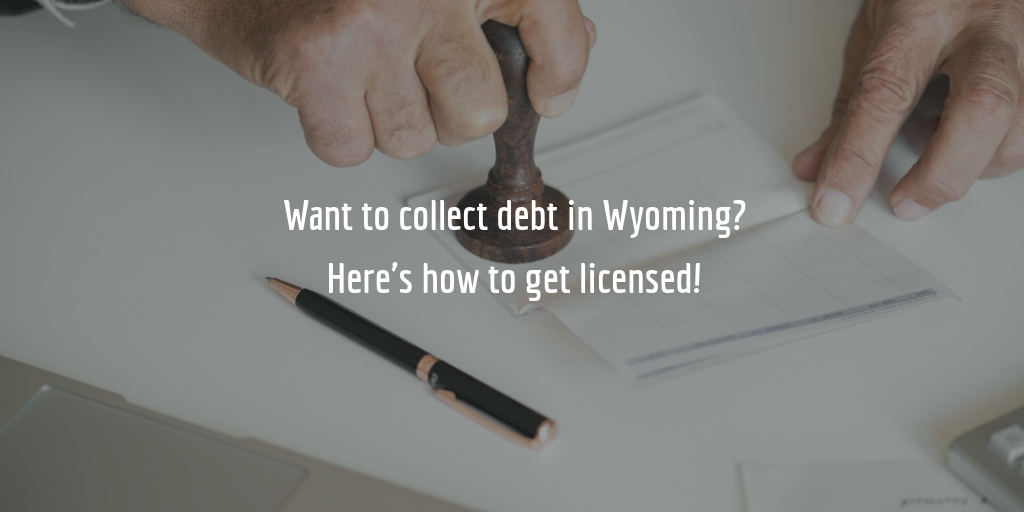 To conduct third-party debt collection in Wyoming, you will need to get a license. As of August 1, 2018, the Wyoming collection agency license is issued and renewed through the Nationwide Multistate Licensing System (NMLS). The application process includes completing a number of forms, submitting financial statements, as well as posting a collection agency surety bond.
See below for an overview of the whole application and licensing process!
**NEW:** Learn how to open a collection agency in even more detail by downloading our FREE ebook guide!

Wyoming Collection Agency License Requirements
Before you apply for a license, you need to determine if you need one at all. According to the Wyoming Statutes (WS) 33-11-102 the following businesses are required to obtain a collection agency license in the state:
Those collecting debt for creditors from Wyoming

Those taking assignment of debts in order to collect them

Those soliciting Wyoming creditors in order to collect debts on their behalf

Those using a different name from the true name of their company in order to collect past-due accounts

Those collecting debts incurred in Wyoming by debtors from the state by phone or other means of communication from another state
If you fall within any of these categories, then you will be required to go through the licensing process. Note that if you collect only business debt in the state, then you do not need to get licensed!
The Application Process
The licensing process is completed through the website of the NMLS. You can find a complete checklist of all the items you need at the NMLS page of Wyoming state. If you've never used the NMLS website previously, you will need to register. After that, you can begin your Wyoming collection agency license application by uploading a number of forms and documents to the website, as well as completing several on the website itself.
The following are the forms you will need to complete or upload to NMLS:
Complete an MU1 Company Form – includes information on:
Other trade name

Registered agents

Primary and non-primary contact employees

Bank account information

Explanations of any Disclosure Questions in the form responded to with "yes"

Individual MU2 Form

Credit report authorization (included in MU2 form)

FBI Criminal Background Check authorization (included in MU2 form)
Upload an unaudited financial statement prepared according to Generally Accepted Accounting Principles (GAAP)

Submit a collection agency surety bond in the amount of $10,000 per agency location

Upload a detailed business plan that includes a marketing strategy, products, target market, fee schedule, operating structure of the business

Provide a Certificate of Authority/Good Standing Certificate issued by the state of Wyoming

Provide business formation documents

Provide samples of documents you will be using for your operations including sample client contract, initial debtor notice, accounting to consumer form (for instances in which debtors dispute debt), and several others

Upload a management and organizational chart that detail the managers, officers, and directors in the company, as well as the percentages of ownership of various business owners

Provide a letter of credit report explanations that explains derogatory credit accounts as well as proof of payments, arrangements, disputes filed, etc.
Offline you will need to complete sections I and II of a bank reference form and forward the form to any financial institution where you currently hold accounts. You will also need to provide details about your resident manager on the checklist linked to above and mail it to the NMLS along with a copy of your Resident Manager Written Agreement.
Finally, you will need to pay several fees:
$500 application fee

$15 fee per control person credit report

$36.25 criminal background check fee per person
Once you've covered the whole list above and completed or uploaded all of the required forms, your application will be processed, and you will be notified through the NMLS regarding its approval and issuance. If you have any further questions, you can always contact the Wyoming Division of Banking.
See the next section for a brief explanation of why you need a collection agency surety bond, and how much it might cost to get bonded!
Wyoming Collection Agency Surety Bond Requirement and Cost
Applicants for a collection agency license in Wyoming require a surety bond as a form of guarantee that they will comply with the provision of the Wyoming Statutes. In particular, the bond guarantees that collection agencies will pay any debts they collect less the fee for collection as is specified in the agreement with the client.
So, if a collection agency does not comply with such a contract and fail to turn over proceeds of collections, their clients may file a claim against their bond. Under this circumstance, the surety that backs the bond will compensate claimants up to the full amount of the bond. After that, the bonded collection agency will need to reimburse the surety in full.
The cost of getting bonded is different from the bond amount. To get bonded, you will need to apply for a bond with a surety and will be offered a rate or premium you need to pay. This rate is determined on the basis of high or low your personal credit score is.
For a credit score of over 700 FICO, you can expect to be offered a rate between .75% and 1.5% of the total bond amount. So, for example, if you have to obtain a $10,000 surety bond and are offered a 1.25% rate on your bond, you will need to pay only $125 to get bonded.
You can request a free quote on your bond by completing our bond form. If you have any further questions about this bond, don't hesitate to call our bond experts at 866.450.3412!
---