How to Get a Tennessee Contractor License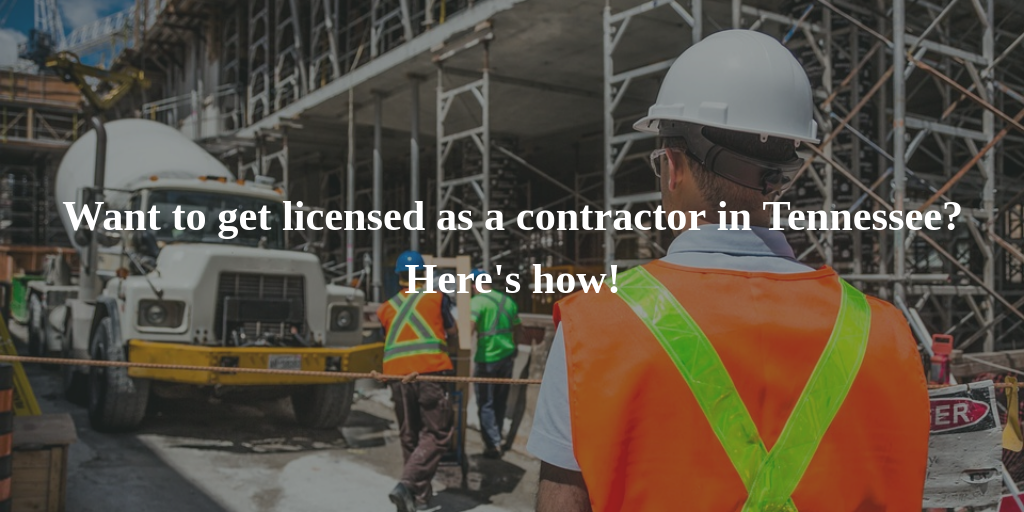 If you want to perform work as a contractor in the state of Tennessee you will likely need to get licensed. There are numerous different types of contractor licenses in Tennessee, both on a state and on a county level. Whether you need to get licensed will depend on the type of work you want to perform, as well as on where you are located.
Read on for an overview of how to get a Tennessee contractor license, the different license types, and when you will need to get a contractor license bond.
Tennessee Contractor License Classifications
The Tennessee Board for Licensing Contractors requires different licenses, depending on the type of work being performed. For projects over $25,000 all of the following contractors are required to have a license:
Building

Electrical

Mechanical

Plumbing

HVAC

Masonry (if the project is over $100,000)

Roofing

Highways

Environmental

Specialties

Construction management
The above applies to both general (prime) contractors as well as subcontractors on all projects above $25,000.
For projects with contracts that are less than $25,000, the following licenses may need to be obtained by contractors:
Home Improvement (on projects upward of $3,000, and less than $25,000)

Limited Licensed Electrician (LLE)

Limited Licensed Plumber (LLP)
Unlike the licenses required for projects over $25,000, these are not required equally in all counties in Tennessee. A majority of counties in the state require the LLE and LLP licenses, while only the counties of Bradley, Davidson, Hamilton, Haywood, Knox, Marion, Robertson, Rutherford, and Shelby currently require the home improvement contractor license.
A number of cities and counties, such as Memphis and the county of Shelby, and the cities of Knoxville, Nashville, and Johnson, issue so-called local licenses (or permits). These are different from the LLE/LLP licenses, and the latter may not be accepted in these jurisdictions if they do not conform to local codes.
Apart from the home improvement license, Shelby County also issues building, electrical, mechanical & gas, plumbing, and sign licenses. The cities of Knoxville and Johnson issue local licenses in similar categories.
To obtain any of these many licenses, whether from the State Board or from a local licensing body, applicants will be asked to complete a number of licensing requirements. Read on for a breakdown of these requirements.

Licensing Requirements
The licensing process for contractors at the State Board passes through the following steps:
Passing a

contractor examination

– a 'Business and Law' exam must be passed by all applicants, while a 'Trade' exam must be passed only by some applicants (see 'Contractor License Classifications Outline')

Submitting a financial statement, a letter of reference and proof of insurance

Registering your business with the Secretary of State

Completing and submitting your

application form

, and paying an application fee

Submitting a contractor license bond (only applicable in certain cases)

Receiving your license after your application has been reviewed by the Board
The above steps apply only to licenses on projects above $25,000. The whole process is described in full detail, along with all necessary forms, on the State Board's website. The licensing process for limited licenses and for the home improvement license involves fewer requirements though it also includes an examination.
Those who need to apply for a local license/permit such as the ones required in Memphis and Shelby County or the cities of Knoxville and Johnson will need to pass through similar steps (with the exception of submitting a financial statement), only on a local level. Due to the difference in some requirements, if you need to apply for a license in one of these locations it is best to either consult the county/city website or contact the local licensing divisions.
An important part of the licensing process for many contractors in Tennessee is the contractor license bond. See below for an overview of the cases in which a bond must be obtained by license applicants.
Bond Requirement
General contractors
The surety bond requirement for contractors in Tennessee applies only to a number of license types.
While general contractors and subcontractors licensed at the State Board do not require a surety bond when applying for a license, in certain very specific cases the Board may request such applicants to provide a bond. A bond may be requested of such contractors who are owned by another entity.
Depending on the situation, the Board may request the parent company to provide it with a guaranty agreement as a form of indemnity. If the parent company is unable to provide the Board with such an agreement, the Board may require it to post a contractor's license bond as a type of security and to guarantee for the monetary limit requested by the contractor. These types of bonds are either in the amount of $500,000 or $1,000,000.
Home improvement and local contractors
Apart from the very specific case above, a number of other contractors must always post a bond when applying for a license at the Board.
Under Public Chapter 460, Title 62, chapter 6, Section 506 of Tennessee Code Annotated, home improvement contractors in the state must post a $10,000 bond when applying for a license. This bond is to serve as protection to claimants in cases in which the home improvement contractor has breached a contract and has caused damages and losses in doing so.
The following contractors in the city of Johnson will be required to post a $10,000 bond when applying for a permit or license:
General contractors (regardless of the dollar amount of the contract)

Building contractors

Electrical contractors

Fire alarm systems, fire sprinkler, fire suppression permit applicants

Gas/mechanical contractors

Plumbing contractors
In the city of Knoxville, a $10,000 surety bond is required of the following license holders:
Electrical contractors

Gas contractors

Mechanical contractors

Plumbing contractors
Contractors in Nashville and Davidson County are required to obtain the following bonds in order to obtain permits:
A $10,000 for blasting contractors

A $10,000 permit bond for building contracts below $25,000

A $40,000 permit bond for building contracts over $25,000

A $40,000 permit bond for electrical, gas/mechanical, plumbing, and excavation contracts
Contractors in Memphis and Shelby County need to supply a $25,000 surety bond when applying for one of the following license types:
Electrical

Mechanical

Plumbing
Cost of Your Bond
The cost of your bond is a percentage of the total amount of the bond you are required to obtain. This percentage is determined by your surety when you apply for a bond and is mostly based on your personal credit score.
If you want to know how much your bond might cost, submit a surety bond application, and we will provide you with a free quote on your bond with no obligations attached!

---