How to Get a Washington Dealer License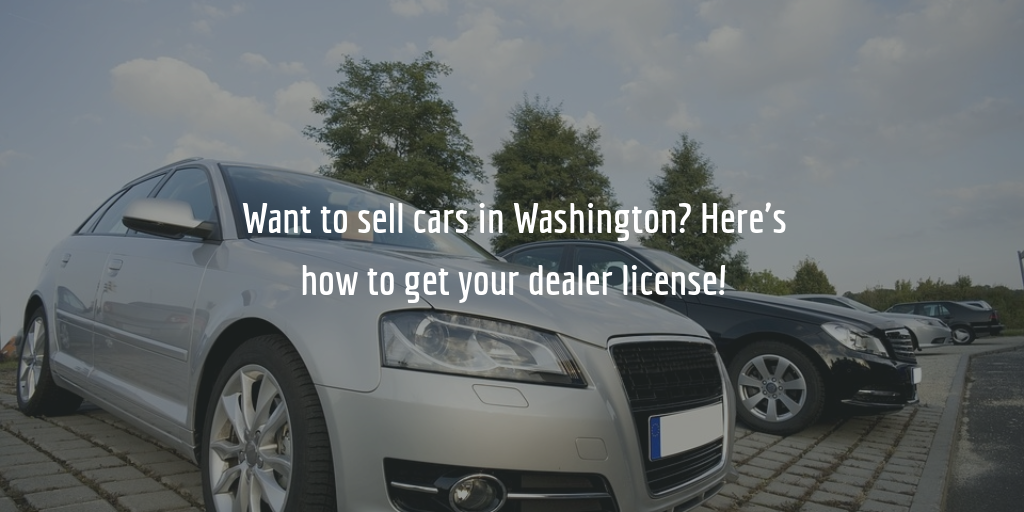 To sell new or used cars, trucks or motor homes in Washington state, you will need to get a Washington dealer license. Without a license, you cannot sell more than 4 vehicles registered in your name over the course of 12 months, nor can you sell vehicles that are not registered to you or sell vehicles in order to make profit.
To get licensed as a dealer you will need to apply at the Washington State Department of Licensing (DOL), as well as fulfill the licensing requirements which include getting a Washington auto dealer bond.
Read about the whole licensing process below!
Washington dealer license types and site requirements
To get started with your dealer license application you will need to choose and specify the types of vehicles you wish to sell. There are several types of dealer licenses in the state that allow for retail sales (as well as wholesale sales – i.e., to other dealers). These are:
Motor vehicle dealer license (or subagency license)

Manufactured home/travel-trailer dealer license (or subagency license)

Miscellaneous vehicle dealer license (or subagency license)

Off-road vehicle dealer

Snowmobile dealer

Vessel dealer

Vehicle manufacturer
Along with selecting a license type, when applying you will also need to specify whether you will be selling new or used vehicles in your license category.
Additionally, in order to qualify for your license and open a dealership, you need to fulfill the business site requirements of the Washington State Department of Licensing. These are as follows:
Comply with building codes, zoning, and other regulations, and obtaining the relevant paperwork from your local city or county zoning authority

Operate within a commercial property that has an enclosed building

Have a permanently fixed business sign that features your business's name and what you do (car dealership, car sales, etc.)

Have an operating telephone line (a landline or a mobile number), listed in directory assistance

Operate at least during "normal business hours" (between 10 am and 4 pm) or more, if you like, and display operating hours prominently at the entrance of the dealership

Have a separate area in the dealership to store records, books, files and any other business documents
Washington dealer license application and supporting documents
Along with covering the business requirements, you need to submit your dealer application form to the Department of Revenue's Business Licensing Service, along with a few supporting documents. Here's what you need to include in your application. License applications are submitted online.
Documents to include:
A $30,000 Washington Auto Dealer Bond

A Financial/Source of Funds Statement Form

A Personal Criminal History Statement Form

A copy of your property tax statement or your rental/lease agreement

A Certificate of Dealer Education (if you will be selling

only used vehicles

)

A money order or check for your BLS and vehicle dealer license and plate fees
Once your application is processed and approved by the Department of Revenue you will receive your license and are good to go. To search vehicle registration information once you are licensed, you will need to contract with the Department of Licensing.
Getting your Washington auto dealer bond
The dealer bond is a central licensing requirement. Without a bond you are not allowed to operate as a dealer, nor can you get your Washington dealer license.
The cost of your bond is different from the bond amount ($30,000). Your bond cost or rate is typically only a few percent of the total amount. If you have a high credit score, for example, your bond cost can be as little as 1%-3% of the bond amount.
For an exact rate on your bond, complete our non-binding online surety bond application form, and we will contact you shortly with a free quote. If you need more information regarding your auto dealer bond, call our bond agents at 866.450.3412. We will be happy to help you!
---