How to Get an Iowa Contractor License [The Complete Guide]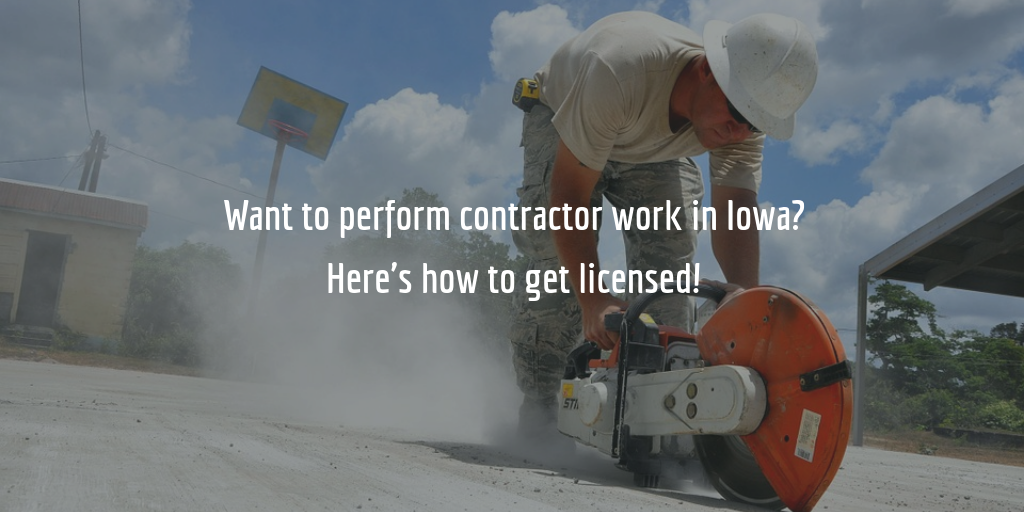 Depending on the type of contractor work you want to perform in Iowa, you will need to apply at one of two different regulating authorities.
If you want to perform construction work, you will need to get an Iowa contractor registration from the state Division of Labor. The term "construction" includes a wide variety of trades which are specifically enumerated in 871—23.82(96) of the Iowa Administrative Code.
To perform plumbing, mechanical, HVAC, refrigeration, sheet metal or hydronic systems services, you will need to apply for an Iowa contractor license from the state Department of Public Health (IDPH).
Yet, under Iowa law, licensed contractors must also hold a contractor registration!
While these licenses and registrations are issued by different authorities, there are some similarities in the application process. To learn more about how to get your Iowa contractor license or registration, read our step-by-step guide below!
1. Pick Your Iowa Contractor License Type
As explained above, you are given two different options to become a contractor in Iowa:
Note: When applying with the IDPH, you will need to cover the registration requirements for construction contractors, along with several additional conditions. You do not need to apply for your registration separately at the Division of Labor though. Read through both sections for a full overview of the requirements you will need to satisfy!
2. Register Your Business in the State
You will need to undergo a basic business registration before you can either apply for a registration or a license.
Sole proprietors need to obtain a business license on the county level. Contact your County Recorder for more information about this license.
Corporations and limited liability companies, on the other hand, must file for business registration with the Iowa Secretary of State.
3. Complete the Iowa Contractor License and Registration Requirements
The following sections detail the registration process for contractors at the Division of Labor and then the licensing process at the Department of Public Health (IDPH).
If you are seeking to get a license from the latter, you will be required to go through the registration process as well but you do not need to apply at the Division of Labor separately! Instead, you can both register and get licensed at the IDPH at once.
Iowa Division of Labor Contractor Registration Requirements
For your construction contractor registration, you need to complete the following requirements:
These are the requirements you need to cover for your contractor registration. Once you have covered them, submit your application, supporting documentation, and $50 registration fee (as check or money order) to the Division at:
Iowa Division of Labor
Contractor Registration
150 Des Moines Street
Des Moines, IA 50309-1836
Iowa Department of Public Health Contractor License Requirements
The licensing process at the IDPH will include both the registration requirements detailed in the previous section, as well as several others. To apply for your license, you will need to:
When you have covered the above requirements, you can proceed with submitting your application, along with the relevant fees in the form of a check or money order.
Fees for your license and registration are pro-rated, and you will find a detailed breakdown of the fee you need to pay in your Iowa contractor license application form.
Send your application packet to the Department at the following address:
Iowa Plumbing and Mechanical Systems Board
Iowa Dept. of Public Health
321 E 12th Street
Des Moines, Iowa 50319
4. Get Your Iowa Contractor License Bond
The surety bond requirement for both out-of-state contractors as well as contractor licensees in Iowa is put in place to guarantee their compliance with all state regulations and rules.
Out-of-state contractors must post an Iowa contractor license bond in the amount of $25,000, whereas contractor license applicants must post a $5,000 bond.
Get a 100% free quote on your bond by completing the simple bond form below!
Get Your FREE Bond Quote Instantly
FREE Instant Online Quotes - All 50 States - All Credit Types
Get a FREE Bond Quote

Instant ballpark estimate

Tell us about your business

powered by

Get your FREE quote today!
5. Renew Your Iowa Contractor License and Registration
If you have an Iowa contractor registration, you will be required to renew it yearly from the date it was issued. While the Division may inform you about the expiration of your registration, you must make sure to submit renewal documents and fees on time!
Iowa contractor licenses expire every three years. For current license holders, the next expiration date is June 30, 2023. After renewing, your license will be valid for the next three years. If you obtain a license at some point in the future, it will be valid for as much time as there is left until the next three-year expiration date!
If you have any questions about the registration, licensing or renewal process, make sure to contact the Division or Department for more information!
---