A step-by-step guide for your Florida dealer license renewal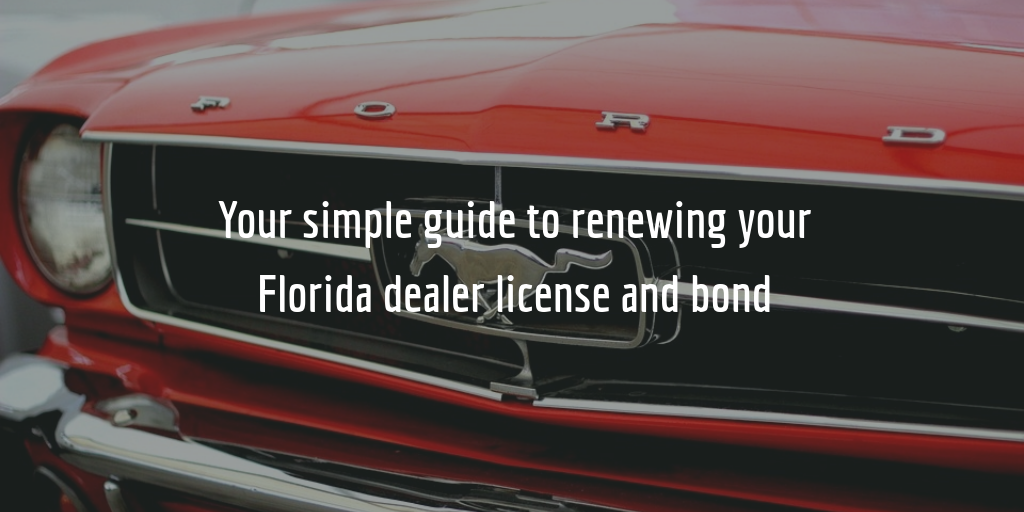 As the Florida dealer license renewal period for some licenses approaches, dealers need to know what is required of them in the process. Of course, renewing your Florida auto dealer bond is a must but there are also other requirements that you need to fulfill.
Check out our step-by-step guide for your Florida dealer license renewal below!
Florida dealer license renewal process
Licensing periods
Not all Florida dealer licenses expire at the same time! There are two different licensing periods and renewal deadlines for the 6 types of motor vehicle dealer licenses in Florida. These licensing periods are as follows:
January 1 – December 30, renewal before January 1;
Applies to: Franchised motor vehicle dealer (VF

) and Franchised motor vehicle service facility (

SF

) licensees

May 1 – April 30, renewal before May 1;
Applies to: Independent motor vehicle dealer (VI

), Wholesale motor vehicle dealer (

VW

), Motor vehicle auction (

VA

), Salvage motor vehicle dealer (

SD

) licensees
There is also an additional licensing period for dealers of other types of vehicles, such as mobile homes and recreational vehicles, as well as manufacturers. These are as follows:
October 1-September 30, renewal before October 1;
Applies to: Mobile home dealer (DH), Mobile home broker (BH), Recreational vehicle dealer (RV), Used Recreational vehicle dealer (RU), Manufacturers of motor vehicles (MV), Distributors of motor vehicles (MD), Importers of motor vehicles (MI), Mobile home manufacturers (MH), Recreational vehicle manufacturers (MR), Recreational vehicle distributors (RD), Recreational vehicle importers (RI)
Though the steps for renewing all of the above licenses are more or less the same, this renewal guide only explains the renewal process for the six types of motor vehicles dealer licenses. Visit the website of Florida Department of Highway Safety and Motor Vehicles (DHSMV) or contact the Department directly for more detailed information regarding the renewal of DH, BH, RV, RU, MV, MD, MI, MH, MR, RD, RI.
How to renew your Florida dealer license
Depending on your licensing and renewal period, you may need to renew your license before January 1 or before May 1. Follow these steps when renewing your license.
Renewing your franchised motor vehicle dealer license
To renew your VF license, you need to:
Complete the

HSMV 86720 Florida dealer license renewal form

Renew your $25,000 Florida auto dealer bond

Pay a $75 annual or $150 biennial renewal fee, depending on what you prefer

Provide a copy of your garage liability insurance and a certificate of the insurance signed by the garage liability insurance agent. The insurance must be, at a minimum, in the following amounts: $25,000 combined single limited liability coverage (must include bodily injury and property damage protection), and $10,000 personal injury protection

Provide a copy of certification from the

Florida Division of Corporations
For supplemental locations to your primary location, you must provide the same documents which were submitted for your primary location, and pay an additional renewal fee of $50 for one year or $100 for two years.
If you fail to renew your VF license in time (by December 31), you will be required to pay a so-called delinquent fee on top of your regular renewal fee. The delinquent fee is $100.
Renewing your independent, wholesale, auction, and salvage license
To renew their license, VI, VW, VA, and SD license holders must perform the exact same steps as franchised motor vehicle dealers (see the previous paragraph). Dealers in those categories should note that their renewal deadline is different! Renewals are to be submitted before May 1 in order to be timely! On top of that, these licensees:
Can

provide a general liability policy coupled with a business automobile policy, instead of a garage liability insurance. This insurance must be in the same amounts as the garage liability insurance (single limited liability coverage and personal injury protection). This requirement does not apply to salvage dealers.

Must

provide a certificate for the completion of a continuing education course at one of the

licensed dealer training schools

in the state or attend a dealer training seminar if an independent dealer.
Once you are ready to submit your Florida dealer license renewal application, you should submit it to one of the DHSMV's regional offices. For more detailed information, make sure to direct queries or questions about the process to the DHSMV!
Renewing your Florida auto dealer bond
Renewing your Florida auto dealer bond is really simple. You can expect your surety to notify you well in advance (90 days and 60 days) before your surety bond expires that you need to renew it. When your surety notifies you of your expiration deadline, it will typically also include details concerning the renewal process as well as a quote on your bond.
You can get a free quote on your bond straight away by filling out our application form below! It's free, it takes 2 minutes, and there are no obligations.
Get a FREE Surety Bond Quote Today!
No Obligation - Fast and Secure - All Credit Types
Get a FREE Bond Quote

Instant ballpark estimate

Tell us about your business

powered by

Get your FREE quote today!
Feel free to call us at (866) 450-3412 if you have any questions regarding the bonding process or requirements.
---