Florida Dealer License Guide (11 Steps)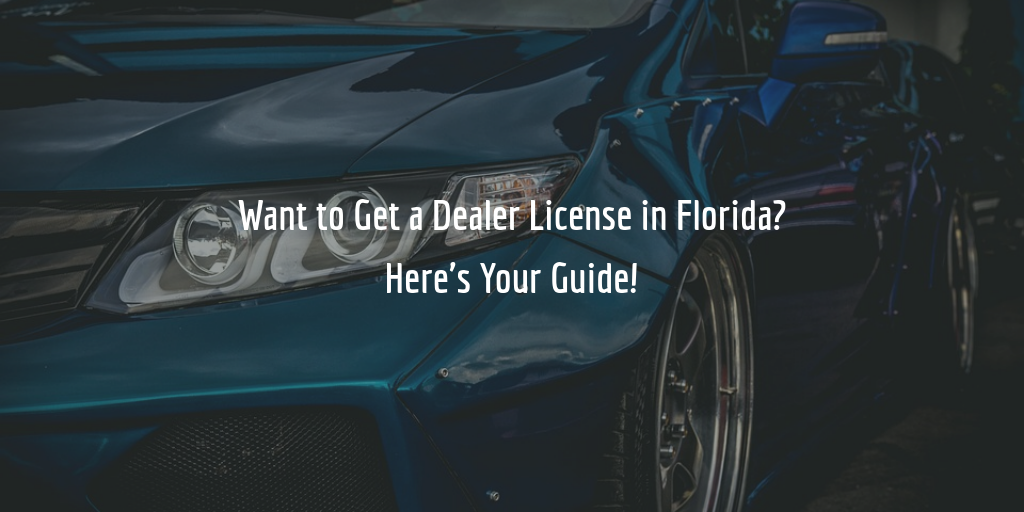 If you want to become a Florida motor vehicle dealer, you will likely have to get a dealer license. The state of Florida requires most individuals and businesses that are engaged in buying and selling motor vehicles for profit to secure licenses. Motor vehicle dealer licenses are issued by the Florida Department of Highway Safety and Motor Vehicles (DHSMV), and you must fulfill multiple licensing requirements before the state will issue a license to you.
To get a Florida dealer license, follow the steps below.
1. Determine License Type
The first thing that you will need to do is determine which type of dealer license you need. The following dealer licenses are available in Florida:
Franchise dealer license for new vehicle dealers under an established contract with a distributor, importer, or manufacturer

Franchise service facility license for franchise dealers who want to operate service and repair facilities other than at their licensed dealership locations

Independent dealer license to sell, buy, or deal in used motor vehicles

Wholesale dealer license to buy, sell, or deal in vehicles as a wholesaler with other licensed dealers

Vehicle auction dealer license to allow licensed dealers to auction motor vehicles and recreational vehicles

Salvage vehicle dealer license to allow salvage dealers to acquire and resell wrecked or salvaged vehicles and their parts

Mobile home dealer license to allow dealers to buy, deal in, or sell mobile homes

Mobile home broker license to allow dealers to deal only in used mobile homes and act on the owner's behalf when selling a mobile home

Recreational motor vehicle dealer license to allow licensed dealers to buy, sell, or broker new recreational vehicles

Recreational used motor vehicle dealer license to allow a licensed dealer to exclusively sell or buy used recreational vehicles
2. Attend the Required Pre-License Dealer Training Course
You must complete a pre-licensing dealer training course from an approved dealer training school. This training must be completed no more than six months before you apply for your license. You will receive a certificate of completion from the approved school, and you will need to submit a copy of it with your license application.
3. Determine the Legal Entity Structure
You will next need to determine how you want to structure your business and register it. You must provide proof of your business registration and any fictitious name registration with the Florida Division of Corporations.

If your business is a corporation, you will need to submit copies of the articles of incorporation, minutes showing the current officers, and the corporate charter. If your business is a limited liability company, you will be required to submit copies of the operating agreement and articles of incorporation. If it is a partnership, you will need to submit a copy of the partnership agreement.

If your business will be doing business in a name other than the owner's name, a copy of the fictitious name must be submitted and filed with the Secretary of State.
4. Obtain a Federal Employee Identification Number (FEIN)
If you will have employees, you need to get a Federal Employee Identification Number or FEIN from the Internal Revenue Service. If you will be doing business as a sole proprietor with no employees, you can use your Social Security number and submit proof of your identification, including a Florida driver's license, U.S. passport, or others.
5. Secure a Business Location and Gain Approval
You must secure a business location that meets the state's requirements and have it inspected by a compliance examiner. These requirements can be found at Florida Administrative Code 15C-7.003 and will be described more fully later in this article.
6. Obtain a FL Sales Tax Number
All businesses operating in the state must obtain a Florida sales tax number from the Florida Department of Revenue. You can get a sales tax number by registering online with the Department of Revenue or by downloading Form DR-1 and submitting it to a tax service center.
7. Purchase Garage Liability Insurance
Independent dealers, wholesale dealers, auction dealers, and salvage dealers can either file a garage liability insurance certificate with the state that includes at least $25,000 of single limit liability coverage, including bodily injury and property damage, as well as $10,000 personal injury protection. The second option is to get a general liability insurance policy and a business automobile insurance policy with the same coverage limits.
8. Purchase a $25,000 Auto Dealer Bond
Dealers must secure auto dealer bonds of at least $25,000 as a licensing requirement. The surety bond must be filed on the state's form or use the exact language that the state's form contains on the surety bond company's letterhead.

If you want to provide a line of credit instead of a surety bond, you will be required to submit an irrevocable line of credit with your dealer license application in the amount of $25,000. An irrevocable letter of credit will only be approved if it is issued by a bank that has been authorized to do business in Florida.

9. Install a Sign at a Place That Is Visible From the Roadway
You must install a sign for your business before you submit your application form. It should include your business hours and days and your business name, and you must provide an image of the sign and its dimensions to the compliance coordinator.
10. Complete Fingerprinting
All officers of your dealership will have to obtain electronic fingerprints from a Florida Department of Law Enforcement (FDLE) service provider. You will need to submit proof that you completed electronic fingerprinting with your application from a provider approved by the FDLE. A receipt will be provided to you that you can submit to the state with your dealer license application. If you have any felony or misdemeanor convictions, you will need to include information about their dispositions.
11. Submit the Application and Documents
Submit your application for a dealer's license on HSMV Form 86056 with all of the required documents and fees. You will submit your application packet to your regional office.

The documents you will need to submit with your license application include the following:
Certificate of completion for the pre-license dealer training course within six months of the date of your application

Original surety bond form 86020 or an irrevocable letter of credit

Proof of garage liability of at least $25,000 combined liability and $10,000 in personal injury protection

Proof of registration of your business entity and any fictitious name, including articles of incorporation, minutes showing the corporate directors, and corporate papers for corporations or articles of organization and operating agreement for a limited liability company or a partnership agreement for a partnership

Lease copy or proof of ownership for the place of business

Photos of the dealership's entrance, sign, display area, parking area, and parking spaces that are at least 3 by 4 inches

Receipts of electronic fingerprinting for each officer and certified court records for any officer who has been found guilty of a felony

Copy of valid, government-issued identification such as a driver's license or passport

Proof of inspection of your business showing that it meets the requirements

Application fee of $300 or $340, depending on your license type
Florida Dealer License Requirements
In addition to the above-listed documents and fees, your place of business will need to meet all of the following requirements and pass an inspection by the compliance examiner:
Have an office as a part of the principal place of business




Cannot be maintained or operated in a residence

Must be located in a permanent structure and have at least 100 square feet of interior floor space, excluding hallways, restrooms, and closets

Must have ceilings of at least 7 feet

If in a shared building, must have a separate entrance and address

Have a permanent sign visible from the road identifying the business that can be read at a distance of 50 yards from the nearest roadway

Have enough display space to show all of the motor vehicles the dealership is offering for sale with direct access to a highway or public street

Have clearly posted business days and hours at or near the dealership's main entrance
Learn more about how to get licensed and start your auto dealership in Florida by downloading our FREE ebook guide!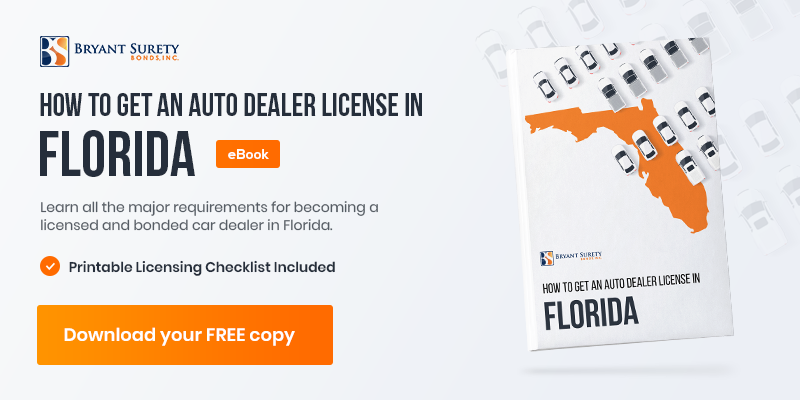 Is It Worth Getting a Dealer's License?
You can sell fewer than three vehicles during a year without a license. If you want to sell three or more vehicles or flip cars for profit, you need to get a dealer license in Florida. If you do not have a license and want to sell a vehicle, it must be titled in your name and be used for family, household, personal, or business purposes.

Securing a Florida motor vehicle dealer license is necessary if you want to become a Florida auto dealer. You can follow the above-listed steps to secure your license, including purchasing a surety bond and liability coverage, completing the pre-license course, and gathering all of the required documents. Once you receive your license, make sure to comply with the law to keep your license and your dealer bond intact so that you can continue legally operating your dealership.

Get Your FREE Bond Quote Instantly
FREE Instant Online Quotes - All 50 States - All Credit Types
Get a FREE Bond Quote

Instant ballpark estimate

Tell us about your business

powered by

Get your FREE quote today!
---