The Full Guide to Getting Your Utah Dealer License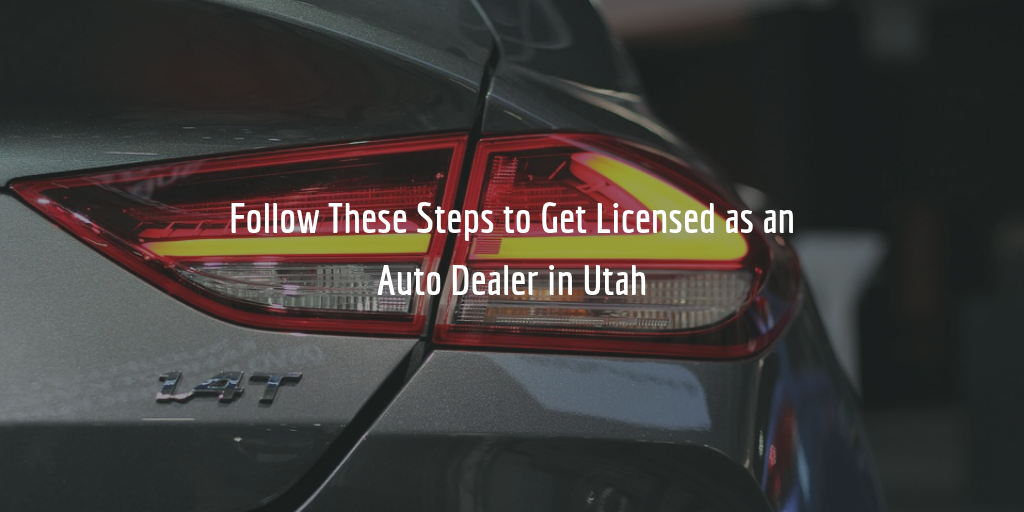 According to the Utah Motor Vehicle Business Regulation Act, to sell vehicles in the state, you need a Utah dealer license.
To get licensed, you must apply at the Motor Vehicle Enforcement Division (MVED). As part of your application, you will have to complete an application form, comply with location requirements, get a Utah auto dealer surety bond, and more.
Keep reading for a full overview of the application process for your Utah car dealer license!
1. Determine Your Utah Dealer License Type
The MVED issues the following types of dealer licenses:
New motor vehicle or large trailer dealer's license
Used motor vehicle dealer's license
New motorcycle and small trailer dealer license
Used motorcycle and small trailer dealer license
This guide will focus on the licensing process for these license types.
In addition, the MVED also issues licenses for manufacturers, dismantlers, distributors, representatives, and various others. You can see the full list of licenses on the MVED website.
Note: People who only sell or exchange vehicles they have owned for more than 12 months do not need to obtain a dealer license. Companies that come into possession of a car as an incident to their regular business, and sell that car, are also excluded from the licensing requirement.
2. Register Your Business in Utah
First, you will need to obtain a Federal Employer Identification Number (FEIN) from the Internal Revenue Service (IRS). You will need this number for your business registration and when hiring employees in your dealership.
Then you will need to pass a business registration through the Utah One Stop Online Business Registration portal. To get registered with the Utah Department of Commerce, Division of Corporations and Commercial Code you will have to pay a non-refundable filing fee that varies between $22 and $52.
In completing the registration, also make sure to apply for a state tax number from the Utah State Tax Commission which you will require for the purpose of paying taxes on any vehicles you sell.
3. Obtain a Permanent Business Location
Your dealership location must meet the following requirements:
Be a permanent office structure where you store records

Not be shared with any other business

Meet all local zoning and business requirements

Have a permanent sign of at least 24 sq. feet in size – t

he sign must be painted on the building or permanently affixed to it, identify the place of business, and show the full licensing name of the dealership
Have a display area for at least 3 cars which is bounded by a fence, a chain, or in any other way that clearly indicates its boundaries
4. Attend an 8-hour Pre-Licensing Orientation Course
All applicants for a new dealer license must attend an in-person or online orientation course.
License renewal applicants must pass a 3-hour course per year, before applying for their renewal.
5. Complete Your Utah Dealer License Application Form and Attach Required Documents
To apply for a new dealer license, begin by completing Form TC-301, Bonded Motor Vehicle Business Application.
You will need to attach the following items to your application form:
A passport-type photograph of every owner, partner, corporate officer, and member

A photograph of the business location that clearly shows the dealership sign

Proof of your Sales Tax License, issued by the Utah State Tax Commission, which you obtained during your initial business registration

Form TC-465, FBI Fingerprint Card and Fingerprint Waiver

Your signed original training certificate or Web training printout

A copy of your plate insurance declaration page and a completed plate section of your application (to obtain dealer plates)

A copy of your franchise agreement (

for new vehicle dealers

)
Note: All of the above are the documents you require to get a dealer's license in Utah. Salespersons must be licensed separately. Here you can find the full details about the salesperson license application process.
6. Get Your Utah Auto Dealer Surety Bond
Before you can submit your application, you need to obtain a Utah auto dealer surety bond which will guarantee your compliance with the Motor Vehicle Business Regulation Act.
New or used motor vehicle or large trailer dealers

must obtain a $75,000 surety bond

Motorcycle or small trailer dealers

must get a $10,000 surety bond
The cost of your surety bond is equal to a percentage of the bond amount. Your surety will determine this percentage on the basis of your credit score, along with several other financial indicators. For more information about what determines the cost of your surety bond, check out our surety bond cost guide.
You can get a free quote on your bond by completing our short bond application form below. It takes 2 minutes and there are no obligations.

Get a FREE Surety Bond Quote Today!
No Obligation - Fast and Secure - All Credit Types
Get a FREE Bond Quote

Instant ballpark estimate

Tell us about your business

powered by

Get your FREE quote today!
If you have any questions about your surety bond, feel free to call one of our bond experts at 866-450-3412!
7. Submit Your Application and Pay Fees
Once you've assembled all the necessary documents required for your license application, you can proceed with mailing them to the:
Motor Vehicle Enforcement Division
210 North 1950 West,
Salt Lake City, UT 84134
Along with your application, you will need to pay the following fees:
New or used motor vehicle dealer license – $127

New or used motorcycle / small trailer dealer – $51

Dealer plates (optional) – $12 per plate, with max. 2 plates issued

Fingerprinting – $20 per person
Note: If your application packet is incomplete, it will be returned to you.
8. Pass a Dealership Inspection and Get Your License
Once you submit your application packet, you will need to wait between 5 and 10 days for a site inspection. If your dealership passes the inspection, you will receive your Utah auto dealer license between 3 and 5 working days later.
9. Utah Dealer License Renewal
All car dealer licenses in Utah expire yearly on June 30. Licenses are not prorated. You must submit a renewal application and fee prior to that date to remain licensed as a dealer in the state.
You can contact the MVED for further details about the licensing and renewal process at 801.297.2600.
Alternatively, see the Division's Business License FAQ page for more information.
---