Your Full Guide to Getting a Colorado Dealer License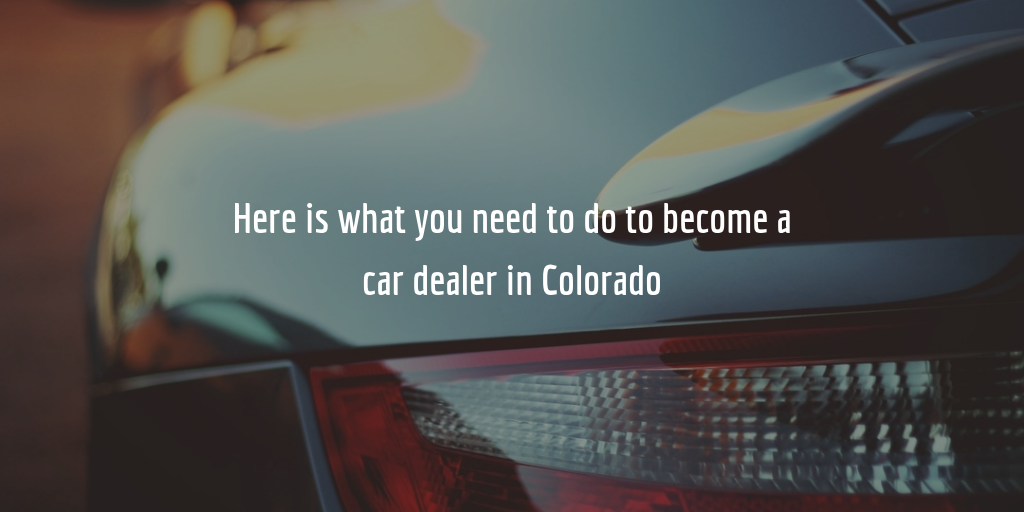 To open a car dealership in Colorado you will need to apply for a license at the Colorado Department of Revenue's Auto Industry Division. For your license, you will need to pass pre-licensing certification and an exam, as well as submit numerous documents, along with your Colorado auto dealer bond.
Want to know more? Read our detailed guide on getting your Colorado dealer license below!
Qualification criteria
According to the Colorado Revised Statutes (C.R.S.), before you proceed with applying for your dealer license, you must check whether you pass the pre-licensing requirements. The dealer licensing division requires applicants to:
Have a net worth of at least $100,000

Have a Vantage credit score of at least 701 (if your report contains derogatory information, you can provide additional information and explanations in your application)

Pass a criminal background check or provide court documents in the case of a conviction for a felony or misdemeanor
If you pass these criteria, you can go ahead with fulfilling the requirements for your license.
Colorado dealer license requirements
To apply for your dealer license you must complete the Colorado dealer license application (DR 2109). Then you must also include the various documents and items listed below.
Dealer license types
When completing your application, you will first need to choose the type of license that applies to you. There are 7 different dealer license types in Colorado. These are:
Franchised Dealer

Used Dealer

Wholesaler

Wholesale Auction

Franchise Powersport Vehicle Dealer

Used Powersport Vehicle Dealer

Wholesale Powersport Vehicle Dealer
Required documents and information
Once you are done with your application, you will need to take care of the remaining requirements. These are:
Obtain a pre-licensing education certificate (unless you have previously held one of these licenses within the last 3 years)

Pass the online Auto Industry Mastery Examination and include the

Examination Affidavit

(DR 2097)

Complete and include the

Motor Vehicle Dealer Board Dealer/Wholesale License Application Addendum

(DR 2109B) for each of the dealership's owners, partners, members, stockholders, and others

Include secure verifiable identification such as a photocopy of a driver's license for each of the above applicants

Complete the Restriction on Public Benefits affidavit (DR 4679) for all of the above parties

Complete a

statement of financial condition

(DR 2114) for each owner, member or partner. Corporations and LLCs must also file a financial statement

Complete the Dealer Plate Affidavit (DR 2640) and the Place of Business Affidavit (DR 2044)

Submit a Business Plan which includes information on staffing, sales projections, hours of operation, floor planning, and further business information regarding your dealership

Provide photographs of your business location

Include a copy of your Sales Tax License or your Colorado Sales Tax account number

Obtain $50,000 Colorado auto dealer bond

Pay your licensing fee – $519 for the July 1, 2016 – June 30, 2017 licensing period
A number of additional documents may also be requested by the Division as you apply, depending on your particular case. These are:
Certificate of Good Standing from the Colorado Secretary of State

Constituent Filed Document – articles of incorporation, association, organization or any other applicable articles and agreements

Bylaws/Operating Agreement

Certificate of Assumed or Trade Name

Copy of lease

Copy of franchise agreement
Once you have taken care of all of the above requirements, you are ready to submit your application to the Division. Your application will then be reviewed and you will be notified by the Division whether your application has been accepted or denied. If you have any questions regarding the licensing process, you should contact the Division to receive further information.
So what about your car dealer bond?
Getting your Colorado auto dealer bond
The auto dealer bond is an important dealer licensing requirement. Those bonds are put in place to provide protection to the state government and the public when dealer licenses are issued. They provide financial protection against dealers who violate state statutes and the conditions of the bond by, for example, acting dishonestly and misleading customers.
Applicants for a dealer license must pay a certain premium to obtain the $50,000 Colorado auto dealer bond. The cost of their bond is a fraction of the whole amount. This fraction is determined by the surety bond company that issued the bond for the dealer.
In determining the cost, the bond company takes into account the personal credit score of the applicant, as the most important factor, as well as the applicant's financial statements and other financial indicators. Typically, applicants with a high credit score can expect to get a rate that ranges between 1%-3% of the total bond amount. I.e. to obtain a $50,000 bond, you will need to pay between $500 and $1,500.
Estimate your surety bond cost with our free surety bond cost calculator.
Surety Bond Cost Calculator

Tell us where to send you your
FREE

estimate

SEND ME MY ESTIMATE!

We'll never share your information with third parties

Thank you

for your request!
The ballpark estimate on your premium is: $100 - $167
We've sent a copy of your estimate on your email as well.
Want an exact quote? Simply fill out our online application It's fast and 100% free!
Get a free exact quote
Get another estimate
If you have any questions regarding the bond process, call our experts at 866-450-3412. We will be happy to help you!
---