How to Get a Colorado Money Transmitter License [Guide]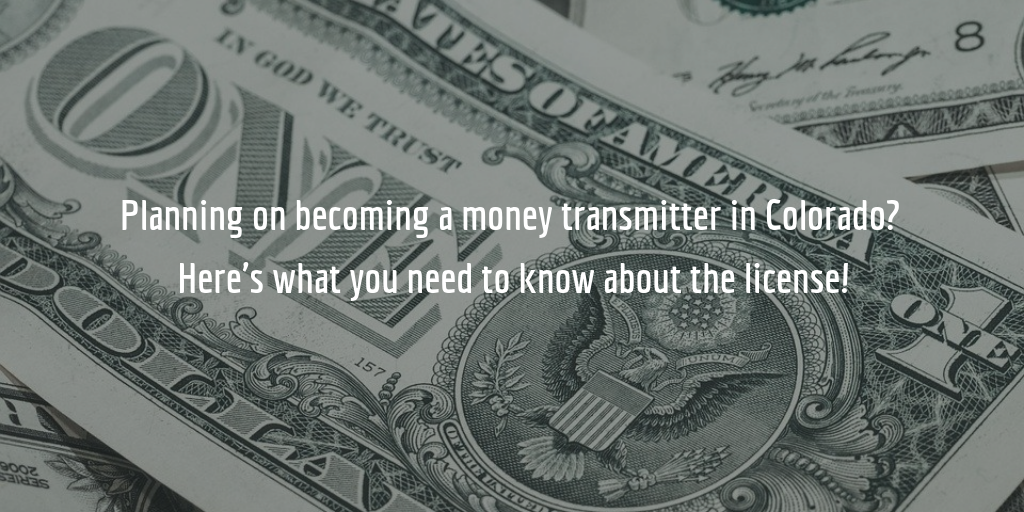 If you want to offer money transmission services in Colorado, you must apply for a license from the Colorado Department of Regulatory Agencies (DORA). The application process involves the completion of a Colorado money transmitter application form as well as the submission of various supporting documents.
These include a money transmitter bond, financial statements, proof of registration with the federal Department of Treasury, and more. For a full overview of the application process for a Colorado money transmitter license, see the sections below!
1. Register Your Business in Colorado
To register your business in Colorado, you will need to apply with the Secretary of State. The portal for businesses in Colorado contains all the information you need about filing for a trade name and registering an entity.
2. Obtain a Registration in FinCEN
Along with your business registration, you will also need to register your company as a money services business (MSB) with the federal Financial Crimes Enforcement Network (FinCEN). You will require this registration during your application for your Colorado money transmitter license.
3. Apply for Your Colorado Money Transmitter License
To get licensed as a money transmitter in Colorado, you need to cover a number of pre-licensing requirements.
Begin by completing the money transmitter application form.
Along with a completed application, you will be required to submit various supporting documents. You can find a complete list of the required items in the application form. Among others, these include:
List of individuals who have responsibility over the licensee's activities

Interagency Biographical and Financial Report and completed fingerprint card

Organizational chart

History of operations

Sample agent contract and a sample form of payment instrument

History of any material litigation and criminal convictions of the applicant for the past 5 years

Colorado money transmitter bond

Business plan

Financial statements

Copy of your registration with FinCEN

Copies of your BSA/AML compliance program

Copy of the most recent independent review of the BSA/AML compliance program
4. Getting Your Colorado Money Transmitter Bond
Unless a reduction is received, all applicants for a license must post a Colorado money transmitter bond in the amount of $1,000,000. This bond guarantees your compliance with all provisions of the Colorado Revised Statutes that regulate money transmitters in the state.
Want to know how much your bond may cost? You can get a free quote on your bond right away by completing the bond form below!
Get Your FREE Bond Quote Instantly
FREE Instant Online Quotes - All 50 States - All Credit Types
Get a FREE Bond Quote

Instant ballpark estimate

Tell us about your business

powered by

Get your FREE quote today!
5. Submit Your Application and Pay a Fee
When you have completed the application form and assembled all other additional documents, you can proceed with submitting your application to the DORA. Use the following address when mailing your papers:
Colorado Division of Banking
1560 Broadway, Suite 975
Denver, CO 80202
You must include a licensing fee in the form of a check, made payable to: Colorado Division of Banking (Division). The fee must be:
$7,500 if applying between January 1 and June 30

$3,000 if applying between July 1 and December 31
These are all the requirements you must cover in order to apply for a Colorado money transmitter license. If you have any questions about this process or the documents you must submit, make sure to contact the Division at 303-894-7575!
---