Maryland Auto Dealer License Guide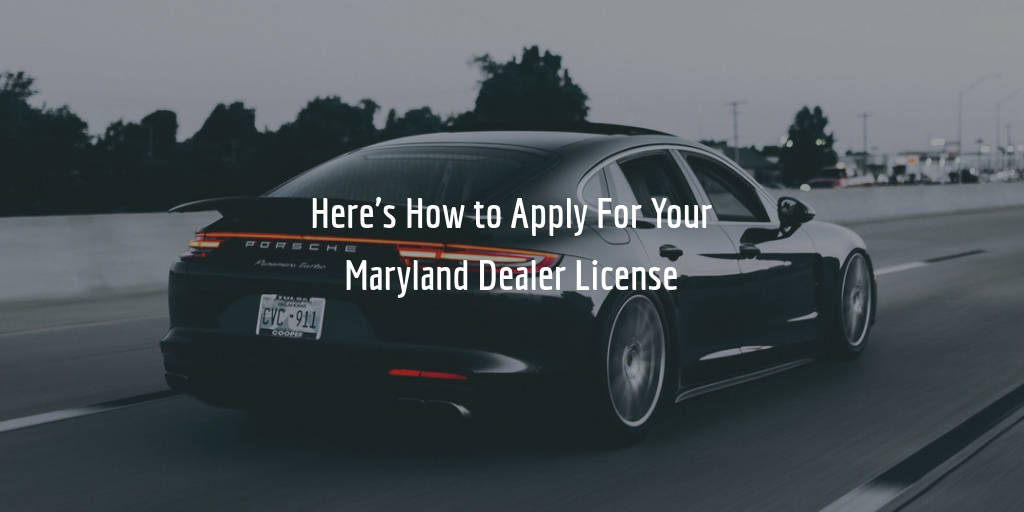 You can obtain a used and new auto dealer license with the Maryland Department of Transportation Motor Vehicle Administration. However, this is considered to be a lengthy process that asks you to adhere to some basic licensing requirements. The online application you submit needs to include proper documentation and fees. Before applying for a Maryland dealer license, you should understand what this process entails.
Determine the Type of Maryland Dealer License You Need
There are three distinct types of dealer licenses that you can apply for in the state of Maryland. These licenses include:
New vehicle dealer – Allows you to sell new vehicles only
Used vehicle dealer – Allows you to sell used vehicles only
Wholesale vehicle dealer – Allows you to sell vehicles to licensed dealers and purchase vehicles at dealer-only auctions
Maryland Dealer License Requirements
If you want the application process for a Maryland dealer license to go smoothly, you must meet certain requirements before submitting your application, which are detailed in the following.
Obtain a Permanent Business Location
In order to obtain a dealer license in Maryland, you'll need to have an established place of business. Once you've purchased or rented a location that suits your auto dealer company, a local zoning official will need to sign a form that confirms your building is zoned properly to allow for a used or new vehicle dealership. It's at this stage of the process that you should have a business name as well.
Gather the Required Documents
There are many different documents that will need to be submitted alongside your application for a Maryland auto dealer license. These documents extend to:
Business registration letter via the Maryland State Department of Assessments and Taxation
Proof that you have Workers' Compensation coverage or an exemption that allows you to bypass these requirements
Any franchise approval letters to be sent in separately from the application
One franchise approval letter obtained for every vehicle manufacturer that will be represented by your dealership
Automotive repair facility contract, which certifies that a repair facility is positioned within five miles or less from the location of each dealership you're creating
Letter of Good Standing, Dealer Orientation Request, or Use and Occupancy Permit
New Vehicle Certification form, which designates that you aren't selling new vehicles while also acting as a manufacturer
If you have any questions about the documents that you need to submit with your application form, the Maryland DMV can provide you with answers.

Get Your Criminal Background Check
Any owner, officer, or partner involved with an auto dealership will be tasked with undergoing a Maryland criminal background check before being able to receive a license. The same is true of anyone who has even a small financial interest in this dealership. It's possible for background checks that are performed by a private company to being accepted in the event that the Maryland State Police uses the company as a type of Private Investigation Agency.
Obtain a Trader's License & Proof of Liability Insurance
When you submit your car dealer license application, you must provide a copy of your trader's license, which can be sought from the circuit court for the jurisdiction where you're set to create a dealership. In the event that you have liability insurance for all of the vehicles you sell, you should be able to obtain an insurance information form that certifies this. The same is true if you have workers' compensation insurance.
Get Your Maryland Auto Dealer Bond
At this point in the process, you'll want to obtain an auto dealer bond, the cost of which is typically a relatively low percentage of the entire bond amount. The cost you pay for the bond can differ depending on the current state of your financials. If you want to be more confident in the total surety bond cost that you'll be expected to pay, you can request a bond quote from any company you're thinking of requesting a bond from. Most bond companies offer free quotes.
The cost of a bond also depends on the type of auto dealer license you're requesting. If you're set to become a used car or wholesale dealer, the bond amount could be anywhere from $15,000-$150,000 (see also our guide on used car dealer bond).
As for new car dealerships, the license bond amount is higher with a total of $50,000-$300,000.
The range of costs is large because of how the cost is calculated. The total number of vehicles that you expect to sell at your dealership will dictate the amount you pay for the bond. A lower number of cars being sold should equate to a lower price for the bond.
Submit Your Dealer License Application
The next step in this process involves submitting your dealer license application along with all of the supporting documentation that was mentioned previously. This application should be sent directly to the Business Licensing and Compliance (BL&CS) division of the Department of Motor Vehicles (DMV). The correct address for the BL&CS division is:
Motor Vehicle Administration
6601 Ritchie Highway, N. E.
Room 146
Glen Burnie, MD 21062
Renew Your License Yearly
If you're able to obtain a dealer license in Maryland, you'll eventually need to renew this license if you want to remain in business. An auto dealer license must be renewed on an annual basis. Around 60 days before your license expires, you should receive a renewal packet through the mail from the BL&CS division. In the event that you don't obtain this packet, you should get in touch with the aforementioned division immediately.
The form that you receive should be filled out and submitted directly to the BL&CS division. Make sure that all of the necessary fees and documents are included alongside the form. These documents need to be submitted around 15 working days before your license expires.
If you fail to request a license renewal before reaching the expiration date, it's important to understand that the DMV will believe that your dealership is about to go out of business. If this occurs, your auto dealership would need to apply for an entirely new license with the same procedure mentioned above. Along with the business license renewal form, you should include:
A copy of your trader's license
A surety bond rider if you've made any changes to the bond
Copies of any flag releases that apply to you
A power of attorney form in the event that a new surety bond or bond rider is being submitted
A notice of any criminal conviction over the past year by any owner, officer, or partner involved with your dealership
If your renewal application is approved, an up-to-date dealer's license will be sent to you.
FAQ
The following takes a more in-depth look at several frequently asked questions about licenses for Maryland motor vehicle dealers.
How Much Does it Cost to Get a Dealer License in Maryland?
If you want to obtain a dealer license from the Department of Motor Vehicles, there are several license fees that you'll be tasked with paying, the primary of which include:
Dealer tags – $450
License fee – $100
Salesman's license cost – $67.50
Surety Bond Cost Calculator

Tell us where to send you your
FREE

estimate

SEND ME MY ESTIMATE!

We'll never share your information with third parties

Thank you

for your request!
The ballpark estimate on your premium is: $100 - $167
We've sent a copy of your estimate on your email as well.
Want an exact quote? Simply fill out our online application It's fast and 100% free!
Get a free exact quote
Get another estimate
How Many Cars Can I Sell in Maryland Without a License?
If you want to sell cars in Maryland but don't want to go through the hassle of obtaining a license, it's possible to do so as long as you only sell a couple of cars. Any unlicensed vehicle deal is referred to as curb stoning. If someone sells vehicles outside of a dealership location, they may be engaging in curb stoning. In this scenario, vehicles are advertised via the classified section in newspapers or through online websites.
If you want to sell or purchase vehicles in Maryland, you will need to be licensed. While it's perfectly legal to sell two vehicles in a 12-month period without having a license, selling at least three vehicles in the same time period could cause you to be classified as an unlicensed dealer.
The penalties that come with this charge include a fine of up to $5,000 and a jail sentence of as much as one year. Additional offenses could result in more serious penalties. If you've already received a dealer license in another state but aren't currently licensed in Maryland, you can't sell more than two vehicles in this state and will be considered unlicensed.
Can I Get a Maryland Auto Dealer License Without a Lot?
One frequently asked question is if it's possible to obtain a Maryland auto dealer license without having a lot from which to sell vehicles. While having a lot is highly beneficial when attempting to be a Maryland auto dealer, there are a large number of licensed sellers who don't have lots, which means that this is a legitimate option for you.
Keep in mind, however, that there are some considerations that you'll want to take into account. First of all, you're required to have a motor vehicle dealer bond to ensure your customers are protected. Obtaining a surety bond is necessary if you want to be a fully licensed dealer in the state of Maryland. If you're unsure what a surety bond is, this type of bond is essentially a guarantee that your company won't engage in anything that's deemed to be unethical conduct.
Examples of unethical conduct include everything from not paying the annual sales taxes that are owed to misrepresenting the condition of a vehicle to buyers. Maryland law determines the amount that your bond must cover. Most auto dealer bonds range from $10,000-$100,000. However, they can be as high as $300,000 for larger auto dealerships.
A small percentage of this amount will need to be paid to the surety before you receive the bond. After obtaining the bond, this certification must be filed alongside your dealer application.
While dealer surety bonds typically check your credit score, it's possible to obtain one of these bonds even if you don't have perfect credit. In this scenario, you could apply for a bad credit surety bond. If you would like to sell vehicles legally in Maryland, you must first receive a dealer license. Otherwise, only two vehicles can be sold every year before you experience legal problems.
As long as you have the right documentation and pay the necessary fees, the application process for a Maryland dealer license is straightforward.
---