How to Get an Indiana Contractor License [Guide]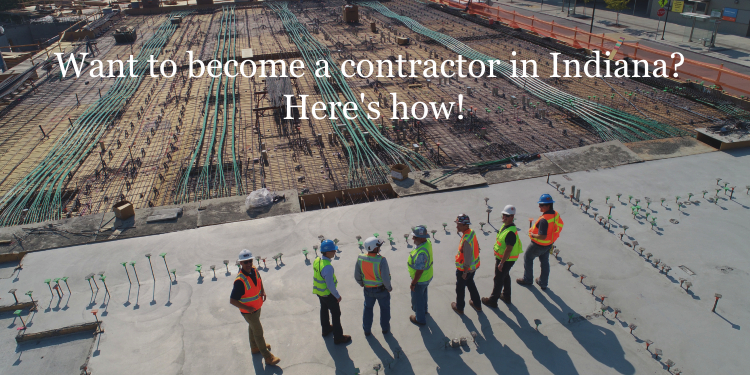 Anyone in the state of Indiana "engaged in converting construction material into real property on behalf of another person" is considered a contractor and must be licensed. This includes general, specialty, HVAC, electrical, plumbing, and other contractors.
Most Indiana contractor license types, with the exception of plumber license, are not issued on a state level. Instead, the main licensing application requirements are set and met on the city level. There are a few minor business requirements that you need to pass on the state level.
If you want to get a contractor license in Indiana, here is what you need to do!
Overview of Indiana Contractor License Application Requirements
The licensing process for contractors in Indiana is quite varied but it can be broken down as follows:
Plumbing contractors are licensed on the state level at the Indiana Professional Licensing Agency (PLA)

General, specialty, HVAC, plumbing, electrical, and other contractors are licensed on the city/county level
In addition, general contractors working in the state as a business entity must register with the Indiana Secretary of State and file yearly Business Entity Reports.
And if you qualify as an "independent contractor" under the guidelines of the US Internal Revenue Service (IRS), you can register with the Indiana Department of Revenue, and get a certificate.
See the following sections for a breakdown of all of these requirements and procedures.
1. Register With The Secretary of State and The Department of Revenue
This step applies only to general and independent contractors in Indiana.
General contractors in Indiana who are performing work as a business entity are required to register with the state and file a Business Entity Report. Submitting this report takes only a few minutes. It must be repeated every other year at the end of the month of your business entity's formation.
In addition, if you qualify for certification as an independent contractor, you must also register with the Department of Revenue. To determine whether you fulfill the criteria for being considered an independent contractor, please consult with the guidelines of the IRS.
2. Apply For Your Indiana Contractor License
Your licensing procedure will depend on the type of license you are applying for. See the sections below for a breakdown of the licensing requirements for the different types of contractors in Indiana.
Plumbing Contractor License Application
Unlike other types of contractors, plumbing contractors in Indiana are licensed at the state level. This license is regulated by the Indiana Plumbing Commission at the PLA.
The Commission issues licenses for all stages of qualification of plumbers, i.e. apprentices, journeymen, and contractors.
The application requirements for plumbing contractors in particular include:
Being at least 18 years of age

Providing personal information and a photograph

Signature by an approved school sponsor signature and proof of current/active plumbing license

Personal background information

Application fee ($50 on odd years, $100 on even years)
These are the application requirements for plumbing contractors in Indiana. If you have any further questions about becoming licensed, make sure to contact the Plumbing Commission.
Local Contractor License Application (includes General, HVAC, Electrical, and Specialty)
These types of contractor licenses are issued on the county level, and there is no fixed set of requirements that are shared by all of them. However, most contractor licensing procedures throughout the state feature similar requirements.
When applying to get licensed as a contractor in Indiana you may expect the following to be required:
Submitting an Indiana contractor license application form

Passing a contractor license exam

Obtaining general liability insurance and workman's compensation insurance (if you have employees)

Getting an Indiana contractor license surety bond (amounts vary)

Providing proof of work experience and verification of employment and/or letters of reference from employers and customers (this is usually required of specialty contractors, not general contractors)

Paying an application fee
These are the licensing requirements you will likely have to meet when applying for your contractor license. Here is a list to the contractor licensing information pages of some of the cities and counties in the state of Indiana:
3. Get Your Indiana Contractor License Bond
Some counties and cities in Indiana require contractor license applicants to get a contractor license bond.
This bond is a type of guarantee that licensed contractors will perform their work in accordance with state and local regulations. It guarantees they will do so faithfully and in accordance with all building and trade standards.
The amount of the bond can differ depending on the city or county. To get an exact quote for your contractor license bond, you need to complete the bond form below. It's free and it takes 2 minutes.
Get Your FREE Bond Quote Instantly
FREE Instant Online Quotes - All 50 States - All Credit Types
Get a FREE Bond Quote

Instant ballpark estimate

Tell us about your business

powered by

Get your FREE quote today!
Do you have any questions about getting your license bond in the state of Indiana? Call us at 866.450.3412 and we will be happy to help you!
---