Iowa Auto Dealer License Guide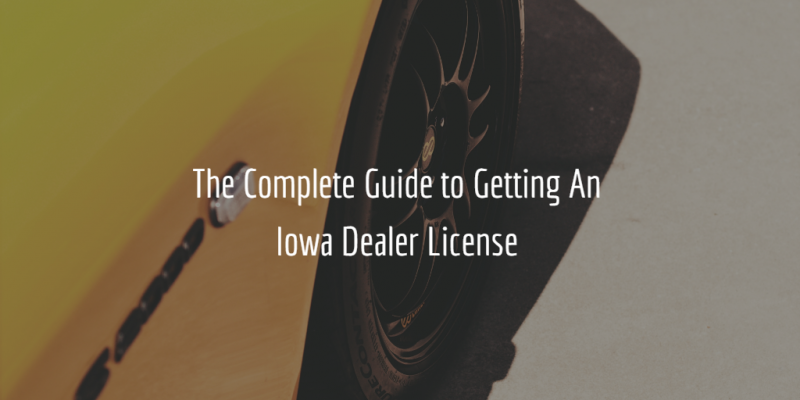 Anyone in the state of Iowa who wishes to sell more than 6 vehicles over the course of 12 months, must obtain an Iowa dealer license. This license is issued by the Motor Vehicle Division at the Iowa Department of Transportation (DOT).
The licensing requirements for the different types of dealers are identical. Among other things, you will need to register your business in the state, secure a business location, obtain insurance and an Iowa auto dealer bond.
For a full step-by-step guide on how to apply for your Iowa car dealer license, keep reading below!
1. Pick Your Iowa Dealer License Class
The application process and form for the various kinds of retail motor vehicle dealers in Iowa are identical. The MVD issues the following license types:
For new and used:

Car dealers

Motor home dealers

Towable recreational vehicle dealers

Truck dealers

Motorcycle dealers

Low-speed vehicle dealers

Motorized bicycle dealers
This guide will lead you through the licensing process for the above license types. In addition to these, the Division also issues licenses for:
Vehicle recyclers, rebuilder, and used parts dealers

Manufacturers, distributors, and new vehicle wholesalers

Special equipment wholesalers, and mobile home retailers
You can learn more about the licensing process for these licenses on the Division's website.
2. Register Your Business in The State
To sell vehicles in Iowa, you will need to apply for a business permit at the Iowa Department of Revenue.
As a first step, you need to obtain a Federal Employer Identification Number (FEIN) from the Internal Revenue Service.
When you have your FEIN, you can proceed with applying for your Iowa business permit. To apply, you can use the Online Business Permit Registration system but if needed you can also submit your application by paper.
When you complete this registration, you will be issued your unique Business eFile Number (BEN) which you will need to remit taxes.
3. Secure a Business Location
All dealers in Iowa need to secure a place of business where they will offer vehicles for sale. Depending on your license type, your dealership location must conform to slightly different requirements which are noted below.
Your place of business must comply with the following requirements:
Comply with all local zoning provisions as evidenced by a certificate issued by the local zoning office
Have an office area with a telephone that is listed in the name of your business and answered during regular business hours – a minimum of 32 hours between Monday and Friday
The office space must be suitable for keeping records

Dealers who only sell motorcycles are not required to maintain regular business hours
House repair facility with enough space to repair or recondition one or more motor vehicles
The repair facility must be separated from sales room, office, and display area

The minimum space in the repair facility for motorcycles must be an area of no less than 10 feet by 15 feet and for other motor vehicles no less than 14 feet by 24 feet
New motor vehicles dealers

must have an indoor display facility with a minimum area of 10 feet by 15 feet for the display of motorcycles or motorized bicycles and/or an area of 18 feet by 30 feet for the display of other types of vehicles

Used motor vehicle dealers and new motor vehicle dealers exclusively selling truck or motor homes

must have an indoor or outdoor display facility meeting the same area requirements. If outside, the display facility must be located at the principal place of business and covered by an all-weather surface (this excludes grass and exposed soil)
4. Pass Pre-Licensing Training (only used vehicle dealers)
Applicants for used motor vehicle dealer license must pass an 8-hour pre-licensing course.
Courses are held at the Des Moines Area Community College and have an attendance fee of $219.
5. Obtain Liability Insurance
You must obtain financial liability coverage in the following amounts:
$100,000

minimum for bodily injury or death of one person

$300,000

for bodily injury or death of two or more persons in any one accident

$50,000

for injury or destruction of property of others in any one accident
6. Get Your Iowa Auto Dealer Bond
All types of dealers, regardless of their license type, must secure an Iowa auto dealer bond in the amount of $75,000.
The bond's purpose is to guarantee a dealer's compliance with Chapters 321, 322, and 322C of the Iowa Code. If a licensed dealer violates the provisions of these chapters, any person who is harmed by such a violation can file a claim against the dealer's bond to secure compensation.
7. Schedule an Inspection of Your Dealership
Prior to submitting your application papers, you will need to pass an on-site inspection, conducted by an employee of the Bureau of Investigation and Identity Protection.
You can contact the Bureau at 515-237-3050 or [email protected] to schedule an inspection.
8. Complete and Submit Your Iowa Dealer License Application
To finalize the process, you need to download and complete the dealer license application form.
Along with the form itself, you will also need to submit the following documents:
Proof of compliance with zoning ordinances

A copy of your certificate of liability insurance

A $75,000 auto dealer surety bond

A copy of your franchise agreement (if selling new vehicles)
When you have assembled the complete license application package, mail it to the Division at the following address:
Office of Vehicle & Motor Carrier Services 
Iowa Department of Transportation 
P.O. Box 9278 
Des Moines, Iowa 50306-9278
You will also need to pay the following fees when applying:
$70

Registration fee

$70

Dealer license fee

$40

Dealer plate fee (per plate)
9. Iowa Dealer License Renewal
Iowa car dealer licenses are issued for a period of a year and expire on December 31 of even-numbered years.
If you apply at the beginning of an even-numbered year, your license will initially be valid only until the end of that year and, upon renewal, become valid for the next two years.
To renew your license, apply online here.
---