How to Get a Massachusetts Collection Agency License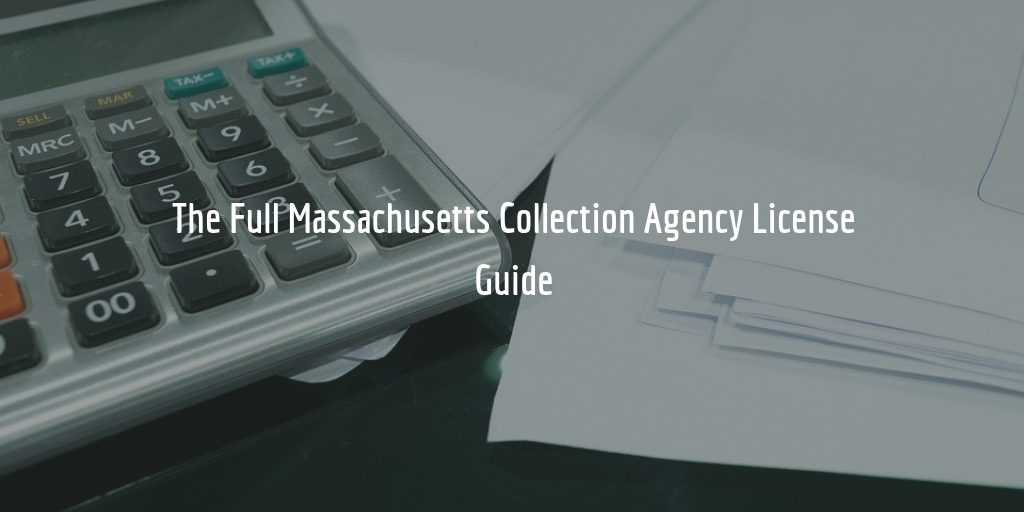 To collect third-party consumer-debt, or to purchase or directly collect consumer debt in Massachusetts, you need to obtain a collection agency license (also known as a debt collector license). This type of license is issued and regulated by the state Division of Banks (DOB).
To get licensed, applicants must apply through the Nationwide Multi-State Licensing System (NMLS). The licensing process entails the submission of various forms and supporting documents, such as financial statements, a Massachusetts collection agency bond, and more.
Want to get a collection agency license in Massachusetts? Follow the steps below!
1. Register Your Business in the State
Prior to applying for a license, you will need to register your business with several state authorities.
As part of this process, you will need to file for a business entity registration and a trade name ("doing business as") with the Secretary of State. You will likely also require an Employer Identification Number (EIN) issued by the Internal Revenue Service (IRS).
Once you've covered these and other business registration requirements, you can proceed with your application for a debt collector license.
2. Complete the Massachusetts Collection Agency License Application
To get started with your application, you must register in the NMLS system.
After your registration, you will gain access to the main application forms for your debt collector license – Company Form (MU1) and Individual Form (MU2). You will need to complete these and provide a number of supporting documents which include:
Credit report authorized through NMLS

Explanations for any disclosure questions in the main forms which you have answered with "Yes"

Business plan

Management chart

Organizational chart

Certificate of Authority / Good standing

Formation documents

FBI criminal background check authorized through NMLS
In addition to the above, you will also need to mail the following documents to the state Division of Banks directly:
W-9 Form

Financial statements

Parent financial statements (if applicable)

Information about business in other jurisdictions (if applicable)

Massachusetts collection agency bond
You must submit these within 5 days of the electronic submission of the application forms at the following address:
Massachusetts Division of Banks 
Attn: Licensing Unit
1000 Washington Street
10th Floor; Boston, MA 02118
These are all the documents and forms you need to provide during your application for a license. You can see the official NMLS licensing requirements checklist for a more detailed explanation of each item. Read the following sections for more information about the surety bond, and the fees you need to pay upon applying.
3. Get Your Massachusetts Collection Agency Bond
To get licensed, you must provide a Massachusetts collection agency bond in the amount of $25,000 to the DOB. The bond guarantees your compliance with Chapter 93, Section 25 of the Massachusetts General Laws.
You can get a free quote on your bond by completing the bond form below. It takes minutes and there are no obligations.
Get Your FREE Bond Quote Instantly
FREE Instant Online Quotes - All 50 States - All Credit Types
Get a FREE Bond Quote

Instant ballpark estimate

Tell us about your business

powered by

Get your FREE quote today!
4. Pay Fees and Submit Your Application
This is the final step in the application process. Once you've completed all of the above, you can proceed with finalizing your application by submitting it to the NMLS and paying fees. These are collected through the NMLS and are as follows:
$1,000 license fee, per license

$300 investigation fee, per license

$36.25 FBI background check fee, per person

$15 credit report fee, per control person
Once you've paid your fees and completed all other requirements, you will be notified within a short amount of time whether your application has been approved. If it is, you will be issued y our Massachusetts debt collector license and will be eligible to begin operations.
If you have any further questions about getting licensed, you can always contact the Division of Banks at (617) 956-1500!
---