New Mexico Requires Public and Independent Adjusters To Be Licensed and Bonded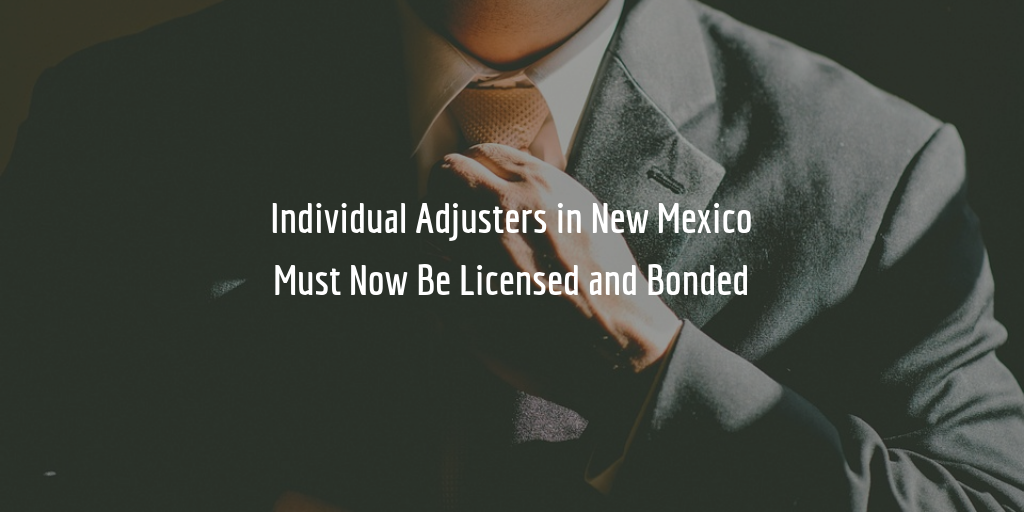 As of April 15, 2019, applicants for an individual public or independent adjuster license in the state of New Mexico have been required to comply with new rules. These licensing requirements were introduced with a rule by the state Office of Superintendent of Insurance (OSI).
Now, among other things, applicants for these licenses will need to pass a pre-licensing exam, provide proof of good reputation, post a $10,000 New Mexico public adjuster bond, and more, before they can get licensed.
See the next section for an overview of the provisions of the rule!
New Mexico Individual Public and Independent Adjuster License Requirements
Under the new rules, no individual in the state can operate as a public or independent adjuster without obtaining a license from the OSI.
Previously, under the 2017 Bill NM SB88, an adjuster license, as well as a bond, were required in the state but the bill had not specified the relationship between business entities and the individuals working for them.
Now, businesses that obtain an adjuster license of any kind must then employ individuals who have individual licenses as adjusters. Such individuals must have public or independent licenses, depending on the license of the business, and are the ones that must obtain a surety bond.
To be issued an individual license, applicants must fulfill certain requirements. An applicant must:
Be at least 18 years of age

Be a bona fide resident of the state

Be trustworthy and reliable, and be able to demonstrate a good business reputation

Not have committed any acts that may be ground for the denial, suspension, or revocation of their license

Pass a pre-licensing exam

Complete an application form

Submit fingerprints for the purposes of a background check

Submit a $10,000 surety bond

Pay a license fee
Completing the application form
To complete the application form, individuals will need to provide the following type of information:
Proof of applicant's identity

Personal information such as name, date of birth, social security number, address, and contact information

Details about personal history and proof of five years of business and employment history as well as any experience or education pertaining to the job of the insurance adjuster

Previous licensing information as an adjuster, including information about revoked or suspended licenses, claims against the applicant, and more

Type(s) of license(s) being applied for

An in-state physical address for the business entity if you will be adjusting claims on workers' compensation policies

The NAICS code of any New Mexico company that will sponsor the applicant (if applicable)
This form, along with the additional information required in it, must be submitted online to the OSI. If you have successfully covered all requirements, you will be issued a license and will be able to operate in the state.
License duration and renewal
Licenses for individuals are issued on a two-year basis and expire on the last day of the birthday month of the individual. Renewal fees must be paid latest by this date, and continuing education requirements must have been satisfied in the preceding 24 months, prior to the renewal of the license.
Surety Bond Requirement for New Mexico Public and Independent Adjusters
The purpose of this bond is to guarantee that licensed and bonded adjusters in New Mexico comply with the provisions of the state Insurance Code.
The bond thereby acts as security for the state and any member of the public, should an adjuster violate the Code. If such a violation leads to damages to either of these parties, a claim can be filed against the bond to secure compensation. If the adjuster remains compliant then the only cost associated with the bond is the premium they pay to get bonded.
The cost of your bond is equal to a percentage of its total amount. That percentage is determined by various factors, most important among which is your personal credit score.
You can get a free quote on your bond by completing our bond application form.
Get a FREE Surety Bond Quote Today!
No Obligation - Fast and Secure - All Credit Types
Get a FREE Bond Quote

Instant ballpark estimate

Tell us about your business

powered by

Get your FREE quote today!
If you have any questions about this bond, call our bond professionals at 866.450.3412 anytime!
---