The Step-By-Step Guide to Getting Your Nebraska Dealer License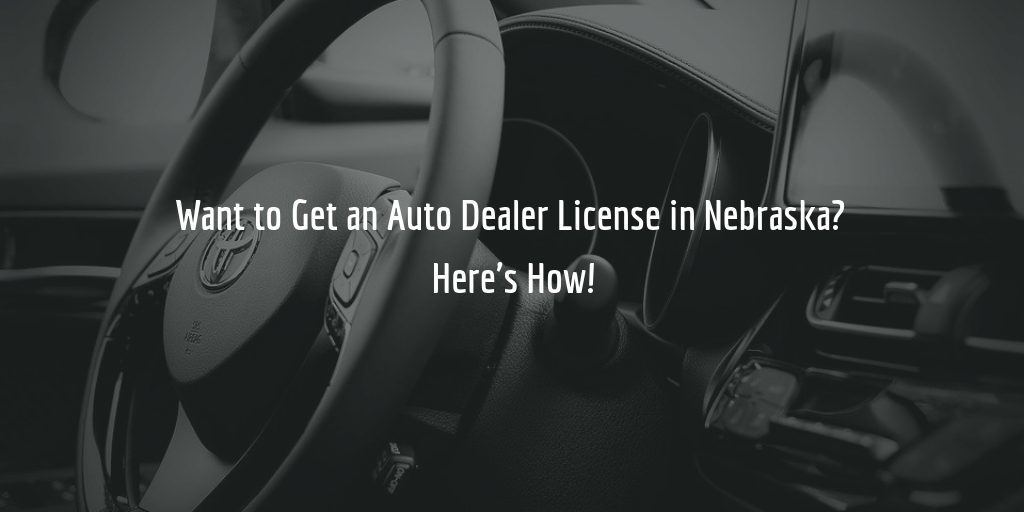 To get any kind of Nebraska dealer license, you need to apply at the state Motor Vehicle Industry Licensing Board. Under state law, anyone who wishes to sell vehicles, trailers, motorcycles, or act as an auction, wrecker or salvage dealer must apply.
The licensing requirements for these license types are fairly similar. They include obtaining a permanent business location, liability insurance, a Nebraska auto dealer bond, and completing a number of application forms.
For a full overview of the Nebraska dealer license requirements, see the sections below!
1. Pick Your Nebraska Dealer License Type
The Nebraska Dealer Licensing Board issues the following types of dealer licenses:
New and used motor vehicle, trailer, and motorcycle dealer license

Motor vehicle auction dealer license

Motor vehicle wrecker or salvage dealer license
2. Register Your Business in the State
Before you can apply for a Nebraska car dealer license, you need to register your business. To easily and quickly complete this requirement, use the Nebraska One-Stop Business Registration Portal.
During the registration process, you will need to indicate what kind of business you plan to launch, whether you will have employees, and declare if you will be selling any taxable goods. The portal will then provide you with direct links to the different state agencies with which you will need to apply.
This includes obtaining a Federal Employer Identification Number (FEIN) from the Internal Revenue Service, as well as a Nebraska Tax ID Number.
3. Find a Suitable Dealership Location
Regardless of the type of license, you are applying for, you will require an established place of business, as defined in 60-1401.15 of the Nebraska Motor Vehicle Industry Licensing Act.
To comply with legal requirements, your dealership location will need to meet the following criteria:
Be a permanent location, with easy access to the public

Оwned or leased by you

Comply with local zoning laws – you will need to obtain a zoning permit as proof of compliance

Have a clean, dry, safe, and well-lit office space where books and records are kept

Contain a display area with enough space to display 10 or more cars, motorcycles, or trailers

Display a well-maintained sign, legible from a public road, with letters at least 8 inches in height; the dealership name on the sign must match the name on your application

Have a working telephone, listed with Directory Assistance, at which your dealership can be reached during business hours

Be open at least 40 hours per week, with at least 20 of these being during regular business hours (8 a.m. to 5 p.m.); Business hours must be posted

Have a service facility or a Service Agreement with a facility in the same county
4. Obtain Proof of Liability Insurance 
New and used vehicle dealer license applicants must submit proof of having obtained a liability insurance certificate. The certificate must include:
The name and address of the dealership

"AnyAuto" or "All Owned Autos" liability coverage

The period of coverage and the policy number

The Motor Vehicle Industry Licensing Board as the Certificate Holder, and the Board's address
Applicants must also choose whether to be covered under Workers' Compensation Insurance or not. If you decide not to be covered, you must complete the Workers Compensation Waiver, sign, and submit it along with your license application.
If you decide to be covered, you must provide a Certificate of Workers' Compensation Insurance with your application. This certificate must include the same information as your liability insurance certificate.
5. Obtain a Nebraska Auto Dealer Bond
New or used motor vehicle, trailer or motorcycle dealer license applicants must obtain a $50,000 Nebraska auto dealer bond.
Motor vehicle auction dealer license applicants must post a $100,000 dealer bond.
The purpose of these bonds is to guarantee a licensees' compliance with the provisions of the Nebraska Motor Vehicle Industry Licensing Act. They serve as protection for dealers' clients in case a dealer violates the Act.
6. Submit Your Nebraska Dealer License Application
When you have completed the steps above, you can proceed with your dealer license application. Depending on the license you are applying for you will have to complete the:
Attached to your application form, you will also need to submit the following paperwork:
A copy of your zoning permit

Photographs of your place of business and dealership sign

A copy of your lease agreement, if you do not own the location

A Service Agreement (if applicable)

Proof of Liability Insurance and Workers' Compensation Insurance (if applicable)

An auto dealer surety bond (if applicable)

A copy of your franchise agreement (if applicable)
When you have compiled the full set of application papers, submit them to Board at the following address:
Nebraska Motor Vehicle Industry Licensing Board
301 Centennial Mall South
P.O. Box 94697
Lincoln, NE 68509
7. Pass a Dealership Inspection and Pay Licensing Fees
After you submit your application to the Board, you will soon be contacted by a field investigator to schedule an appointment for inspection. When you pass the inspection and you are approved by the investigator, you will receive your application paperwork back, along with an Inspection Report.
You will then need to resubmit these documents to the Board and pay licensing fees to complete the application process.
Fees are as follows:
$400 for new and used motor vehicle, trailer, and motorcycle dealers

$400 for motor vehicle auction dealers

$200 for motor vehicle wrecker or salvage dealers
After you resubmit your application and pay the required licensing fee, you will be issued your Nebraska dealer license.
Licenses expire yearly on December 31. You must apply to renew your license prior to this date in order to remain licensed. For more information about the renewal process, contact the Licensing Board.
---