How to Get Your Arizona Dealer License
Obtaining a car dealer license in Arizona can be a long and arduous process. Due to this, you must know what to expect before you start. We've put together an article on what it takes to become a used motor vehicle dealer in Arizona, which should answer some of your questions if you are still unsure about the licensing process.
The Arizona Motor Vehicle Division sets the minimum requirements for all new car dealers. To become a licensed car dealer in Arizona, here's what you need to do.
Step 1: Determine Type of Vehicle You Want to Sell
Before you rush to the Motor Vehicle Division (MVD) and start the application process, you need to decide what kind of vehicle you want to sell. The type of vehicle you want will determine which state agency you must contact to get a dealer's license: the motor vehicle agency or the Arizona Department of Transportation.
Step 2: Get a Dealership Agreement
This is a legal contract between you and the owner of a dealership. This contract must be in writing to avoid future disputes between the parties involved. It should also include the dealership name, license number, and location details.
Two witnesses must sign it and submit it to the local motor vehicle office along with other forms required by the state.
Step 3: Get the Vehicle Relocation License
This allows you to move vehicles into or out of an established place of business. You must have an application available when entering a new state or moving vehicles between locations.
Once you've decided on the type of vehicle you want to buy and sell, you must go through this licensing process as soon as possible to avoid delays. If any miscommunications between buyer and seller occur, the state agency can refuse your application for up to six months, which can cause problems if the sale is already going through.
The Arizona dealer license is valid for two years; you can renew it once for another two years.
Step 4: Have a Background Check Done
It is crucial to undergo a criminal record check, a Social Security trace, and a fingerprint card search before officially becoming an Arizona auto dealer. Even if the dealer's license is only valid for two years, you must understand how the state processes applications.
A fingerprint background check will reveal if you have any previous criminal charges on your record. If you do for any reason, the Arizona MVD has the right to refuse your application for 10 years.
While this process may seem an inconvenience at first, it's worth doing. It provides thoroughness and protection for both parties involved in an Arizona auto dealership transaction.
Get Your Auto Dealer Bond
In addition to the Arizona dealer license, you must have a surety bond to protect your business against unforeseen losses. While you can probably purchase this bond from an insurance provider, it's better to deal with a bonded firm specializing in this area.
The amount of the bond depends on the type of dealership and its value, but it should cover at least 10% of your sales for the past year. No matter what type of vehicle you're going to sell, it's important that you get some bond so that you're covered if anything goes wrong.
The bond cost is about $1,000-$3,000, depending on the size of your dealership size and its location within the state.
Get Your FREE Bond Quote Instantly
FREE Instant Online Quotes - All 50 States - All Credit Types
Get a FREE Bond Quote

Instant ballpark estimate

Tell us about your business

powered by

Get your FREE quote today!
Who Needs an Arizona Dealer License?
Any Arizona resident interested in buying a new car or used vehicle from an Arizona wholesale motor vehicle auction dealer must obtain a license. The seller does not have to have a dealership license.
Arizona Dealer License Requirements
There are also certain requirements for people who want to get an Arizona dealer license. Before you become one, you must own a valid Arizona driver's license and a Social Security card.
The person who wants to become an auto dealer must also submit their birth certificate and a valid passport for identification purposes. In addition, if you have a corporation or an LLC, you must also file your articles of incorporation with the Arizona Department of State and review the MVD's requirements for other documents needed to obtain the dealership license.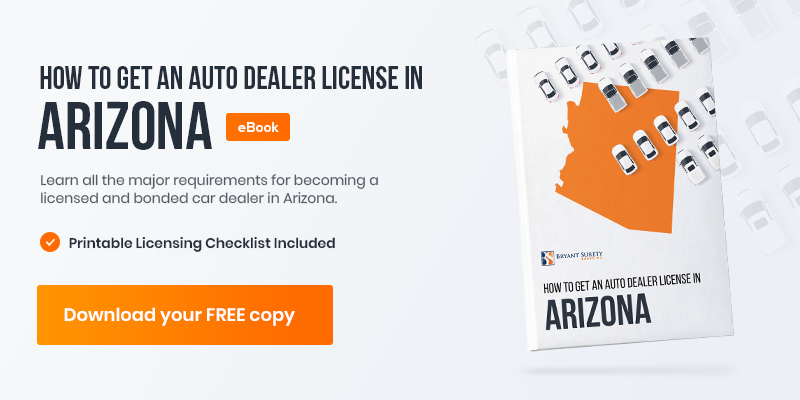 What Out-of-State Car Dealers Must Do to Sell in Arizona
If you are new to Arizona, you must contact the Motor Vehicle Division before becoming an Arizona auto dealer. A few restrictions apply to auto dealers who are out-of-state residents. Before beginning the application procedure, you must be familiar with these rules.
While Arizona auto dealerships do not need a license for each business location, the dealer must have one for each of their places of business.
If you're an Arizona resident who wants to begin selling cars in your home state, then you must understand the steps involved in this process. Arizona is strict regarding people who want to sell vehicles as they don't want any car dealer scams occurring within the state. You might consider free quotes from reputable providers and get the best costs.
Gather Your Documents
As a new motor vehicle dealer, there are many things you'll need to set up for your business to be operational. Among those things are the following.
Become familiar with the necessary documents needed for the application process in the state of Arizona. This includes everything from your Arizona auto dealer license application to other business licenses.
While dealing with the state, you must keep abreast of all updates because they can impact your dealership's status in the state and cause delays if they contradict each other.
For example, if you deal with resale abandoned and classic cars or vehicles, you'll need to get a special permit. You can find this information on the state agency's website, in their regulations booklet, or by mailing your request to: Arizona Motor Vehicle Division, PO Box 2100, Mail Drop 539M, Phoenix, AZ 85001.
Make sure to comply with the state Motor Vehicle Division's rules whenever possible so that there are no problems with your license application process.
Suppose Arizona auto dealerships want to sell vehicles in the "new car" category. In that case, they do not need any special licenses and can instead use the Class A or B licenses placed by the Arizona Department of Transportation (ADOT) on AZ highway signs.
Arizona revised statutes state that any vehicle or car on sale must have a registration, title, or both. The buyer must present their car registration card, certificate of title, or temporary title to the seller at the time of transfer.
If you're a used vehicle dealer and you do not have a license issued by AZ MOTOR VEHICLE DIVISION, then you cannot charge sales tax to your customer.
Transferring Ownership in Arizona
The seller is legally required to provide new documents of ownership for any vehicle being transferred from one party to another within the state. Although the Arizona motor vehicle division has a service that can verify new ownership documents for cars, it is not available for every vehicle.
Arizona has several options to complete the transfer process within the state. One of those options is to get it done through the Arizona Department of Transportation.
Vehicles that must go through this process must be registered and titled with the ADOT by both parties involved. The seller must provide their document from the Motor Vehicle Division and go through the direct title transfer process at AZDOT's office. You can confirm their hours of operation online.
Submit Application and Get Your Arizona Dealer License
Once you are ready to open your car dealership, you'll need to complete a series of steps to get approval as a wholesale motor vehicle auction dealer. The Motor Vehicle Division will verify your application through your background check and any other required documentation that they require.
Once the Arizona Department of Transportation receives your application, they will review the information and notify you if any issues have arisen or any mistakes need to be corrected.
If everything is OK, you'll receive a letter from the Motor Vehicle Division informing you that they've accepted your application. This is when you should begin contacting everyone involved with the process so that you can finalize your status as a dealer as quickly as possible.
How many cars can I sell per year in Arizona?
Although it's possible to sell one or two cars per year, most AZ used motor vehicle dealers get licensed to sell up to six cars per year. The limit set by the Motor Vehicle Division is not negotiable.
How much does an Arizona dealer license cost?
You will have to pay $1,000 if you want a dealership license. If you want additional licenses for your company, then there's another $250 application fee that all company owners must pay in addition to the first $1,000.
Conclusion
An Arizona used motor vehicle dealer must register with the Motor Vehicle Division before operating any state business. This is also true for new vehicle dealers who operate an existing dealership in another state and have brought vehicles into Arizona if they want to sell them within the state.
The cost of an Arizona auto dealer license will vary depending on your situation. Be sure to provide all the necessary documentation to get the licensing process started quickly.
---