How to Get an Arizona Dealer License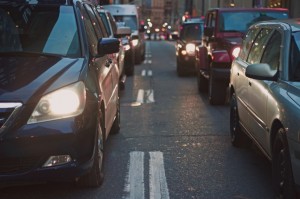 As in most states across the U.S., the first step of launching an auto dealership business in Arizona is to obtain an Arizona dealer license. In this way, you guarantee your legal compliance and can operate in the state.
All dealers who trade with more than four vehicles in a 12-month period are required to obtain a license. While getting licensed is not rocket science, it does require meeting a number of requirements. A major one is posting an Arizona auto dealer bond.
Before you start your licensing process, it's a wise idea to get familiar with the Arizona dealer license requirements and the Arizona Statutes on dealer licensing (Title 28, Chapter 10). That's how you'll save yourself a ton of time and nerves.
Let's go through the main steps in getting your Arizona dealer license, so you can start your business smoothly.
The basics about your Arizona dealer license
Before you set on to apply for your Arizona motor vehicle dealer license, you need to research the type of vehicles you would like to sell. There are different license types depending on your choice of vehicles.
The most common Arizona license types include:
Franchised motor vehicle dealer (new vehicle dealer)

Wholesale auto auction dealer license

Arizona wholesale auto dealer license

Arizona used car dealer license

Automotive recycler license

Motor vehicle broker license

Title service company license

Manufacturer license

Public consignment auction dealer license
If you want to conduct activities in more than one of these types, you will need to obtain a separate license for each vehicle types.
The Arizona dealer license requirements
Once you have established which type or types of licenses you will need, it's time to complete your Arizona dealer license application. It should be submitted in full to the Arizona Department of Transportation.
Besides the application form, you need to provide proof for meeting the rest of the licensing requirements:
Criminal background check

Fingerprints and a personal history form for each owner, partner and company officer

Information on business entity type and name

Business location information – business sign and working hours

Copy of Transaction Privilege Tax License

A surety bond in the appropriate amount for the license type
When you obtain all necessary paperwork, you need to send the application form together with all documents to:
Motor Vehicle Division
Dealer Licensing Unit
P.O. Box 2100
MD 552M
Phoenix, AZ 85001
The dealer license fee is $100. For each additional office in the same county, you need to pay another $50. The application filing fee is $15, while the background check fee is $22 for each person.
Learn more about how to get licensed and start your auto dealership in Arizona by downloading our FREE ebook guide!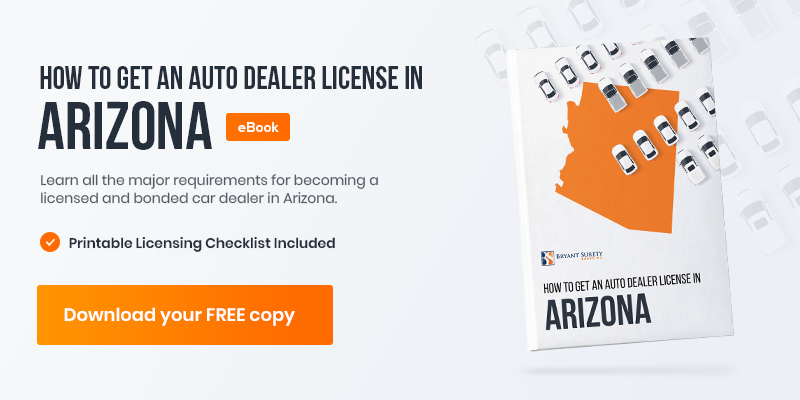 Posting an Arizona auto dealer bond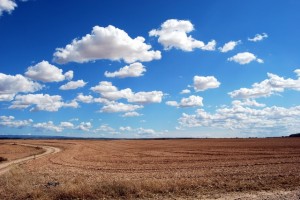 The last requirement in the list requires some special attention. Getting bonded is often a licensing prerequisite for auto dealers. But what does it mean?
Your Arizona motor vehicle dealer bond aims to protect the state and your customers from any potential fraudulent activities on your side. In this sense, it is a safety net for car buyers. If you do not follow state regulations, a harmed party can file a claim on your bond. They can receive compensation from you up to the penal sum of the bond, which is the bond amount.

In Arizona, there are different bond amount requirements for different types of licenses. New and used car dealers, as well as public consignment auction dealers, have to post a $100,000 bond. Whole auto auction, wholesale car dealers and brokers need to obtain a $25,000. Automotive recyclers have to get a $20,000. For most license types, you need a separate bond for each county in which you're going to conduct business.
Your surety bond price, however, is different from the bond amount you are asked to obtain. In fact, it's only a few percentages of it. If you qualify for the standard bonding market, you can expect to pay only 1%-3% of the bond amount. For a $25,000 bond, this means a bond premium of $250-$750.
Get Your FREE Bond Quote Instantly
FREE Instant Online Quotes - All 50 States - All Credit Types
Tell us about your business

powered by

Get your FREE quote today!
Ready to apply for your dealer license in Arizona? You can start your bonding process today! Just
apply online
with our easy online form. For any questions, Bryant Surety Bonds' experts are here to help. Reach us at
866.450.3412
and we will be happy to help.
---